COLONY HOUSE Announces Debut Album When I Was Younger OUT July 22nd
Premieres Single "Silhouettes" on
A.V. Club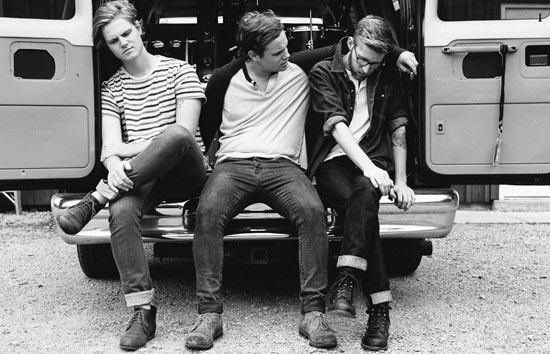 NEWS SOURCE: Missing Piece Management
May 2, 2014
May 2, 2014 - Colony House, a trio from Nashville, TN will release their first full-length album When I Was Younger via Descendant Records (The Lone Bellow) on July 22, 2014. A.V. Club provides a first taste of the album in the single "Silhouettes." PRESS HERE to listen.
"Silhouettes is quite an interesting song and serves a very specific purpose on this record," says lead singer and songwriter Caleb Chapman. "For an album that has a fair amount of emotional twists and turns, this track is meant to be a constant. Silhouettes is a steady reminder for the soul not to allow the dark moments in life to overshadow all the beautiful ones we live every day."
Colony House delivers the material with a balance of craft and immediacy that deliver a rich, gritty rock edge with heavy guitars and textual layers.
Lead singer, guitarist and principal songwriter Caleb Chapman writes effortlessly infectious tunes that resonate with personal experience and emotional depth. The songs' messages of hope and perseverance are matched by the organic musical rapport of Caleb and his bandmates, brother Will Chapman on drums and Scott Mills on lead guitar and harmony vocals.
"Creating this record had such a strong set of contrasting emotions: joy, hope, frustration, sorrow, uncertainty, confidence," says Caleb.
That openhearted attitude is reflected throughout When I Was Younger, both in Caleb's expressive vocals and in the band's vivid performances of such personally-charged tunes as "Silhouettes," "Second Guessing Games," "Keep On Keeping On," "Waiting for My Time to Come" and "Won't Give Up."
Colony House will play two shows in New York next month, May 19th at Rockwood Music Hall, and May 22nd at Pianos. A national tour is planned around release.
When I Was Younger Track Listing:
1. Silhouettes
2. Second Guessing Games
3. When I Was Younger
4. Caught Me By Surprise
5. Roll With The Punches
6. Keep On Keeping On
7. Waiting For My Time To Come
8. 2:20
9. Learning How To Love
10. Won't Give Up
11. Moving Forward
12. Glorious
13. I Had To Grow Up
14. Lose Control
www.colonyhousemusic.com
www.Facebook.com/ColonyHouseMusic
Twitter - @ColonyHouseBand
Instagram - @ColonyHouse