REMEDY DRIVE SHIFTS GEARS
TO COMBAT HUMAN TRAFFICKING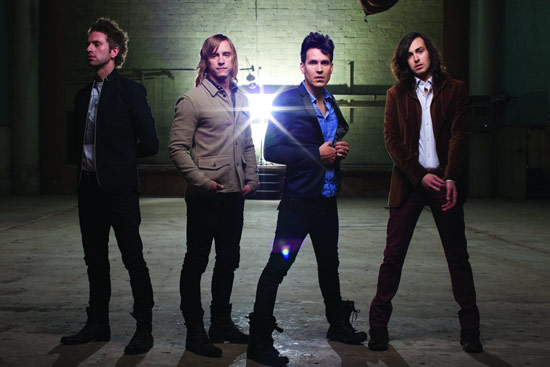 NEWS SOURCE: Turning Point PR
May 12, 2014
NASHVILLE, Tenn.—One of Christian music's most acclaimed rock bands, Dove Award-nominated Remedy Drive, returns to the spotlight with an important new mission. Inspired by group founder and frontman David Zach's recent trip to Southeast Asia with The Exodus Road, a nonprofit coalition fighting sex slavery through covert investigation and rescue, the band has committed their music and ministry platform to help combat human trafficking.
"Commodity," the debut single and title-cut from Remedy Drive's forthcoming studio recording and most important release to date, debuted at #12 and Most Added on the BDS Christian Rock chart last week. Penned by brothers David and Philip Zach, the song is a powerful declaration of war against slavery and trafficking.
"During this next chapter of Remedy Drive, we are going to do everything in our power to raise awareness and to fund rescue," David Zach says. "I went undercover with The Exodus Road in the red light districts of several cities and am going to continue to go back because I believe freedom can only be achieved when we 'develop a kind of dangerous unselfishness,' as Dr. Martin Luther King, Jr. said."
The band is currently completing efforts for the release of their 10th album, Commodity, with Philip Zach at the production helm. A Kickstarter campaign to fund the project is underway until May 31, allowing supporters an opportunity to partner with the band's vision.
"We want to make a concept album on liberty, to shine a light on slavery, to protest oppression and to empower rescue," David Zach continues. "We want to add to the soundtrack of the resistance. My hope is that this album will sound like a captive's dream of liberty—a defiant reminder, against all odds, that in the King's Kingdom the oppressed can find refuge, the marginalized can find Hope, the child soldier can find safety, and the trafficked daughter in the red light district can return to her innocence again as a princess of the Realm."
Comprised of founder and lead vocalist David Zach, along with guitarist Dave Mohr, bassist Corey Horn, and drummer Tim Buell, Remedy Drive has garnered nine Top 20 singles and released nine critically-acclaimed recordings since its inception in 1998. "Resuscitate Me," from the band's 2012 Centricity Music release, Resuscitate, spent five weeks atop the Christian Rock chart and was nominated for a 2013 GMA Dove Award for Rock Song of the Year. In addition, "Daylight" was featured in the recent motion picture "The Perfect Summer," while music from Remedy Drive has been utilized on NBC, SpeedTV and VH1. The band has toured with such artists as MercyMe, David Crowder Band, Family Force 5 and The Digital Age, among others.
To view Remedy Drive's Kickstarter campaign for Commodity, visit https://www.kickstarter.com/projects/remedydrive/commodity-a-counter-trafficking-album.
For further information on the band, visit remedydrive.com
###
For more info on Remedy Drive visit the JFH Artists Database.