World Vision to Present Jason Gray's "With Every Act Of Love Tour" this Fall
Tour will Feature Unspoken, Lindsay McCaul and Introducing Carrollton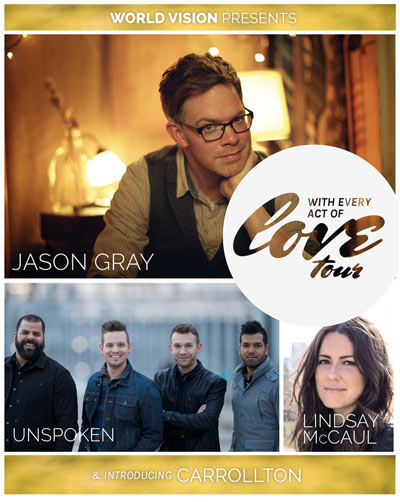 NEWS SOURCE: Bozeman Media
June 25, 2014
Nashville, TN (June 25, 2014) ---- The talented Jason Gray is rounding up his Centricity Music labelmates to join his upcoming headlining tour, With Every Act Of Love Tour. The tour will feature guest artists, Unspoken and Lindsay McCaul, while introducing the band Carrollton. Presented by World Vision, the tour will run September 26 -November 11 and is scheduled to visit 21 cities, with additional dates being announced soon. Tickets for the dates are available through iTickets.com. The tour is named after Gray's No. 1 hit single and is from his latest album, Love Will Have The Final Word that is available at all online and retail music outlets.
"I'm excited about my first headlining tour and grateful to be joined by my friends Unspoken, Lindsay McCaul, and Carrollton!," exclaims Gray. "I look forward to singing these new songs, which are the most personal I've written, for the audiences so we can laugh, cry, and do some soul mining together."
Gray adds, "There is a real sense of family among everyone at my label, Centricity Music. In fact, one of the first criteria an artist or band has to meet in order to be signed is, 'would we have them over for dinner?' This sense of 'family' runs through every relationship. With our whole tour being comprised of all Centricity artists, I'm excited for us to take this 'family' out on the road. Unspoken, Carrollton, and myself had the best time doing a short run of shows in the spring and we're excited to have Lindsay McCaul join us, who is as passionate and authentic as they come. From introspective singer/songwriter songs, to rootsy foot stomping soul cries, and infectious pop anthems, this is going to be a great night of music. A family party with lots of heart!"
About Jason Gray
Jason Gray's latest album, Love Will Have The Final Word, became a record-breaking project for the talented singer/songwriter, as it debuted on Billboard's Christian Albums chart at No. 10. This is the highest album debut for Gray, and at the same time the first single from the record, "With Every Act Of Love," became his first No. 1 on Billboard's AC Indicator chart, and the second No. 1 song of his career. "Nothing Is Wasted" reached the top of the Soft AC chart in May 2013, and is from his 3rd project for Centricity Music, A Way To See In The Dark. The project's previous singles, "Remind Me Who I Am" and "Good To Be Alive," reached Top 5 on the charts and the latter song earned Gray his second ASCAP Performance Award. In 2009, Gray released Everything Sad Is Coming Untrue to critical acclaim, with the No. 4 single, "More Like Falling In Love," earning Gray his first ASCAP Performance Award. Gray's debut project for Centricity Music in 2007, All The Lovely Losers, was his first national release and became heralded as one of the top albums that year. For more information on Jason Gray please visit online, www.jasongraymusic.com.
About Unspoken
Unspoken has been a record-breaking act since signing with Centricity Music in 2011. Their first and current full-length self-titled album debuted in the Top 20 on Billboard's Current Contemporary Christian Chart, and remains there until this day. The first single from the project, "Start A Fire," is their fastest charting single to date. Unspoken released two EPs, Get To Me (2012) and The World Is Waking (2013), which produced two Top 5 singles with "Who You Are" and "Lift My Life Up." The group remains an active touring band having performed alongside Big Daddy Weave, Sanctus Real, and Chris August, among others, while also headlining many fundraising concerts in support of Celebrate Recovery, an organization that helps recovering addicts. For updates about Unspoken please check online at www.unspokenmusic.com.
About Lindsay McCaul
Lindsay McCaul signed with Centricity Music earlier this year, and will release her debut project for the label, One More Step, August 19, 2014. The first single from the project, "Empty Handed" has just been released to radio and is already garnering airplay. A respected and established Christian artist before signing with Centricity Music, McCaul enjoyed success with her first major label album in 2012, If It Leads Me Back, which showcased her trademark introspective songwriting and warm vocals. McCaul currently leads worship as an artist-in-residence at Nashville's Fellowship Bible Church, and has enjoyed an active touring schedule with such high-profile acts as, Brandon Heath, Mandisa, Casting Crowns, Matthew West, Mercy Me, Sanctus Real, The Afters, and others. For additional information about McCaul and her tour schedule please visit www.lindsaymccaul.com.
About Carrollton
Carrollton signed with Centricity Music in 2013 and released their debut EP for the label in February 2014, Breathe In Deep. The project immediately garnered strong reviews with NewReleaseTuesday.com saying, "this is definitely a band to keep an eye on," and Soul-Audio.com adding, "truly a breath of fresh air." The band is comprised of Jordan Bailey (bass), Michael Loy (drums), Jeremy Menard (lead guitar), and Justin Mosteller (lead vocals, guitar). Carrollton was formed in 2008 and rapidly became known for their strong performances and led to touring opportunities with such artists as Switchfoot, Audio Adrenaline, Jeremy Camp, and Building 429. For more information on Carrollton please visit online, www.carrolltonband.com.
For more information about the With Every Act Of Love Tour please visit online, www.jasongraymusic.com, www.unspokenmusic.com, www.lindsaymccaul.com, www.carrolltonband.com.
With Every Act Of Love Tour schedule (subject to change)
September 26 - N. Royalton, OH
September 27 - Columbus, OH
September 28 - Cincinnati, OH
October 2 - Escanaba, MI
October 3 - Mequon, WI
October 4 - La Harpe, IL
October 5 - Maplewood, MN
October 9 - Oneonta, NY
October 10 - Sewell, NJ
October 11 - Essex Junction, VT
October 12 - Allentown, PA
October 17 - Delray Beach, FL
October 19 - Destin, FL
October 25 - Lafayette, TN
October 26 - Sparta, NC
November 1 - Lebanon, MO
November 2 - Marshall, MO
November 6 - Rapid City, SD
November 7 - Gillette, WY
November 8 - Dickinson, ND
November 9 - Pierre, SD
# # #
For more info on Jason Gray visit the JFH Artists Database.
For more info on Unspoken visit the JFH Artists Database.
For more info on Lindsay McCaul visit the JFH Artists Database.
For more info on Carrollton visit the JFH Artists Database.