Award-Winning Author Andrew Peterson Welcomes Standing-Room-Only Crowd at Book Signing for The Warden and the Wolf King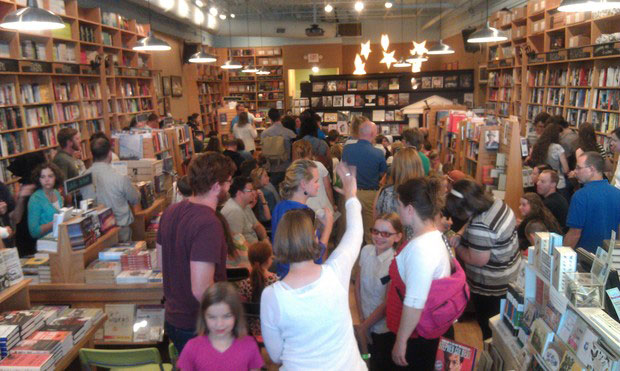 Parnassus Bookstore, Nashville, TN
NEWS SOURCE: Bozeman Media
July 24, 2014
Nashville, TN (July 24, 2014) ---- It was a fun-filled evening on July 22nd, when Parnassus Books in Nashville, TN hosted a book signing for award-winning author Andrew Peterson on the release date of the fourth and final book of his Wingfeather Saga series, The Warden and the Wolf King (Rabbit Room Press). The store was packed with fans and attendees even spilled out onto the sidewalk for a block outside the store. Illustrator Joe Sutphin was on hand to discuss the process of creating his art for the book, and many fans dressed up as characters from the books for the costume contest. Peterson also delighted the attendees by reading a chapter from The Warden and the Wolf King, followed by a Q&A with the audience. Finally, the crowd was treated to a performance by the Dove-nominated singer/songwriter when Peterson and his daughter, Skye, performed "My Love Has Gone Across the Sea," a song from the Wingfeather book, The Monster in the Hollows.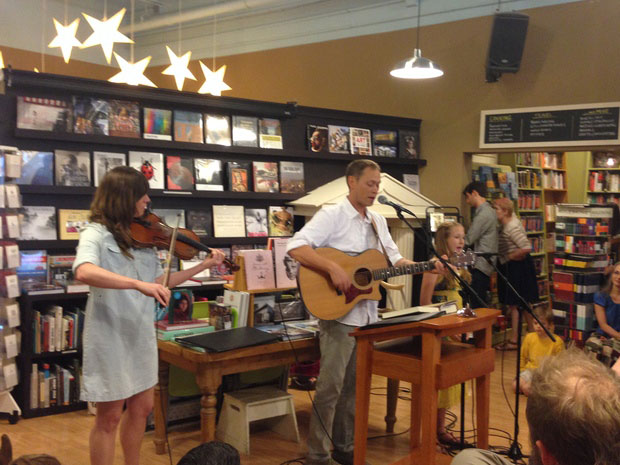 Left to Right: Bethany Bordeaux, Andrew Peterson, Skye Peterson
The Wingfeather Saga series started almost 10 years ago when Peterson began writing On the Edge of the Dark Sea of Darkness, which was published by Waterbrook/Random House in 2008. The second book, North! Or Be Eaten, released in 2009 and won the prestigious 2010 Christy Award for Young Adult Fiction. The third installment, The Monster in the Hollows, released in 2011. The epic tale has become a favorite of families around the world and has been compared to The Chronicles of Narnia, The Lord of the Rings, and Harry Potter.
###
For more info on Andrew Peterson visit the JFH Artists Database.