THE RHETT WALKER BAND GETS READY TO RELEASE THEIR SOPHOMORE
ESSENTIAL/SONY ALBUM "HERE'S TO THE ONES" ON OCTOBER 14
"LOVE LIKE JESUS" RELEASES TO CHRISTIAN RADIO ON SEPTEMBER 19; BAND TO EMBARK ON NATIONAL TOUR STARTING AUGUST 27

RHETT WALKER BAND SELECTED TO PARTNER WITH PEPSI MIDAMERICA ON MOUNTAIN DEW CAMO CAMPAIGN AND EXCLUSIVE RHETT NECK BBQ EXPERIENCE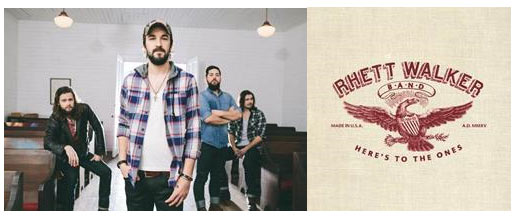 NEWS SOURCE: Rogers & Cowan
August 26, 2014
Nashville, Tenn. (August 26, 2014) - Provident Label Group announces the Rhett Walker Band will release their sophomore album on Essential/Sony on October 14 titled HERE'S TO THE ONES, with a deluxe version also available, containing four additional bonus tracks. The Rhett Walker Band's first Christian radio single from the album, titled "Love Like Jesus," will be released on September 19. The group will embark on a national tour this week starting August 27 in Phillipi, West Virginia.
Since their 2012 debut, COME TO THE RIVER, the Rhett Walker Band has toured non-stop with everyone from MercyMe to Newsboys, spending more time on the road than at home. The project generated the band's first Top 10 hit, "When Mercy Found Me," which garnered Walker a GRAMMY© nomination for CCM Song of the Year. The band also received three 2013 Dove nominations in multiple categories including New Artist of the Year, Rock/Contemporary Album of the Year and Rock/Contemporary Song of the Year. Since their inception, the group has been invited three times to perform on the Grand Ole Opry, and recently appeared on the show featuring new cuts from the forthcoming album.
"'Love Like Jesus' explores what it looks like to make the most of each day inside the context of our faith," says Walker. "I know, for me, the song is a reminder every morning when I wake up…It's about living life to the fullest; but I don't believe we can unless we choose in every avenue of our life to always love like Jesus."
Their song, "Here's To the Ones," which also became the title track and theme of the album, is an All-American ode to the hard working middle class. To connect with those everyday heroes, the Rhett Walker Band will partner with Pepsi MidAmerica in October and November as the featured artist for their Mountain Dew Camo Fall Promotion. Together, the band and Pepsi MidAmerica will also hold a contest throughout their territory titled the "Rhett Neck Nashville Experience." Four winners and their guests will win a trip to Nashville to meet and spend time with the Rhett Walker Band, attend a barbeque at Rhett's home, view a private concert with the band, and more.
Cuts like "The Mystery," "Love Like Jesus" and "Adam's Son" reaffirm the band's creed to share the message of Christ with the masses. The stand-out track "The Mystery," is a personal favorite of the band's as they sing about a God who is less concerned with tattoos and cigarettes and more concerned with the heart.
"It's easier to point a finger because it's harder to look in the mirror at ourselves… Jesus isn't worried about all that stuff," says Walker. "What Jesus is worried about is if you know at the end of the day that He's always loved you. I think if we're going to stand on any side of faith, which we do, it is that kind of story that we hope we can tell."
The band - Rhett Walker (guitar), Kenny Davis (drums), Kevin Whitsett (bass) and Joe Kane (guitar) -- met in Nashville five years ago, drawn together by a collective love for music and a desire to pursue a career recording and touring. Their diverse influences are interlaced into the 11 cuts on the new collection which include: Clone, Here's To the Ones, Love Like Jesus, Adam's Son, The Mystery, The Other Side, Amazed, Better Part of Me, Someone Else's Song, Broken Man.
Coinciding with the release of HERE'S TO THE ONES, the Rhett Walker Band can be caught live on the road in the following cities:
8/27/14 Philippi, WV
8/29/14 Benton, AR
8/30/14 Worthing, SD
9/6/14 Kissimmee, FL
9/13/14 Centreville, VA
9/19/14 Evansville, IN
9/20/14 LaGrange, IN
9/21/14 Greenville, OH
9/27/14 Butte, MT
9/28/14 Moscow, ID
10/4/14 Phoenix, AZ
10/5/14 Bakersfield, CA
10/8/14 Perryton, TX
10/9/14 Elk City, OK
10/10/14 North Richmond Hills, TX
10/11/14 Keller, TX
10/12/14 Bartlesville, OK
10/16/14 Brooklyn Park, MN
10/17/14 Waukesha, WI
10/23/14 Manheim, PA
10/24/14 Millville, NJ
10/26/14 Poughkeepsie, NY
11/1/14 Warner Robbins, GA
For more information visit:
Official website: http://rhettwalkerband.com/
Facebook: https://www.facebook.com/rhettwalkerband
Twitter: https://twitter.com/rhettwalkerband
About Provident Label Group
Provident Label Group, a division of Sony Music, whose labels include Essential Records, Reunion Records, Essential Worship and Beach Street Records, is home to an artist roster which includes Casting Crowns (Thrive), Third Day (Miracle), Tenth Avenue North (The Struggle), Red (Release the Panic), Brandon Heath (Christmas Is Here), and Royal Tailor (self-titled) among others. Provident Music Group consists of Provident Label Group, Provident Films ("Mom's Night Out," "Courageous," "Fireproof") Provident Distribution, Essential Music Publishing and Essential Artist Services.
- ### -
For more info on Rhett Walker Band visit the JFH Artists Database.