GRAMMY-NOMINATED BUILDING 429
EXTENDS SUCCESSFUL "WE WON'T BE SHAKEN: THE TOUR"
TO NEARLY 30 MORE CITIES THIS FALL
Kicking Off Sept. 10, Tour Features Love & The Oucome
Along With Special Guests Cadence and Humble Tip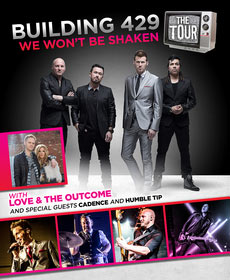 NEWS SOURCE: SouthSide Entertainment
August 29, 2014
NASHVILLE, Tenn. - August 29, 2014 - Following a successful 35-city run in the spring, GRAMMY®-nominated pop/rock act Building 429 will extend its "We Won't Be Shaken: The Tour" to another 30 cities this fall, this time featuring breakout duo Love & The Outcome along with special guests Cadence and Humble Tip. Kicking off Sept. 10, in the Northeast part of the U.S., the tour will travel down the East Coast and across the country, hitting parts of the Southwest, Midwest and West Coast before it wraps up on Nov. 16.
"We Won't Be Shaken: The Tour" is named after Building 429's lead single and multi-week No. 1 hit from their current album, the critically-acclaimed We Won't Be Shaken. This sixth studio effort marks the band's first No. 1 album and No. 1 debut atop Soundscan's Christian Albums chart. The title track became an instant smash, as listeners made it their personal anthem in 2013. Building 429 will be sharing songs from We Won't Be Shaken along with other audience favorites during their high-energy performance each night.
As a one-of-a-kind treat for fans, select tour dates will take part in offering the "Revolution VIP Experience," which is a limited, intimate meet and greet with Building 429. The "Revolution VIP Experience" is an add-on offer for ticket-buyers at the point of purchase and will provide a tour laminate that will guarantee access to an exclusive meet and greet with Building 429.
We Won't Be Shaken: The Tour is sponsored by Feed The Children (www.feedthechildren.org) and Liberty University (www.liberty.edu) on select dates.
To hear more about We Won't Be Shaken: The Tour, click here:
BUILDING 429 - WE WON'T BE SHAKEN: THE TOUR - Fall 2014
September
September 10 - White River Junction, VT | Tupelo Music Hall
September 11 - Fredericton, NB | Journey Wesleyan Church
September 12 - Oxford, ME | Oxford County Fair
September 13 - Queensbury, NY | Six Flags The Great Escape
September 14 - Swansea, MA | New Hope Christian Church
September 18 - Monroe, MI | Stewart Road Christian Ministry
September 20 - Charlotte, NC | Carowinds
September 21 - Willard, OH | Willard Hope Center
September 26 - Cary, NC | Cary Church of God
September 27 - Silver Creek, GA | Coosa Ridge
September 28 - Phenix City, AL| Golden Acres Baptist Church

October
October 4 - Jackson, MS | Mississippi Coliseum
October 5 - New Albany, MS | New Albany High School Auditorium
October 18 - Harlingen, TX| Harlingen Soccer Complex
October 19 - Mt. Pleasant, TX | Whatley Center for the Performing Arts
October 23 - Warsaw, IN | Warsaw Performing Arts Center
October 24 - Wausau, WI| Highland Community Church
October 25 - Lexington, KY| Kentucky State Church of God

November
November 1 - Marietta, OH | Marietta High School Auditorium
November 6 - Phoenix, AZ | Arizona Christian University
November 7 - Oro Valley, AZ | Oro Valley Church of the Nazarene
November 8 - Palmdale, CA | The Highlands Christian Fellowship
November 9 - Acampo, CA| Faith Community Fellowship
November 11 - Wenatchee, WA | Town Toyota Center
November 13 - Poulsbo, WA | Gateway Fellowship
November 14 - Butte, MT | Maroon Activity Center
November 15 - Torrington, WY | Eastern Wyoming College
November 16 - Cheyenne, WY | Cheyenne Hills Church

* Dates, markets and venues subject to change without notice.
ABOUT BUILDING 429
Building 429, comprised of Jason Roy (vocals), Jesse Garcia (guitar), Michael Anderson (drums), and Aaron Branch (bass), released its new album, We Won't Be Shaken, in 2013 and debuted at No.1 on Billboard's Christian Albums chart. The strength of the album resulted in the band's first Grammy nomination for Best Contemporary Christian Music Album. The first single and title track became a multi-week No. 1 hit on the Hot AC/CHR chart and AC Indicator charts, had over 246 million accumulative impressions and was nominated for a Billboard 2014 Music Award for Top Christian Song and K-LOVE 2014 Fan Award in the Group of Duo of the Year category. The second single from the Grammy-nominated album, "Press On," is currently in the Top Ten and has reached over 53 million accumulative impressions at radio. For the second time in the band's career, Building 429 was honored with a BMI 2013 Song of the Year award for "Where I Belong," and the single garnered the group their first nomination from Billboard's 2013 Music Awards for Top Christian Song. At the same time, the 2013 K-LOVE Fan Awards nominated Building 429 as Breakthrough Artist of the Year.
The group's fifth studio project, Listen to the Sound in 2011, debuted at the top of iTunes' Christian & Gospel Albums chart. The title track hit No. 1 on the CHR chart and Top 5 on Billboard's National Christian Audience Chart. Follow-up single "Made For You" reached Top 5 on the Christian CHR charts, while the project's third single, "Where I Belong," was the No. 1 song on Billboard's Christian Audience chart for 15 consecutive weeks. "Where I Belong" was Billboard's 2012 Christian Song of the Year, Christian AC Song of the Year, Christian Songs Artist of the Year and Christian AC Songs Artist of the Year.
Building 429 first broke through with its 2004 No. 1 hit "Glory Defined," which was named BMI's Christian Song of the Year in 2005. That same year, Building 429 was recognized as New Artist of the Year at the Gospel Music Association's Dove Awards. For more information on Building 429, visit www.Building429.com, www.facebook.com/building429 or www.twitter.com/building429.
ABOUT LOVE & THE OUTCOME
Love & The Outcome released their self-titled debut album in late 2013 to rave reviews and top 5 chart placement on the iTunes Christian Albums chart. They quickly followed that feat by taking home four of the five awards they were nominated for at GMA Canada's 35th Annual Covenant Awards - including "New Artist of the Year," "Song of the Year," "Recorded Song of the Year" and "Pop/Contemporary Song of the Year" for their debut single "He Is With Us." For Chris and Jodi, Love & The Outcome is both a name and a literal life story. The duo sold their Winnipeg condo en route to a high-stakes musical road trip that has seen them criss-cross Canada, Liberia, the Philippines and China, winning over fans both emotionally and spiritually with their blend of effervescent pop. After signing to Word Records in 2012, they retreated to the mountains of Washington state to record their powerful debut, produced by Mosley along with Ben Glover (for King & Country) and David Garcia (TobyMac). The duo has toured in support of artists like Francesca Battistelli and NewSong, and has been featured on the Winter Jam Tour Spectacular. For tour dates and further information please visit www.loveandtheoutcome.com.
- ### -
For more info on Building 429 visit the JFH Artists Database.
For more info on Love & The Outcome visit the JFH Artists Database.