Lara Landon Finds that There Is Grace with New Album
Three weeks after the unexpected death of her father, Lara Landon is moving forward with plans to release her new album on September 9th as a tribute to the man that helped inspire it.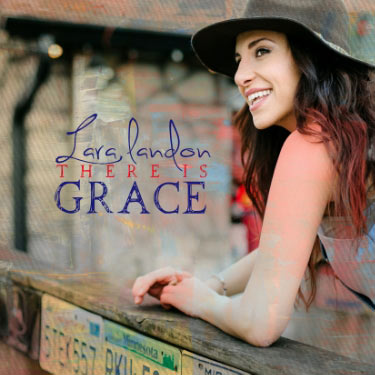 NEWS SOURCE: Nashville Publicity
September 2, 2014
(NASHVILLE, Tennessee) -- Singer-songwriter Lara Landon will release her new album, There is Grace, on September 9th via The Fuel Music. But while the weeks prior to the album's release were to be filled with endless album publicity and promotion, Lara is instead finding comfort in the arms of her family, following the unexpected death of her father on August 12th.
Lara is taking a break from pre-release promotion to tend to family obligations in California, but quickly made it clear to her Nashville-based team that she wanted to go ahead with the album release as scheduled. "I want to go ahead with the release because he was and is my biggest fan and supporter and he would want me to."
While there are already fan favorites and the lead single, "There is Grace," is already headed to radio stations, one song in particular has special significance to Lara. She wrote "I Want to Know You" for her father, and was able to share it with him before he passed. Explains Lara, "He's shown me God and that's what the song I wrote about him was about. I want to know and love God as much as my dad."
Lara teamed up with producers Otto Price, Michael Farren and Evan Sieling to begin recording her new, fan-funded eleven-song project which will be released and distributed by The Fuel Music (Gungor, John Mark McMillan, TFK, Bethel Music). Stylistically, There is Grace runs the gamut of folk-inspired singer-songwriter tracks integrating acoustic guitar and cello to cinematic beat-driven pop. What gives the album coherence is Lara's heartfelt, raw and vulnerable lyrics.
"I've been working on this album for two years with my own hopes, reasons and expectations for it, but I had no idea the very songs I wrote would be what I needed to hear myself right now," says Lara. "The message of Grace is going to be more powerful than ever because it's so real to me now, more real than I ever imagined it would be when I wrote this album."
The album's main theme is the promise that There is Grace enough to fill any loss, which resonates with Lara in her own life more than she could have ever anticipated. Says Lara, "These songs give me purpose even though it's a scary time and even more faith than ever that God is good and merciful. I'm blessed to have known God through my dad, and I'm not bitter that he was taken away so soon. I can truly say God's grace is sufficient."
Born and raised in Southern California, Lara landed in Nashville at the age of nineteen without knowing a single person or having any idea how to pursue a career as a musician. But within a year, she had made coveted connections with many of the city's musical veterans, and she began writing with award-winning songwriters like Jason Ingram, Christa Wells and Tiffany Lee of Plumb. Much in the vein of Sarah McLachlan and Tracy Chapman, Lara writes from the darker shades of her personality. "I believe that its better to feel something strong than nothing at all. And in those places where I doubt, I am most reminded to reach out to God. When I work through my thoughts in my songs, it helps me to sort through the feeling and come back to the truth.''
Lara's debut album, Beloved, was produced by GRAMMY® award-winning talent Michael Omartian (Amy Grant, Christopher Cross, Rod Stewart). The album resonated with fans as they, too, discovered how they could become His beloved thanks, in part, to successful radio single "Closer," which stayed on the charts for most of 2010. Her second full length project, Overcome, was named "one of the top Christian albums of 2012" by iTunes.