All IS CALM, ALL IS BRIGHT ASSEMBLES LEGENDARY LINE-UP
Christmas recording roster boasts combined sales history of over 20 million units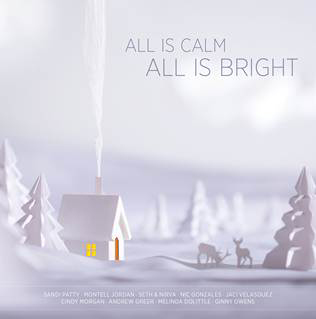 NEWS SOURCE: Mike Atkins Entertainment
September 26, 2014
NASHVILLE, Tenn. ----- Lucid Artist, a renowned artist management company, content creator and distributor based in Nashville, TN, readies the release of All is Calm, All is Bright: Songs of Christmas, a thirteen song multi-artist holiday recording bowing October 21.
Produced by Dove-nominated singer-songwriter Andrew Greer, All is Calm, All is Bright features some of the most enduring names in Christian music, including GRAMMY® Award-winning icon Sandi Patty, multi-platinum mainstay Jaci Velasquez, Dove Award-winning singer-songwriters Cindy Morgan, Ginny Owens and Nic Gonzales (of Salvador), acclaimed duo Seth & Nirva, Greer, plus American Idol's Melinda Doolittle and R&B veteran-turned-worship leader Montell Jordan.
"The lights, the trees, the gifts, these beautiful aspects of Christmas are meaningful because of God's love," Greer shares. "So it was an honor to work with artists whose core desire through music is to share that love. This record is more than a collection of holiday songs, it is the story of God with us."
Distributed nationwide through an exclusive partnership with Parable Christian Stores, the all-new studio recording offers pristine arrangements of eleven time-honored seasonal songs, along with two originals, including "Heartbeat of a Baby," a stirring advent anthem recorded by Velasquez and co-penned by Greer.
"In bringing together some of the most celebrated artists in our industry, who are also my friends, I wanted to gift retailers with a Christmas offering that is personal, yet timeless," Greg Lucid, President, Lucid Artist, explains. "All is Calm, All is Bright seams together the classic sounds listeners expect from a Christmas record with each artist's unique giftings to create a record fit to backdrop every scene of the season. I hope buyers enjoy listening to it as much as we enjoyed creating it."
All is Calm, All is Bright follows Lucid Artist's #1 record streak, including this year's piano hymns recording, All Creatures of Our God and King, 2013's big band holiday set, Let Heaven & Nature Swing and All Things Bright & Beautiful: Hymns for the Seasons, also produced by Greer. The latter topped Nielsen Christian SoundScan's Instrumental chart for 25 weeks while earning a 2013 GMA Dove Award nomination for Instrumental Album of the Year.
To view the All Is Calm, All Is Bright trailer, please visit: vimeo.com/105065293.
For information on purchasing this release, please visit: parable.com.
About Lucid Artist Since its inception in 2006, Lucid Artist Management (LAM) has successfully guided the careers of some of the most celebrated artists in the history of Christian music. A full service entertainment company with a mission to promote the Creator creatively, LAM has released multiple #1 records and accrued over 1 million units of direct physical sales through unconventional retail partnerships with nationwide chains like Target, Walmart, Cracker Barrel and Family Christian Stores. In 2011, Mike Atkins Entertainment acquired Lucid Artist, combining forces to honorably represent singers, speakers, comedians, authors, illusionists and other communicators of hope. For a comprehensive list of clients and services, visit: lucidartistmanagement.com.
All Is Calm, All Is Bright: Songs of Christmas Track Listing
1. O COME ALL YE FAITHFUL/ JESU JOY OF MAN'S DESIRING
2. ANGELS WE HAVE HEARD ON HIGH Featuring Cindy Morgan
3. IN THE BLEAK MIDWINTER Featuring Ginny Owens + Cindy Morgan
4. BIRDS OF BETHLEHEM
5. IT CAME UPON THE MIDNIGHT CLEAR Featuring Nic Gonzales (of Salvador) + Seth & Nirva
6. AVE MARIA Featuring Sandi Patty + Andrew Greer
7. SING WE NOEL
8. THE FIRST NOEL Featuring Montell Jordan
9. HEARTBEAT OF A BABY Featuring Jaci Velasquez
10. GENTLE MARY LAID HER CHILD
11. CHILD IN THE MANGER Featuring Melinda Doolittle + Ginny Owens
12. O HOLY NIGHT Featuring Andrew Greer
13. SILENT NIGHT
- ### -
For more info on Cindy Morgan visit the JFH Artists Database.
For more info on Ginny Owens visit the JFH Artists Database.
For more info on Jaci Velasquez visit the JFH Artists Database.