KERRIE ROBERTS RELEASES MY HEART'S LIFTED DEC.16 FROM THE FUEL MUSIC
Title Track Available Today On iTunes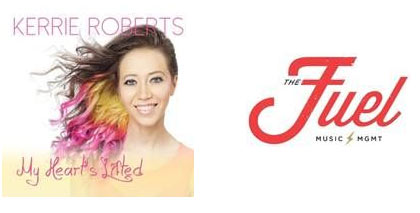 NEWS SOURCE: Hoganson Media
November 12, 2014
Soulful pop vocalist, songwriter and pianist Kerrie Roberts independently releases amidst acclaim her highly-anticipated, five-song EP, My Heart's Lifted, Dec. 16 from The Fuel Music. The recording features Robert's high-energy pop styling and emotive, powerful voice carrying themes that take the listener on an emotional rollercoaster ride that mirrors real life and are meant to lift hearts toward what is most important, eternal and unchangeable.
Executive produced by Roberts, she also co-produced two songs on My Heart's Lifted with Jeff Savage (tobyMac, Rachael Lampa). Three additional tracks on the album were produced by Joshua Silverberg (Newsboys, Group 1 Crew, Edison Glass) and Kipp Williams, while mixing on the album was handled by Jared Fox (Michael W. Smith, Crowder), Silverberg and Savage. With mastering by Dan Shike (Jonny Lang, Francesca Battistelli, Newsboys), the new album also features Roberts co-writing with longtime collaborators Stephanie Lewis and GRAMMY-nominated Rusty Varenkamp, as well as such acclaimed songwriters as Silverberg, Williams and Josh Bronleewe.
Releasing today on iTunes® is the title track, which is meant to be an encouragement to all who hear it. "This EP starts with joy, praise and freedom," shares Roberts. "Then you're moved into more reflective and serious moments, while ending on a very thankful and happy note. I hope that listeners are challenged by the truths in the songs, and that they're also affected emotionally."
That healing of the broken-hearted is something Kerrie takes seriously, especially in her song, "Come Back to Life," which tackles the subject of suicide. "Friends I loved were losing loved ones to suicide, and their worlds were being rocked. I feel like suicide is something that we don't talk about very much, and I wanted to start speaking truth into that situation. 'Come Back to Life' is very much based on the verse in Romans 8, where it says the same power that raised Jesus from the dead is available to us now. I want to tell people that are in that dark place, that 'you're not alone,' and that there is a power that can bring them back to life."
"While some subjects might be difficult, I don't find singing or talking about them difficult," shares Roberts. "I find that a privilege. I want to speak into different situations, and I'm very hopeful that these songs will help people."
In addition to the release of the title track, "My Heart's Lifted," Roberts will begin posting lyric videos beginning today on her website (www.kerrieroberts.com), followed by posting live, acoustic performance videos of all the songs on the album.
The full track and songwriter listing for My Heart's Lifted follows:
1) My Heart's Lifted - (Kerrie Roberts, Joshua Silverberg, Kipp Williams)
2) The Broken Ones - (Kerrie Roberts, Joshua Silverberg, Kipp Williams)
3) Seek Your Face - (Kerrie Roberts, Stephanie Lewis, Rusty Varenkamp)
4) Come Back to Life - (Kerrie Roberts, Josh Bronleewe)
5) Love Like You - (Kerrie Roberts, Joshua Silverberg, Kipp Williams)
For all the latest information on Roberts and My Heart's Lifted, go to www.kerrieroberts.com, https://www.facebook.com/KerrieRobertsMusic and https://twitter.com/kerrie_roberts.
About Kerrie Roberts
Stunning audiences at the tender age of five, singing solos with her church choir as the pastor's daughter, Multiple Dove Award-nominated Kerrie Robert's vocal talent has been described as dynamic yet intimate, uniquely emotive and soulful, while her prolific songwriting is characterized by empathy and openness, exploring the raw nature of faith, hope and love. Earning a degree in Studio Music and Jazz Vocal Performance at the University of Miami, Roberts has since released two acclaimed, full-length albums for Provident Label Group/Sony Music before going independent and releasing her Thank You Child Christmas EP in 2013. Having penned not only her own songs, but tracks for Mandisa, Laura Story and others, her song "Rescue Me" was also featured in an ABC Once Upon a Time promotion and her "Unstoppable" for an American Idol promotion. She has made guest appearances on Third Day's "Sound of Your Voice" and on Red's "Hymn For the Missing," while touring with such acclaimed artists as Casting Crowns, Newsboys, Big Daddy Weave, NewSong and Mark Shultz, and even serving as a background singer with legendary icon, Engelbert Humperdinck.
When asked what she wants her audiences to walk away with, Kerrie says, "I want to share the unconditional love that I've had poured into my own life. I hope that when people listen to my songs, and identify with the emotion in them, that they will know they're not alone. And ultimately, I want listeners to be filled with a sense of purpose - a realization of truth and a promotion of hope and healing."
About The Fuel Music
The Fuel Music & Management, LLC, is one of the leading independent distributors of music, CD's, tapes and vinyl records internationally and enjoys a growing base in artist merchandise sales. Based in Tennessee, the Fuel team brings nearly 50 years of combined music industry experience in record label operations (Furious? Records), record distribution and marketing (EMI Label Group), and artist management for artists ranging from upstart bands to GRAMMY and Dove Award nominated, multi-platinum artists. More information on the company can be found at www.thefuelmusic.com.
- ### -
For more info on Kerrie Roberts visit the JFH Artists Database.