THE 7th ANNUAL ROCK & WORSHIP ROADSHOW PRESENTED BY COMPASSION INTERNATIONAL ANNOUNCES OFFICIAL TOUR DATES
Roadshow Kicks Off Feb. 18 In Dallas, Wraps In Bossier City On March 29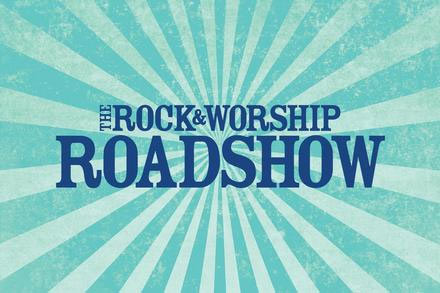 NEWS SOURCE: Merge PR
November 12, 2014
NASHVILLE, TENN - (November 12, 2014) - On the heels of announcing their artist lineup, the 7th Annual Rock & Worship Roadshow presented by Compassion International has just released the official 2015 tour dates. Kicking off on February 18 in Dallas, TX, the 23-date tour will run through March 29 and end in Bossier City, LA.
"The Rock and Worship Roadshow is excited to return to many of the tour's traditional tour stops plus several new cities in 2015," shares Brian Seay, executive producer of the tour. "We are joining with talented artists and ministry partners to offer the entire family with a powerful night of music and ministry. Our goal is to provide an affordable concert experience for the whole family that not only entertains but also challenges us to live out our faith."
2015 ROCK & WORSHIP ROADSHOW TOUR DATES:
FEBRUARY
18 - Dallas, TX*
19 - Springfield, MO
20 - Chattanooga, TN
21 - Mobile, AL
22 - Southaven, MS
26 - Indianapolis, IN
27 - Ypsilanti, MI
MARCH
01 - Carbondale, IL
05 - Columbus, OH
06 - Pittsburgh, PA
07 - Louisville, KY
12 - Kent, WA (Seattle)
13 - Boise, ID
14 - Portland, OR
15 - Spokane, WA
19 - Sacramento, CA
20 - Fresno, CA
21 - Long Beach, CA
22 - Phoenix, AZ
26 - Colorado Springs, CO
27 - Lubbock, TX
28 - Houston, TX*
29 - Bossier City, LA
* Select dates will have alternate ticketing structure. Visit TheRoadshowTour.com for more details
ABOUT THE ROCK & WORSHIP ROADSHOW:
2015's 7th Annual Rock & Worship Roadshow is again presented by Compassion International, the world's largest Christian child development organization serving more than 1.4 million children.
Headlining 2015's Roadshow are tour founders MercyMe who will be joined by Crowder, Matt Maher, Jamie Grace, Tedashii and Group 1 Crew. Being introduced on the tour are newcomer artists I Am They and Jon Guerra. Shaun Groves will appear as the tour's guest speaker.
General admission will be $10 per person at the door. A VIP ticket will also be available for $50 per person and will include a Q&A with select artists, early entrance for premium seating, an exclusive tour t-shirt, a VIP laminate and more. Since The Rock & Worship Roadshow first kicked off in 2009, the tour has performed more than 150 shows to an audience of 1.2 million. According to Pollstar in 2012, the hugely popular tour was named one of their Top 50 Tours for Mid-Year. For the latest tour information, check out the tour site TheRoadshowTour.com.
ABOUT COMPASSION INTERNATIONAL:
Compassion International is the world's leading authority in holistic child development through sponsorship. Compassion revolutionized the fight against global poverty by working exclusively with the Church to develop children out of poverty to become responsible, fulfilled Christian adults. It is the only child sponsorship program to be validated through independent, empirical research. Compassion partners with more than 6,500 Christian churches in 26 countries to release over 1.4 million babies, children and students from poverty in Jesus' name. Compassion has been awarded the highest rating for financial stewardship and transparency for 13 consecutive years by Charity Navigator, America's largest charity evaluator. For more information on the ministry, visit compassion.com or follow them on twitter at @compassion.
MERCYME Since their debut in 2001, GRAMMY®-nominated, American Music Award and multiple Dove Award winners MercyMe have sold over seven million units in CD and DVD sales, garnered 26 No. 1 multi-format Christian radio singles and four consecutive mainstream radio hits with "I Can Only Imagine," "Here With Me", "Homesick", and "So Long Self." In 2009, Billboard named MercyMe's "Word Of God Speak" the No. 1 Song of The Decade and the group the No. 1 Christian Songs Artist of the Decade, with an additional No. 1 as the Christian AC Song Artist of The Decade. MercyMe made history as "I Can Only Imagine" surpassed one million digital downloads, making it the first song in Christian music to go platinum in the digital domain. The song has now surpassed two million downloads. MercyMe has sold out venues across the nation, including Radio City Music Hall, and has appeared on The Tonight Show, CNN, Fox New Channel's Fox & Friends, ABC News, CBS This Morning, the Today Show and in the pages of Entertainment Weekly, The New York Times, USA Today, Billboard and more. Their eighth studio album, Welcome To The New, is available now. MercyMe.org
CROWDER Crowder has been embraced for his lyrically powerful and musically elaborate and unpredictable songs that have found themselves being sung everywhere from churches to clubs all across the country. In May, Crowder released his solo debut, Neon Steeple, a collection of songs and sounds looking forward to the past and counting the present as sacred. It's the sound of the Appalachians and Ibiza. Folk music and EDM. The music of the People. Folktronica. Digital and Analog. The Ones and Zeros and the Handshake. The Banjo and the 808. As part of the David Crowder*Band, they were named one of the "most thoughtful, progressive and exciting acts in contemporary Christian music" by The New York Times, garnering two GRAMMY® nominations, nine Dove Awards, 22 Dove nominations and selling nearly two million albums and three million digital tracks during their career. Continuing to perform as part of the Passion movement, participating in university student gatherings in the US and around the world, Crowder has also penned two books including his acclaimed "Everybody Wants to Go to Heaven, but Nobody Wants to Die." CrowderMusic.com
MATT MAHER Recording artist, songwriter and worship leader, Matt Maher is well known for writing worship anthems including "Your Grace Is Enough," "White Flag," "Lord I Need You," and "I Will Rise" sung in church worship services worldwide. A four-time Grammy nominee, his songs have been recorded by Chris Tomlin, Matt Redman, the Passion movement and more. Maher's songs have prompted national media coverage on outlets including "FOX & Friends" and as a guest writer with Billboard magazine. In the summer 2013, Maher was chosen to be the "face" of three million Dr. Pepper cans in conjunction with Pepsi MidAmerica and its Christian artist can campaign. Maher was invited to play at the 2013 World Youth Day in Rio de Janeiro and was selected to play for Pope Francis' Beachside Vigil attended by more than three million people. Maher will release his fifth full-length studio release in March of 2015 featuring a modern adaptation of the Bill & Gloria Gaither classic, "Because He Lives." MattMaherMusic.com
JAMIE GRACE 22-year old singer-songwriter Jamie Grace made a remarkable entrance with the help of multiple GRAMMY® winner TobyMac who signed her to Gotee Records. During the time of the release of her debut project, One Song at a Time, Jamie balanced her time between her career as a touring artist and college. While her album propelled her to win her first GMA Dove Award for New Artist of the Year and receive her first GRAMMY® and Billboard Music Award nominations, she also performed on the Women of Faith's REVOLVE tour, TobyMac's HITS Deep Tour and the highly attended 44-city Winter Jam Tour Spectacular. Her debut single "Hold Me (feat. tobyMac)" was a No. 1 radio single and has been certified Gold by the RIAA. Hailing from outside of Atlanta, she was diagnosed with Tourette Syndrome at age 11 and has since traveled the country sharing her story and faith through music and speaking. Jamie Grace has since graduated from Point University with a degree in children's ministry. Her sophomore album Ready To Fly is available now and features the No. 1 hit singles "Beautiful Day" and "Do Life Big". JamieGrace.com
TEDASHII Tedashii is a Houston, TX native that has sold more than 133,000 albums to date, garnered over eight million cumulative views on YouTube and was featured on Lecrae's GRAMMY-winning album Gravity. His previous release, Blacklight, debuted at No. 2 on the iTunes Hip-Hop chart and No. 8 on the iTunes overall album chart. Tedashii's sophomore album, Identity Crisis, charted No. 2 on the Gospel Billboard chart and No. 9 on the Christian Billboard chart. One of his hit tracks, "Dum Dum" was featured on the TV show "So You Think You Can Dance." Tedashii is also a radio host of his show, Serium, powered by NGEN Radio. Tedashii released his newest album Below Paradise on Reach Records in May 2014. Tedashii.com
GROUP 1 CREW Five-time Dove Award winning hip-hop/pop sensation Group 1 Crew, led by Manwell Reyes, has become one of Christian music's leading hip-hop/pop focused artists, broadening the parameters of faith-based music with songs that percolate with energy and resonate with the truth of God's grace. Releasing their #FASTER digital EP this year from Word Entertainment, #STRONGER is set to release Nov. 4, while the double EP, #FASTER/#STRONGER, a physical CD sold exclusively at Family Christian Stores. With six Top 5 Billboard Christian CHR radio hits, including three No. 1s ("He Said (featuring Chris August)," "His Kind of Love," "Dangerous"), Group 1 Crew music has also been heard on NBC, FOX, MTV, CW, VH1 and more national TV networks. Group1Crew.com
I AM THEY Where compelling voices intersect with a passion for spreading the gospel is where you'll find I Am They, a gifted young band from Carson City, Nevada that is redefining discipleship for today's generation. "We were made to do this. Music ministry is our heartbeat and pulse," says lead vocalist/guitarist Adam Palmer. "God has been growing dreams in us we didn't even realize we had. We are just trusting God and following where He leads." The six-member band includes Adam Palmer on lead vocals and guitar, Matthew Hein on lead vocals and guitar and Stephanie Kulla on lead vocals, Justin Shinn on keys, Bobby Stiehler on bass, and Sara Palmer on drums. Together they've forged an organic sound that is fresh and inventive musically while serving up songs that are easily embraced in a corporate setting yet have the personal feel of one heart crying out to the Father. I Am They recently completed their debut album with Essential Records and are working towards an early 2015 album release. The first single "From The Day" is available for download on iTunes now. IAmTheyBand.com
JON GUERRA Jon is a multi-instrumentalist singer/songwriter currently living with his wife in Chicago, IL and is part of the Vertical Church Band. He was raised in nearby Wheaton, spending his developmental years learning to play guitar and obsessing over artists like Bob Dylan, Emily Dickinson, and Rich Mullins. His debut EP on Essential Records, titled Glass, is now available on iTunes featuring four new songs and one acoustic version of "I Will Follow." JonGuerraMusic.com
SHAUN GROVES (SPEAKER) Shaun Groves is an award-winning singer-songwriter, a communicator, and advocate for children living in poverty around the world. ShaunGroves.com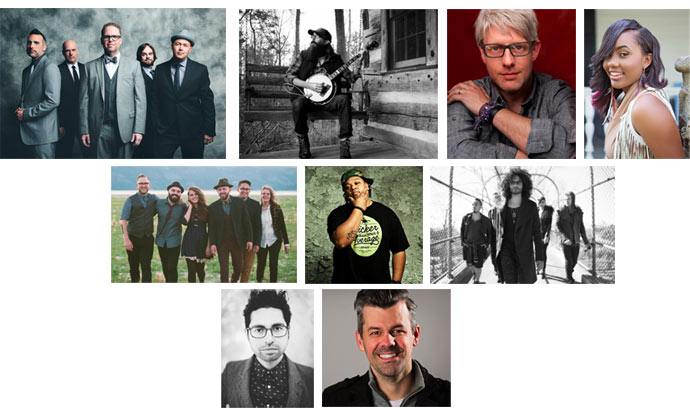 - ### -
For more info on MercyMe visit the JFH Artists Database.
For more info on Jamie Grace visit the JFH Artists Database.
For more info on Tedashii visit the JFH Artists Database.
For more info on Group 1 Crew visit the JFH Artists Database.
For more info on Matt Maher visit the JFH Artists Database.
For more info on Shaun Groves visit the JFH Artists Database.
For more info on I Am They visit the JFH Artists Database.
For more info on Jon Guerra visit the JFH Artists Database.