MISTY EDWARDS' LITTLE BIRD SOLO OFFERING TAKES FLIGHT DEC. 29
FROM FORERUNNER MUSIC
New Album Pushes Creative Boundaries with Help from Multiple GRAMMY,
Dove Award-winning Producer Brown Bannister

Edwards Premieres News Songs at the International House of Prayer's Annual Onething Conference in Kansas City, Dec. 28 - 31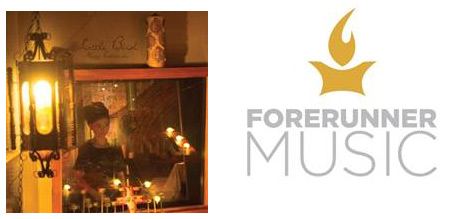 NEWS SOURCE: Hoganson Media
December 4, 2014
Dove-nominated singer/songwriter Misty Edwards will release her newest and 4th studio album, Little Bird, from Forerunner Music, the official record label of the International House of Prayer of Kansas City (IHOPKC). Available Dec. 29 through digital and retail outlets everywhere and distributed through New Day Distribution, Edwards will premiere songs from her creative solo offering, Little Bird, during the International House of Prayer's annual Onething Conference in Kansas City, MO Dec. 28 - 31.
Those who attend International House of Prayer in Kansas City (IHOPKC) and its annual Onething conference (http://www.ihopkc.org/onething/)-a premier event that draws approximately 25,000 church leaders and young people from congregations all across the globe, know the name Misty Edwards is synonymous with artistically-minded worship leadership. But when it comes to the brand new release of Little Bird, which comes on the heels of last year's critically lauded long player Only a Shadow, there's a decidedly different slant towards the singer/songwriter side of this immensely talented artist.
One of the reasons there is a new direction heard on Little Bird is that Misty wants to encourage others in the worship movement to think outside the box and not be limited to corporate expression. "A lot of worship leaders feel limited and frustrated creatively, but we're called to so much more as Christians, even when it comes to our typical definition of worship," shares Misty. "I also wanted to channel the kind of music I personally listen to, so it's also a case of being authentic to what I like. I strongly believe there's a whole group of listeners who won't gravitate towards worship music because they have a taste for a different kind of creativity, and it was in my heart to reach those people."
On Little Bird, Edwards continues to cling tightly to her faith, and for the first time in her extensive ministry, exposes several layers of personal reflection. "Personally, I don't think there is a line between the sacred and the secular," Edwards suggests. "If a person is living before God's eyes, everything is sacred. All of life is sacred, as opposed to trying to make church songs in one box and love songs in another box. I think we need to get rid of the separation. I hope these songs will land somewhere between encouraging people and leading them to ask questions about what they really believe. I hope to stir up conversations in their soul."
Independently-minded, Little Bird has the ability to take flight towards the spiritually thirsty of varying backgrounds that converge at the crossroads of musical and lyrical authenticity The album features all-star production from the legendary, 14 Grammy Award-winning / 25 Dove Award-winning Brown Bannister, plus co-production from the Grammy-nominated Paul Moak (The Blind Boys of Alabama, Mat Kearney), who blend together Little Bird's earthy innovation with analogue experimentation, alongside a vast myriad of subject matter.
Though the tunes more than speak for themselves, some definite highlights include the xylophone and marimba-flanked title track, which comes from the clever, wisdom-bearing perspective of Misty as a young adult writing a letter to herself as a little girl. The multiple layers of guitars throughout "Sound of a Heart" dig into themes of forgiveness as it applies King David's disastrous decisions and eventual redemption to our less publicly magnified struggles, while the pleading "Center of the Universe" traces Scripture's prophetic promise of the Lord's eventual return and examples of how we should strive to perpetually serve Him on the journey. The organic "Audience of One" perhaps best summarizes Misty's most pertinent thoughts that regularly replay throughout her pensive mind.
"The frailty and purpose of life are what drives me the most, and I've always been so aware of both. I'm captivated by thoughts of eternity, who God is and I'm very consumed with serving an audience of one," shares Edwards. "If you believe God is real and watching, that literally changes everything.
Little Bird will be supported through a targeted marketing campaign reaching out to over 200,000 consumers and fans through the International House of Prayer and Forerunner Music email lists. The record will further be promoted through key advertising outlets, a national publicity campaign, and an aggressive social media campaign targeting nearly 500,000 fans through IHOPKC, Forerunner Music and Misty Edwards.
The full Little Bird Track Listing follows:
1. Womb of the Morning
2. Invisible One
3. Little Bird
4. Companion
5. Tightrope
6. Audience of One
7. Killing Me with Mercy
8. Sound of a Heart
9. Reprise
10. Summer Girl
11. Mary Mary
12. Center of the Universe
About Little Bird
Street Date: 12/29/2014
CD UPC#: 8-21827-00007-9
SRP: $13.99 Digital Price: $9.99
About Misty Edwards
Misty Edwards has been a worship leader and songwriter at the International House of Prayer since its inception in September 1999, and oversees the leadership and music team. She has been actively writing songs since the age of sixteen, and continues to grow in this art, while encouraging others to do the same. Through worship-leading at conferences and her faithful time of leading in the prayer room, which is streamed LIVE 24/7 to over 175,000 people a month, Misty has impacted thousands with her music. For more information, visit www.MistyEdwards.com.
About Forerunner Music
Forerunner Music is the official record label of the International House of Prayer of Kansas City, MO, an evangelical missions organization centered on 24/7 worship and prayer. Having released more than 150 albums since its inception in 2001, the label has produced records for artists such as Misty Edwards, Laura Hackett, and Matt Gilman. Forerunner Music albums have reached as high as No. 9 on the Billboard charts and No. 1 on iTunes' Christian & Gospel charts. Visit forerunnermusic.com for more information.
About the International House of Prayer of Kansas City
The International House of Prayer of Kansas City (IHOPKC) is a 24/7 prayer ministry that has held worship-led prayer meetings non-stop for 15 years. Since 1999, bands of 10 or more singers and musicians have led an unending cycle of two-hour prayer-and-worship sets-all day and night-in the ministry's Global Prayer Room. The ministry streams this continual worship and prayer live on its website and is watched by tens of thousands of people each day from around the world.
IHOPKC includes a university (IHOPU) with ministry, music, media, and missions schools. The organization is committed to justice and compassion outreaches involving human trafficking, inner-city programs, and adoption. IHOPKC's vision is to work in relationship with the wider Body of Christ to serve the Great Commission, seeking to walk out the two great commandments: to love God and people. The International House of Prayer is an evangelical missions organization that has a growing community of about 4,000. Visit www.ihopkc.org for more information.
- ### -