FORMER AVALON ARTIST MELISSA GREENE TO APPEAR WITH TIMOTHY'S GIFT ON
NBC'S "THE SING-OFF" WEDNESDAY, DEC. 17 AT 9 P.M. ET/PT
America's Favorite A Capella show Returns With Six New Groups Competing in Two-Hour Holiday Special Executive Produced by Mark Burnett

Jewel, Shawn Stockman and Patrick Stump Serve as Judges with Nick Lachey Returning as Host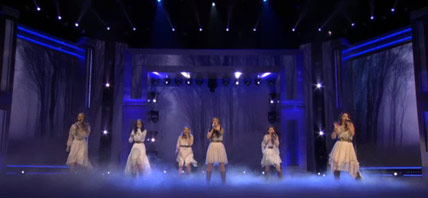 NEWS SOURCE: Rogers & Cowan
December 12, 2014
Los Angeles, Calif. (December 12, 2014) - Melissa Greene, veteran Christian music artist, will appear on NBC's two-hour Season Premiere holiday special of its popular musical competition series "The Sing-Off." Airing nationwide on Wednesday, Dec. 17 from 9-11 p.m. ET/PT, Greene will perform with the all-girl group Timothy's Gift as one of the six new acts who will compete for a first-place prize of $50,000.
Returning judges Jewel and Shawn Stockman will be joined by Fall Out Boy frontman Patrick Stump while Nick Lachey is once again set as host.
A powerful clip of Timothy's Gift may also be accessed at the NBC EPK press site. Please review here: https://nbc.epk.tv/view/#/campaign/sing-off-holiday-special/.
Greene has a deeply rooted history with music and performing. After singing soprano with the gospel music group Truth, Greene was invited to become a part of the critically acclaimed, Grammy nominated group, Avalon. She was honored with the other members of the group to have won the 2002 American Music Award for Favorite Artist in Contemporary Inspirational Music and spent almost seven years in Avalon signing lead for songs such as "Everything to Me" which won the Dove Award for Inspirational Recorded Song of the year in 2004. In addition, Greene currently serves as the full-time pastor of worship and arts at GracePointe Church in Franklin, Tenn.
Each group will perform musical favorites from today's top pop, R&B, rock and country charts with no lip-synching, backup bands or safety net as the celebrity judges critique the performers and eliminate one group each week. The last group standing will be awarded a cash prize and an Epic Records/Sony Music recording contract.
Executive produced by Mark Burnett (NBC's "The Voice"), "The Sing-Off" is produced by United Artists Media Group (a joint venture among MGM, Burnett, Roma Downey and Hearst Corporation) along with Outlaw Entertainment and Sony Pictures Television.
For more information about "The Sing Off," please visit the official show site at http://www.nbc.com/sing-off/.
For information about Melissa Greene, visit: www.melissagreenemusic.com.
- ### -
For more info on Avalon visit the JFH Artists Database.