NEWSBOYS' 'WE BELIEVE...GOD'S NOT DEAD' 2015 SPRING TOUR LAUNCHES AS MEGA GROUP NAMED AMONG TOP K-LOVE FAN AWARDS NOMINEES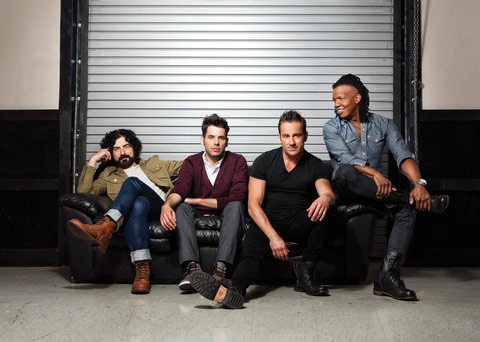 NEWS SOURCE: Turning Point Media
February 5, 2015
NASHVILLE, Tenn.-GRAMMY®-nominated, best-selling mega group Newsboys is poised to launch the "We Believe...God's Not Dead" 2015 Spring Tour next week, on the heels of the band's four K-LOVE Fan Awards nominations, which were recently announced.
Joined by Audio Adrenaline, Finding Favour and introducing John Tibbs, Newsboys' "We Believe...God's Not Dead" Tour kicks-off February 12 in Fayetteville, North Carolina. Slated to hit more than 40 cities this spring, including Austin, Texas; Ft. Lauderdale, Florida; Des Moines, Iowa; and Albany, New York, the tour concludes May 9 in Greensboro, North Carolina.
In addition, Newsboys received four K-LOVE Fan Awards nominations this year, tying for the most nominations with former tour-mates for KING & COUNTRY. The band earned nods for Group/Duo of the Year; Best Live Show; Song of the Year ("We Believe"); and Artist of the Year, alongside TobyMac, Chris Tomlin, Casting Crowns, MercyMe and for KING & COUNTRY. The third annual K-LOVE Fan Awards will be held May 31 at Nashville's Grand Ole Opry House.
Newsboys kick-off the new year following a record-breaking 2014, which saw the group's best-selling 2011 Inpop recording, God's Not Dead, certified Gold® by the Recording Industry Association of America (RIAA); an American Music Award nomination; an RIAA Gold® single certification for "God's Not Dead"; and total 2014 album and track sales in excess of 800,000 units. Named Billboard's #3 Top Christian Artist of the Year, Newsboys performed 144 concerts in eight countries last year. In addition to their own "We Believe" Tour, which saw sellouts across the U.S., the band co-headlined the blockbuster Winter Jam Tour Spectacular-2014's #1 first quarter tour in the world.
"God's Not Dead," Newsboys' chart-topping signature single, inspired last year's Pure Flix hit film of the same name, while the band's longest-running #1 single to date, "We Believe," serves as the theme song for Pure Flix's forthcoming Do You Believe? Arriving in theatres March 20, the film stars Academy Award®-winner Mira Sorvino, Sean Astin, Cybill Shepherd and Lee Majors, among others.
Comprised of lead vocalist Michael Tait, Jody Davis (guitar), Jeff Frankenstein (keys) and Duncan Phillips (drums), Newsboys are one of the most influential bands in Christian music today with more than 8 million units sold, six Gold® records, 33 #1 radio hits, four GRAMMY® nominations and multiple Dove Awards. Their latest recording and debut collection of hymns, Hallelujah For The Cross, released last fall and features the legendary group's take on nine classics and one new selection.
For further information, visit newsboys.com or turningpointpr.com. Follow Newsboys on Twitter @newsboys.
- ### -
For more info on Newsboys visit the JFH Artists Database.