HarperCollins Christian Publishing to Release Two New Refraction Collection Books March 10, 2015
Transcending Mysteries by Andrew Greer and Ginny Owens and Divided by Bill Delvaux Deliver Spiritual Direction in a Modern World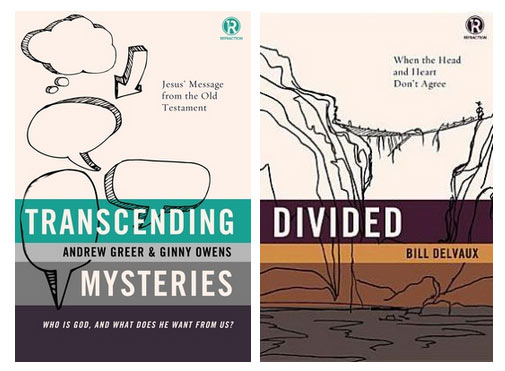 NEWS SOURCE: Bozeman Media
February 9, 2015
Nashville, TN (February 9, 2015) ---- Thomas Nelson, a division of HarperCollins Christian Publishing, will release two new books in the Refraction Collection, March 10, 2015. Transcending Mysteries is co-authored by Dove nominated singer/songwriter, Andrew Greer and Dove Award winning artist, Ginny Owens, while Divided is written by author, pastor and Bible teacher, Bill Delvaux. Both projects delve into the Refraction theme of how to deal with the biggest issues facing Christians today; how to reconcile God and Jesus from the Old and New Testaments and how to keep from becoming a divided Christian with your heart and mind. The readers are given valuable insight into these issues and learn how God would like for us to respond.These new offerings in the Refraction Collection continue to cross theological boundaries in an open and honest way, with succinct and candid writing for a contemporary, millennial-minded reader.
"Transcending Mysteries was inspired by many conversations with fellow Christ-followers who wholeheartedly trust in the grace-giving gospel of Jesus, but struggle with the tough stuff of the Old Testament. Ginny and I wanted to reopen the story of Scripture, pair it with our own stories as disciples today, and attempt to discover - rather than dictate - God," explains Andrew Greer. "As the most definitive written revelation of who God is, Scripture is important in knowing God better. And so, for better or worse, we open up the Old Testament to probe with all the saints the greatest mystery of all time - God."
Ginny Owens adds, "On our journey to discover God through the Old Testament, stories we've heard all our lives took on new meaning and Scripture we'd never explored, challenged and moved our hearts.The threads of grace we uncovered woven throughout God's journey with the Israelites were astounding. We're excited for the opportunity to invite readers to consider our findings and make discoveries of their own."
"In Divided, I explore the source of perhaps the most crippling anguish of my life, the terrible split between my head and heart," says Delvaux. "It nearly destroyed me in my mid-30's after a failed church plant and a failing marriage. What convinced me to write the book wasn't my own painful sense of fragmentation, but the feedback I got when I spoke on the topic. Out of the countless Biblical truths I have taught over the years, nothing has received the type of electric response as this subject has. I realized then that my own inner tension is just as painful in so many others."
Transcending Mysteries will help readers to reconcile God of the Old Testament with the gracious gospel of Jesus in the New Testament. Greer and Owens use Old Testament stories to help Christians understand what God really wants from His people. Both authors give personal insights into their own stories of struggle and surrender, while adding the vital stories of Scripture to understand the whole overview of our faith. Together, Greer and Owens answer the age old question that Christians have struggled with for years. "We fell in love with Jesus. Then we had to decide what to do with God." Divided deals with the dividing issue of how we reconcile our statements about God and our experience of Him. Believers, and even some church leaders, have this split between their heart and mind that can result in a double Christian life, with devastating results. It's an epic journey that will take the reader into their deepest fear and shame, but offers strategies to tackle it in order to lead the reader into the wonder of God's presence and the heart of the Father. Special features of Divided include strategies for closing the divide, specific prayers for each stage of the spiritual journey and thought-provoking questions for study and reflection.
For more information about Transcending Mysteries, Divided and the Refraction Collection, please visit online at RefractionBooks.com.
About Thomas Nelson
Thomas Nelson publishers is a world leading provider of Christian content and has been providing readers with quality inspirational product for more than 200 years. As part of HarperCollins Christian Publishing Inc., the publishing group provides multiple formats of award-winning Bibles, books, gift books, cookbooks, curriculum and digital content, with distribution of its products in more than 100 countries. Thomas Nelson is headquartered in Nashville, TN. For additional information visit www.thomasnelson.com.
- ### -
For more info on Ginny Owens visit the JFH Artists Database.