GRAMMY®-NOMINATED BAND THE CHOIR TO CELEBRATE 25 YEARS OF ICONIC ALBUM CIRCLE SLIDE WITH ONCE-IN-A-LIFETIME TOUR
Joined By Michael Roe Of The 77s On Bass And Opening Set Featuring Music From The
Classic 77s Album, Pray Naked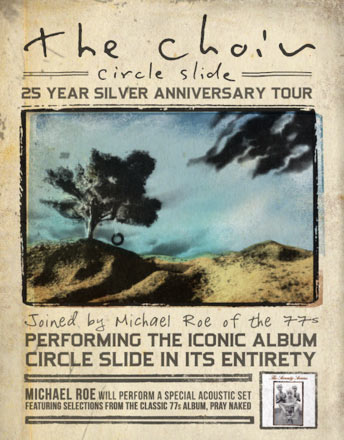 NEWS SOURCE: Merge PR
February 18, 2015
NASHVILLE, TN - 18 February 2015 - GRAMMY®-nominated indie rockers The Choir have announced plans to give fans a once-in-a-lifetime opportunity to celebrate the 25th anniversary of their landmark album, Circle Slide. The band will mark the milestone with a unique tour experience featuring the seminal album played live and electric in its entirety. The tour will begin April 17 and continue through June. Cities include St. Paul, MN, Chicago, IL, Columbus, OH, Phoenix, AZ, Fresno, CA as well as a hometown show in Nashville, TN at The Basement on May 9.
A Choir show is always an event, but this upcoming tour represents a unique opportunity to experience the band live - including founders Steve Hindalong and Derri Daugherty - as they cover their iconic 1990 release from beginning to end. Adding excitement to the attraction, longtime friend Michael Roe of 77s fame will join the band on bass for their set. Choir member, Dan Michaels (sax and Lyricon) will join the tour on select dates. A listing of tour dates can be viewed here: http://thechoir.net/tour.
The night will also showcase a special acoustic set by Roe, featuring songs from an upcoming deluxe anniversary reissue of the classic 77s Pray Naked album. The Choir will also play selections from their most recent studio project, Shadow Weaver.
Circle Slide released to widespread critical acclaim. Its moody, dreamlike sound comes alive on memorable tracks like "Restore My Soul," "A Sentimental Song" and "About Love." A silver anniversary CD reissue of Circle Slide will be revealed at a later date. "Even after two and a half decades," says Hindalong, "the songs on Circle Slide are spiritually and emotionally resonant to me. We have never played this album in its entirety. It'll be fun for sure!"
To view the Circle Slide 25th Anniversary Tour video, click here or view it below.
The Choir has been impacting audiences for more than three decades, and shows no signs of slowing down, inspired, no doubt, by their tireless fan base. In 2014, the band released not only the crowd-funded studio project Shadow Weaver but also their first live album in 15 years entitled Live and On the Wing in Music City.
Web: www.thechoir.net Facebook: www.facebook.com/thechoir Twitter: @TheChoirTweet
Web: www.77s.com Facebook: www.facebook.com/the77s Twitter: @lofirecords
About The Choir
The Choir is a Nashville-based acclaimed indie rock band that originated in Los Angeles 30 years ago. Since then, the band - still with its original members - has released 15 studio albums. The latest is entitled Shadow Weaver. The Choir were nominated for a Grammy® in 2000 and won the Dove Award in 1996 for Best Alternative Album.
About Michael Roe
Regardless of the hat he is wearing, Michael Roe has over the course of his 30 plus years as a national recording artist, delivered well-crafted songs and lyrics to his audience. In recent years Roe has released highly regarded solo albums, concurrently released new material by his belovedrock band the 77s, and recorded and toured with the 'supergroup' The Lost Dogs. Michael Roe has carved out an introspective body of work with styles ranging from folk, Americana, rock and blues, all well regarded and much acclaimed. In each of his recordings, Roe desires not only to put forth a finely crafted song, but also to show himself real - writing from the experience of life's difficulty and struggle as well as life's joy and promise.
- ### -
For more info on The Choir visit the JFH Artists Database.
For more info on The 77s visit the JFH Artists Database.