JESUS CULTURE WORSHIP LEADER DEREK JOHNSON ANNOUNCES DEBUT ALBUM REAL LOVE, SET TO RELEASE APRIL 7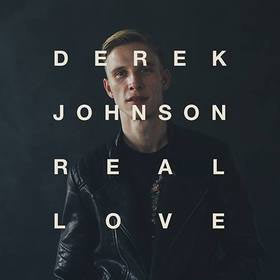 NEWS SOURCE: Merge PR
February 25, 2015
NASHVILLE, TENN. - 25 FEBRUARY 2015 - Jesus Culture artist and worship leader Derek Johnson announces the release of his debut album, Real Love. His first solo project is slated to drop April 7 with Capitol Christian Music Group and Jesus Culture Music.
Real Love features 12 original tracks where Johnson utilizes his passion for message-driven songwriting to share his hope in the God of real and authentic love. He is a relevant voice to this generation for bringing intimacy and the joy of the Lord through praise and worship.
"My heart is to write songs that lead people to Jesus," Derek Johnson shares. "Whether they have a relationship with Him and know His love or they are still searching for truth, my desire is that anyone who hears these songs will be brought into a deeper understanding of worship and the God of real love."
Leading up to the release of Real Love, Johnson recently filmed three music videos for the singles that will release over three consecutive weeks, starting with the pre-order that begins March 17. The videos, captured at Sacramento's historic Old Sugar Mill, will accompany the following songs leading up to the full album's release: "The One We Love" (3/17), "Power In The Cross" (3/24), and "Real Love" (3/31).
(Photos below taken from video shoots held at the historic Old Sugar Mill, Sacramento, CA)

Derek Johnson has been featured on Jesus Culture's CD Emerging Voices, which hit No.1 on the iTunes Christian/Gospel chart. His song "I Belong To You" was also featured as a bonus track on Jesus Culture's 2012 album Live From New York (with Martin Smith), which received a Dove nomination for Best Event Album of the Year.
As a member of the Sacramento-based Jesus Culture team since 2009, he's led worship at every Jesus Culture conference since 2011 and has opened for Kim Walker-Smith and Jesus Culture Band at sold-out venues across the country.
REAL LOVE TRACK LISTING:
1. Our Salvation
2. The One We Love
3. Jesus I See You
4. Power In The Cross
5. I Belong To You
6. Real Love
7. Bright As You
8. My Great Love
9. Heaven Meeting Earth
10. Made To Last
11. Washed Away
12. Glory Come Down
Click below to view the Real Love album promo video:
About Jesus Culture Music: Jesus Culture Music is Sacramento, CA-based and led by Senior Team Director Banning Liebscher. Jesus Culture was formed through the momentum of a movement that is focused on equipping a generation to transform society by bringing people into an encounter with God's love through worship and discipleship. Jesus Culture Music albums capture the heart of this movement. Jesus Culture Music has sold more than one million albums worldwide since their debut project in 2005 and garnered more than 3.8 million followers on social media and over 34.5 million views on YouTube. Jesus Culture Music is a label that contains 12 artists including: Jesus Culture Band, Kim Walker-Smith, Bryan and Katie Torwalt, Chris Quilala, Kristene DiMarco, Derek Johnson, Justin Jarvis, Andrew and Mary Kat Ehrenzeller, Chris McClarney, Skyler Smith and Josh and Amberly Klinkenberg. To date, the Jesus Culture Band has recorded ten albums and released a total of 25 projects on their music label. The latest release from Jesus Culture Band, Unstoppable Love, climbed to No. 2 on the iTunes overall chart and debuted at No. 25 on the Billboard Top 200 chart and No. 1 on the overall Top Christian/Gospel Albums Billboard retail chart.
- ### -