Amy Grant To Release Be Still And Know...Hymns & Faith Featuring New Songs Produced By Vince Gill April 14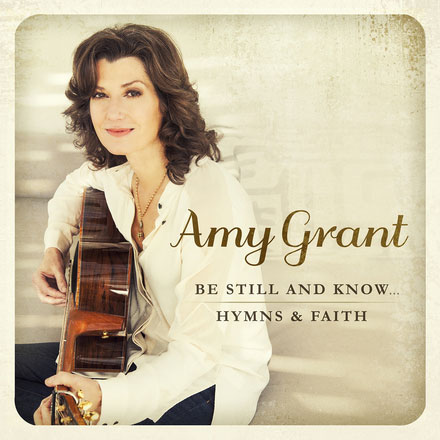 NEWS SOURCE: The M Collective
March 3, 2015
Nashville, Tenn. (March 3, 2015) — Six-time GRAMMY® Award winner Amy Grant teamed up with her country superstar husband, Vince Gill, for the release of Be Still And Know...Hymns & Faith, set to debut April 14. The album features several tracks from previously released projects Legacy...Hymns & Faith and Rock of Ages...Hymns & Faith, which have sold more than 800,000 copies combined. The April release will include two newly-recorded songs produced by Gill: "Power In The Blood" and "Be Still And Know."
"Hymns were so much a part of my childhood," Grant said. "We sang hymns like people sing the national anthem before a ballgame; it was hymns before everything. We sang hymns in our homes, in our church three times a week – there would be some Sunday nights where all we did was sing hymns. These songs are for people who grew up with the hymn tradition – to remind them how inspiring they are."
Grant's longtime friend, GRAMMY® Award winner Michael W. Smith will join her this May for various shows featuring songs from the album. Additional information will soon be announced here.
Be Still And Know...Hymns & Faith follows Grant's 2014 fall release of In Motion: The Remixes, which soared into the Top 5 on Billboard's Electronic Albums Chart. Grant's 2013 critically-aclaimed studio album How Mercy Looks From Here featured James Taylor, Carole King, Sheryl Crow, Eric Paslay, Will Hoge and Vince Gill and debuted at No. 12 on the Billboard 200 Chart. The album also topped the Billboard Christian chart, making it a record-setting 16th No. 1 album for Grant in the Christian genre.
Later this year, Grant will host "A Nashville Weekend," welcoming fans to her hometown for a three-day event featuring concerts and special events. The September weekend will offer fans an unforgettable Nashville experience all while benefiting Grant's Helping Hands Foundation. For more information, or to book your ticket, click here.
Be Still And Know...Hymns & Faith
1. Power In The Blood
2. Be Still And Know
3. Jesus Take All of Me (Just As I Am)
4. Rock Of Ages (Featuring Vince Gill)
5. Carry You
6. This Is My Father's World
7. El Shaddai
8. Joyful, Joyful, We Adore Thee
9. It Is Well With My Soul/The River's Gonna Keep On Rolling
10. My Jesus, I Love Thee
11. Deep As It Is Wide (Featuring Sheryl Crow and Eric Paslay)
12. What A Friend We Have In Jesus/Old Rugged Cross/How Great Thou Art
13. 'Tis So Sweet To Trust In Jesus
14. Softly And Tenderly
15. Holy, Holy, Holy
About Amy Grant
Amy Grant's career spans more than 30 years and stretches from her roots in gospel into becoming an iconic pop star, songwriter, television personality and philanthropist. With three multi-platinum albums, six platinum albums and four gold albums, her total career album sales have exceeded 30 million. Grant's chart success has been consistent throughout her career with six No. 1 hits, ten Top 40 pop singles, seventeen Top 40 Adult Contemporary tracks and multiple Contemporary Christian chart-toppers. In addition to her six GRAMMY® Awards, Grant has earned 26 Dove Awards (including four Artist of the Year Awards) and has been awarded a star on the Hollywood Walk of Fame. Conventional wisdom has it that Grant put Contemporary Christian Music on the map becoming the first Contemporary Christian artist to have a platinum record, the first to hit No. 1 on the Pop charts, and the first to perform at the GRAMMY® Awards. With that, her legacy as one of the most influential artists of the past couple of decades is assured. Her first studio album in more than a decade, How Mercy Looks From Here, released May 14, 2013 and debuted at No. 12 on the Billboard 200 Chart. Be Still And Know...Hymns & Faith is set to release April 14.
[Get Connected with Amy Grant]
Website // www.amygrant.com
Facebook // www.facebook.com/amygrant
Twitter // www.twitter.com/amygrant
- ### -
For more info on Amy Grant visit the JFH Artists Database.