GRAMMY®-WINNING ROCK BAND SWITCHFOOT ANNOUNCES 11th ANNUAL SWITCHFOOT BRO-AM
PRESENTED BY iHEART MEDIA SAN DIEGO & HURLEY
TO BENEFIT SAN DIEGO-BASED CHILDREN'S CHARITIES
THE FREE CONCERT - SET FOR JULY 11 ON MOONLIGHT BEACH IN ENCINITAS, CA - FEATURES SWITCHFOOT, NEEDTOBREATHE, DREW HOLCOMB & THE NEIGHBORS AND COLONY HOUSE

OTHER BRO-AM EVENTS INCLUDE AUCTION NIGHT SOIREE, CHARITY SURF CONTEST AND THE ROB MACHADO BRO JUNIOR

SWITCHFOOT JOINS NEEDTOBREATHE ON
"TOUR DE COMPADRES," KICKING OFF JULY 9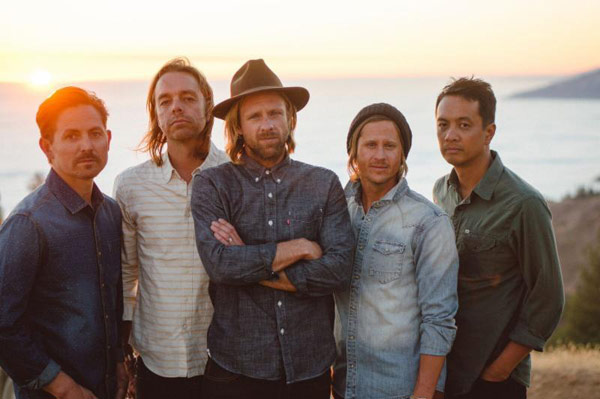 NEWS SOURCE: bbgun PR
June 10, 2015
LOS ANGELES, CA - June 10, 2015 - The 11th Annual SWITCHFOOT Bro-Am surf contest and concert, presented by iHeart Media San Diego and Hurley, will take place at Moonlight Beach in Encinitas, CA on Saturday, July 11. SWITCHFOOT, NEEDTOBREATHE, Drew Holcomb & The Neighbors and Colony House will perform at the concert, which will run from 12 PM - 5 PM. This year, the surf contest/concert will be streamed here, allowing viewers around the world to tune in and catch the Bro-Am action live. Fans can also see SWITCHFOOT live this summer on NEEDTOBREATHE's Tour De Compadres, launching July 9 and featuring special guests Drew Holcomb & The Neighbors and Colony House. See below for itinerary.
Since its inception in 2005, the Bro-Am has raised more than $1,000,000 for San Diego-based children's charities. While admission to the beach event is free, funds will be raised from beach vendors, corporate surf team entries and sponsorships as well as a pre-event Auction Night Soiree and, for the first time in Bro-Am history, an online auction that will allow fans around the world to bid for unique items. For further details regarding the online auction, which will run June 28 - July 11, visit http://www.switchfoot.com/bro-am.
The 2015 events will benefit the SWITCHFOOT Bro-Am Foundation, which the members of SWITCHFOOT recently created to continue their mission of giving back to the local community through music, surfing, and youth development programs. One of the foundation's inaugural projects will be a music education program for children & teens, which will be announced shortly.
"I'm so proud to announce our 11th year of Bro Am - it's shaping up to be the best yet," says SWITCHFOOT's Jon Foreman. "We are deeply moved to see our community come together to help create an event that supports these very incredible kids. It remains my favorite day of the year."
Prior to the big beach day, the Bro-Am will kick off with an auction night soiree on Wednesday, July 8, at a local private estate. The evening will feature signature dishes from the area's leading restaurants, a live performance by SWITCHFOOT, stellar silent and live auctions and more.
The surf contest begins at 7:00 AM on Saturday, July 11. Four-person corporate surf teams secure their participation via sponsorship donation to the SWITCHFOOT Bro-Am Foundation. Kids 16 and under can participate in the 4th annual Rob Machado Bro Junior. After signing up at the Solana Beach Surf Ride location, kids can compete on one of Rob Machado's boards and stick around for the day's festivities. Rather than a financial donation, junior entrants bring gently-used surf clothes to the beach on competition day as their entry fee.
BMW Encinitas is the exclusive vehicle sponsor of the event. Thanks to Bro-Am's relationship with Hurley H2O, the beach experience is a single-use plastic water bottle-free event. Attendees are encouraged to bring a re-usable water bottle to fill up at the H2O station for free, and Hurley H2O provides stainless steel bottles with funds raised supporting nonprofit partners like The Ecology Center. Continuing its eco-friendly efforts, the SWITCHFOOT Bro-Am works with San Diego-based Alternative Power Productions to offer cutting-edge solar-powered sound and staging. The Rob Machado Foundation, dedicated to teaching youth about their impact on the environment, will once again partner with the Solana Center to have a team of surfers and environmentalists managing waste at Bro-Am. The Green Team of volunteers will ensure that as much waste as possible is diverted from the landfill.
SWITCHFOOT June U.S. Tour Dates
6/19 - San Diego, CA @ Del Mar Fairgrounds-Equestrian
6/27 - Shirleysburg, PA @ Creation Northeast
SWITCHFOOT and NEEDTOBREATHE - Compadres Tour
7/9 - San Francisco, CA @ The Masonic
7/10 - Las Vegas, NV @ Mandalay Bay
7/11 - Encinitas, CA @ Moonlight Beach (SWITCHFOOT Bro-Am)
7/12 - Los Angeles, CA @ The Greek Theatre
7/15 - Boise, ID @ Morrison Center
7/16 - Jacksonville, OR @ Britt Festival Pavilion
7/17 - Portland, OR @ Oregon Zoo Amphitheatre
7/18 - Redmond, WA @ Marymoor Park
7/21 - Morrison, CO @ Red Rocks Amphitheatre
7/23 - Papillion, NE @ Sumtur Amphitheater
7/24 - Minneapolis, MN @ Cabooze
7/25 - Eureka, MO @ Six Flags St. Louis
7/30 - Kennewick, WA @ Benton County Fairgrounds
8/4 - Wausau, WI @ Wisconsin Valley Fair
8/6 - Portsmouth, VA @ Ntelos Wireless Pavilion
8/7 - Asbury Park, NJ @ Stone Pony Summer Stage
8/8 - Boston, MA @ Blue Hills Bank Pavilion
8/10 - New York, NY @ Terminal 5
8/11 - Vienna, VA @ Wolf Trap
8/12 - Florence, SC @ Florence Civic Center
8/14 - Nashville, TN @ Ascend Amphitheater
8/15 - Memphis, TN @ Moon River Music Festival
8/16 - Indianapolis, IN @ The Farm Bureau Insurance Lawn at White River State Park
8/18 - Rochester Hills, MI @ Meadow Brook Theatre
8/19 - Highland Park, IL @ Ravinia Festival
SWITCHFOOT Fall Tour Dates
9/5 - Sioux Falls, SD @ Lifelight Festival
9/6 - Quincy, CA @ Plumas County Fairgrounds
9/11 - Orlando, FL @ Universal Studios
9/13 - Louisville, OH @ Rock The Park
All pertinent links:
Find more details on the SWITCHFOOT Bro-Am HERE
Purchase SWITCHFOOT/NEEDTOBREATHE tour tickets HERE
Learn more about the SWITCHFOOT Bro-Am Foundation HERE
Purchase Fading West HERE
ABOUT SWITCHFOOT
SWITCHFOOT is Jon Foreman (vocals/guitar), Tim Foreman (bass), Chad Butler (drums), Jerome Fontamillas (keys/guitar) and Drew Shirley (guitar). The GRAMMY-award winning rock band's latest album, Fading West, debuted at No. 6 on the Billboard 200 album chart. They also released their first feature film, Fading West, across all digital and VOD formats. Part rock documentary, part surf film, and part travelogue, Fading West offers rare glimpses of the longtime surfers on their boards and in the waves, captures the frenetic energy of their live shows, and in the end portrays a journey both epic and intimate. www.SWITCHFOOT.com
ABOUT NEEDTOBREATHE
NEEDTOBREATHE is a GRAMMY-nominated, American Rock 'n' Roll Band from South Carolina, effortlessly woven from the musical traditions and faith of their upbringing in the Deep South of the United States. Made up of brothers Bear Rinehart (vocals, guitar) and Bo Rinehart (guitar, vocals), Seth Bolt (bass, vocals) and Josh Lovelace (keys, vocals), the band hit their big break in 2005 when they signed to Atlantic/Word Records. The career to follow would include four full studio albums, chart-topping cross-genre success, multiple headlining tours and media coverage on CONAN, The Ellen Degeneres Show, The Tonight Show with Jay Leno, Late Night with Jimmy Fallon, Late Show with David Letterman, CBS, MTV, FOX and much more. The band's critically acclaimed fifth studio album, Rivers In the Wasteland, was released on April 15, 2014, and debuted at #3 on the Billboard Top 200 Chart. http://www.needtobreathe.com
ABOUT DREW HOLCOMB
Drew Holcomb's music is simple and heartfelt, built to inhabit people's day-to-day lives. His new album, Medicine, was recorded with his longtime band The Neighbors and co-produced by Joe Pisapia (Ben Folds, k.d. lang). NPR Music put the track "Here We Go" on its list of 10 Songs Public Radio Can't Stop Playing" and recent appearances include "Jimmy Kimmel Live!" and public radio's "Folk Alley," "Mountain Stage," "eTown" and "The Takeaway." His songs have been heard in shows like "Nashville," "Parenthood," and "How I Met Your Mother." Holcomb has toured with artists like the Avett Brothers, John Hiatt and NEEDTOBREATHE and sold out headline shows from Chicago to Austin, L.A. to New York, London to Denver, selling over 100,000 records in the process - and all while staying independent. http://www.drewholcomb.com
ABOUT COLONY HOUSE
Alt-rock trio Colony House is known for its sharp lyrical insight, indelible melodic craft and charismatic live shows. The Nashville-based band developed a fiercely loyal fan base through diligent touring and a series of acclaimed, self-released EPs.Their full-length debut, When I Was Younger, charted in the Top 5 of Billboard's Heatseekers albums chart. The trio - which features Caleb Chapman (lead singer, guitarist and principal songwriter), his brother Will Chapman on drums and Scott Mills on lead guitar and harmony vocals - has toured with NEEDTOBREATHE, Ben Rector, SWITCHFOOT and Drew Holcomb and appeared on "Late Night with Seth Meyers." http://www.colonyhousemusic.com
ABOUT iHEART MEDIA SAN DIEGO
iHeartMedia San Diego owns and operates KGB-FM; KHTS-FM; KIOZ-FM; KLSD-AM; KMYI-FM; KOGO-AM; KSSX-FM and is part of iHeartMedia. With 245 million monthly listeners in the U.S., 97 million monthly digital uniques and 196 million monthly consumers of its Total Traffic and Weather Network, iHeartMedia has the largest reach of any radio or television outlet in America. It serves over 150 markets through 859 owned radio stations, and the company's radio stations and content can be heard on AM/FM, HD digital radio, satellite radio, on the Internet at iHeartRadio.com and on the company's radio station websites, on the iHeartRadio mobile app, in enhanced auto dashes, on iPads and smartphones, and on gaming consoles. iHeartRadio, iHeartMedia's digital radio platform, is the No. 1 all-in-one digital audio service with over 345 million downloads; it reached its first 20 million registered users faster than any digital service in Internet history and reached 70 million users faster than any digital music service and even faster than Twitter, Facebook and Pinterest. The company's operations include radio broadcasting, online, mobile, digital and social media, live concerts and events, syndication, music research services and independent media representation.
ABOUT HURLEY
Founded in 1999 with roots in Huntington Beach, Hurley is a surf lifestyle brand which designs, markets and distributes industry-leading apparel, footwear and accessories. Fueled by innovation, inclusion and empowerment of youth, Hurley is a wholly owned subsidiary of Nike Inc. with headquarters in Costa Mesa, CA and offices in Tokyo, Sydney, Barcelona and Bali. www.hurley.com
ABOUT SIMA & SIMA HUMANITARIAN FUND
Founded in 1989, The Surf Industry Manufacturers Association (SIMA) is the official working trade association of more than 300 surf industry suppliers that serves to promote awareness of the surf industry and participation in the sport of surfing through public relations efforts and a variety of services, educational programs and research. The SIMA Humanitarian Fund was established in 2004 to award grants to various surf or boardsport related social and humanitarian non-profit organizations whose efforts are focused on improving the quality of life, health and/or welfare of people. Since its inception, the SIMA Humanitarian Fund has donated more than $1.6 million. Its 2014 beneficiaries include AccesSurf Hawaii, Boarding For Breast Cancer, Best Day Foundation, Cystic Fibrosis Foundation, Jimmy Miller Foundation, Life Rolls On, Mauli Ola Foundation, Outdoor Outreach, Stoked Mentoring, SurfAid, Surfers Healing, and Waves for Water. For more information regarding SIMA, please visit www.sima.com .
ABOUT VIASAT
ViaSat, a wireless technology and services company based in Carlsbad, CA, along with its production partners, TourGigs and Black Magic, is excited to enable the Live Stream of this year's Switchfoot BroAm. As part of the Live Stream and local ViaSat partnership, Carlsbad High School TV and their students will work hand-in-hand with ViaSat's technology and partners to bring the Live Stream to those who can't be at Moonlight beach. The entire Switchfoot Bro-Am surf contest and concert can be viewed online at switchfoot.com/bro-am.
###
For more info on Switchfoot, visit the JFH Artists Database.