AUTHOR/PASTOR BRIAN COSBY RELEASES
UNCENSORED: DARING TO EMBRACE THE ENTIRE BIBLE
FROM DAVID C COOK OCT. 1
Book Disrupts A Socially Acceptable, Feel-Good Faith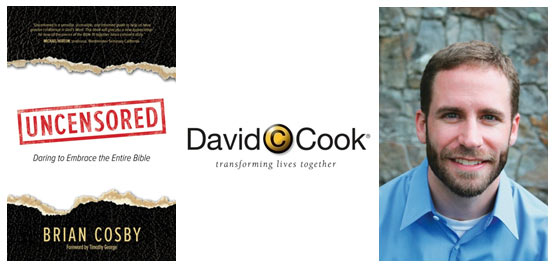 NEWS SOURCE: Hoganson Media
August 26, 2015
Pastor, seminary professor, blogger, conference speaker and author Brian Cosby releases Uncensored: Daring to Embrace the Entire Bible Oct. 1 from David C Cook. In the book, Cosby dares Christians to embrace the entire Bible by exposing the dangers of cherry-picking only the 'socially correct' verses rather than holding fast to the whole counsel of God. Uncensored is a wake-up call to Christians who find themselves embarrassed by portions of Scripture, as well as an exploration of why believers can confidently embrace all of God's Word.
The Bible is brimming with passages that make many Christians blush, squirm and reel with embarrassment. The Israelites stoned adulterers, slaves obeyed masters, Jesus taught that sinners go to hell, and, at God's command, his people killed both young and old, even animals. Uncensored demonstrates why even these and other embarrassing parts of the Bible that seem to betray God's loving character are important, while further providing an affirmation of the doctrine of Scripture, tools for biblical interpretation, answers to common objections raised against the faith, and spiritual direction for Christian living.
"Jesus didn't call us to a half-hearted, partially-committed, self-empowering journey called 'Christianity;' he called us to deny ourselves, take up his cross, and follow him (Luke 9:23)," says Cosby. "He's called us into an upside-down kingdom, where we die to live, give up to gain, and worship a King who wore a crown of thorns, not gold. When we question or 'decide' which passages in the Bible we'll follow, we make ourselves the judges of truth and reveal our own hidden shame and embarrassment; namely, that we don't want to be identified with the suffering Servant."
By truly understanding and accepting all the scriptures, Cosby shares how this will help the reader gain a healthy, balanced and impactful faith while avoiding the temptation to cherry pick verses out of context.
Part One of Uncensored shows how the fundamental unity of the Old and New Testaments helps put many of the "offensive" passages in their proper perspective. The second part examines eight of the most frequently "picked over" themes in the Bible and why an unashamed affirmation of these doctrines is needed for a healthy, God-honoring faith. And in Part Three, Cosby discusses where we go from here, beyond a cherry-picking faith, and how to identify our role in Jesus' mission to build his church (Matt. 16:18). It also gives some anchor-setting hope, so readers might joyfully live out a healthy, balanced faith.
"If the Bible is truly inspired by God as his self-revelation, and profitable for his people, then I should embrace the whole counsel of God for a healthy, balanced and fruit-filled faith," suggests Cosby. "When I only selectively choose which parts to meditate on (day and night), I fail to become that tree planted by streams of water, bearing fruit in its season (Ps. 1:1-3)."
About Brian Cosby:
Brian Cosby is Senior Pastor of Wayside Presbyterian Church (PCA) on Signal Mountain, TN and Visiting Professor of Church History at Reformed Theological Seminary in Atlanta, GA. He holds degrees from Samford University (B.A.), Beeson Divinity School (M.Div.), and Australian College of Theology (Ph.D.), and is the author of a number of books, including: Giving Up Gimmicks: Reclaiming Youth Ministry from an Entertainment Culture, Suffering and Sovereignty: John Flavel and the Puritans on Afflictive Providence, God's Story: A Student's Guide to Church History, and When You Are Weak: How Boasting in Jesus Makes You Strong.
With his writing endorsed by J.I. Packer, Russell Moore, Kent Hughes, Timothy George, Michael Card, Tim Challies and many more, Cosby has also contributed chapters/articles to books with Baker Academic and Eerdmans, as well as The Gospel Coalition, Modern Reformation, Credo Magazine, Evangelical Times, Relevant Magazine, Westminster Theological Journal, Chattanooga Times Free Press, Alliance of Confessing Evangelicals, among many others.
Cosby and his wife Ashley reside in Tennessee with their three children.
About David C Cook:
David C Cook is a leading nonprofit resource provider serving the global Church with life-transforming, Christ-centered materials. Headquartered in Colorado Springs, Colorado, with offices in Illinois, Canada and the United Kingdom, David C Cook's resources are published in over 150 languages and distributed in more than 160 countries. Originally founded in 1875 as a curriculum publisher, today David C Cook publishes numerous bestselling fiction and non-fiction books from a variety of award-winning authors. It is also a leading provider of worship music through its Integrity Music label, which produces over one-third of the top 100 praise and worship songs sung around the world. Additional information can be found at www.davidccook.com.
###