CASTING CROWNS ANNOUNCES "A LIVE WORSHIP EXPERIENCE" RELEASING 11.13.15
RECEIVES FOURTH RIAA PLATINUM CERTIFICATION

FALL TOUR WITH SPECIAL GUEST LAUREN DAIGLE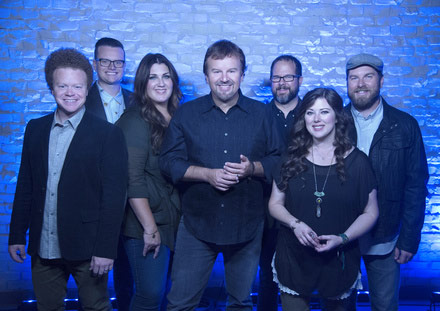 L to R: Brian Scoggin, Josh Mix, Megan Garrett, Mark Hall, Juan Devevo, Melodee Devevo, Chris Huffman - Photo Credit: David Dobson
NEWS SOURCE: Merge PR
September 8, 2015
NASHVILLE, TENN. - September 08, 2015 -GRAMMY-winning and multi-Platinum selling group Casting Crowns announces their new live project, A Live Worship Experience, releasing November 13th (Beach Street/Reunion). A Live Worship Experience was recorded live this summer at Eagle's Landing First Baptist Church, which is Casting Crowns' home church and where frontman, Mark Hall, has remained a full-time youth pastor for more than 20 years.
A Live Worship Experience will feature a combination of favorites from Casting Crowns as well as worship songs currently being sung in churches across the globe. Top worship songs included are "Great Are You Lord," "Good Good Father," "Here's My Heart," "Called Me Higher" and "No Not One." Casting Crowns' tracks include "Thrive," "You Are The Only One," and "Just Be Held."
"Casting Crowns comes from, serves in, and has always been firmly rooted in the local church," shares Jason McArthur, VP A&R, PLG. "So it seemed only natural to record them worshiping in their own church environment, lending their incredible sound to songs the church at large is familiar with each week."
During the taping for the live project, Casting Crowns was honored with their fourth RIAA certified Platinum-selling project for Until The Whole World Hears. In their career, Casting Crowns has been awarded one RIAA 2x multi-Platinum album, four RIAA Platinum albums, two RIAA Platinum DVDs, six RIAA Gold albums, four Gold DVDs and four RIAA Gold certified digital singles. This incredible group also holds the position as Billboard's top-selling act in Christian music since 2007. Casting Crowns has also been honored with two American Music Awards (out of six total nominations), a GRAMMY Award for its 2005 album Lifesong, and six GRAMMY nominations.
This fall Casting Crowns will be hitting the road for their new tour featuring special guest Lauren Daigle. Tour dates listed below as well as information for purchasing tickets. For more information, please visit https://www.castingcrowns.com/tour.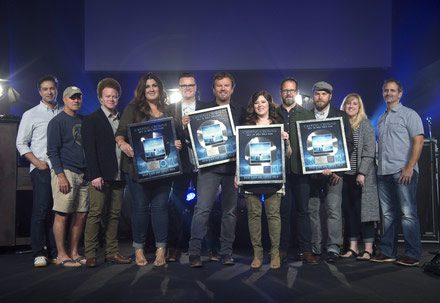 Pictured left to right: Jason McArthur - VP A&R at PLG, Mark Miller- Producer, Brian Scoggin, Megan Garrett, Josh Mix, Mark Hall, Melodee Devevo, Juan Devevo, Chris Huffman, JoAnna Illingworth, Sr. Director of Marketing for PLG, Mike Jay, Manager with Proper Management
Oct 8 - Bethlehem, PA - http://bit.ly/1EFiux2
Oct 9 - Youngstown, OH - http://bit.ly/1OxVr82
Oct 10 - Corbin, KY - http://bit.ly/1OxVYqt
Oct 15 - Myrtle Beach, SC - http://ticketf.ly/1IjlzT6
Oct 16 - Tuscaloosa, AL - http://bit.ly/1JpmzYl
Oct 17 - Lucedale, MS (Praise in thePark) - http://bit.ly/1Ns3BA8
Oct 22 - St. Joseph, MO - http://ticketf.ly/1Klow5i
Oct 23 - Enid, OK - http://bit.ly/1IjlWNM
Oct 24 - West Plains, MO - http://bit.ly/1J2AxKm
Oct 29 - Columbus, GA - http://bit.ly/1JOita7
Oct 30 - Ft. Lauderdale, FL - http://bit.ly/1hmRIzz
Nov 5 - Burlington, VT - http://bit.ly/1CVxo1w
Nov 6 - Lowell, MA - http://bit.ly/1gOUopd
Nov 7 - Augusta, ME - http://bit.ly/1RRxyxO
Nov 8 - Williamsport, PA - http://bit.ly/1fZrAch
Nov 10 - Owensboro, KY - http://bit.ly/1L9GmpG (On sale 9/18)
Nov 12 - McAlester, OK - http://bit.ly/1eh9yl0
Nov 13 - Abilene, TX - http://bit.ly/1NDNfT9
Nov 14 - Beaumont, TX - http://bit.ly/1KlstH8 (On sale 9/24)
Nov 19 - Alma, AR - http://bit.ly/1Ns6EID
Nov 20 - Topeka, KS - http://bit.ly/1WREw5Y
Nov 21 - Farmington, MO - http://bit.ly/1J1UCTf
###
For more info on Casting Crowns visit the JFH Artists Database.