Integrity Music Releases New Album From UK's LIFE Worship
Wide Open Space, Inspired By Romans 5, Available May 27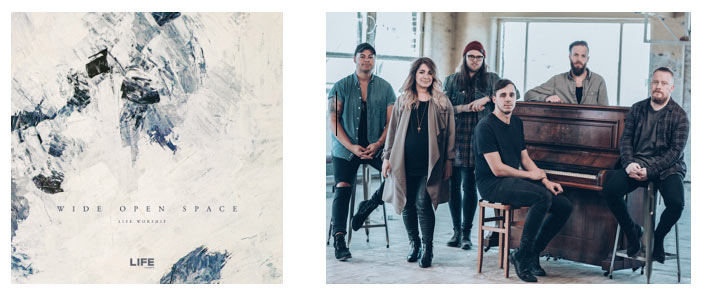 *Photo: Shown left-to-right are LIFE Worship team members Aaron Baxter, Eby Corydon, Mike Harvie, Sem Schaap (Music Director, seated at piano), Jock James and Matt Hooper (seated on right).
NEWS SOURCE: Integrity Music
May 18, 2016
Integrity Music announces the May 27 global release of Wide Open Space, a new 12-track, live worship album from LIFE Worship, the worship ministry team of LIFE Church based in Bradford, England.
The album, which follows LIFE Worship's critically acclaimed 2014 release Dance Again, is a celebration of adventure and a call to the wild edges of God's grace where impossible things happen and where His children are caught up in the mystery of His will.
"Wide Open Space came from a time of healing in my life where God was challenging me to be all He has called me to be, and to let His Spirit bring some dreams into reality," recalls LIFE Worship songwriter and worship leader Matt Hooper (cowriter of the Newsboys' #1 hit "We Believe"). "The song 'Wide Open Space' is me asking God to take me on the grace adventure, to fulfill the potential that God has given me and have fun doing it!"
Hooper points to Romans 5 as the scriptural basis for the entire album: "We throw open our doors to God and discover at the same moment that He has already thrown open His door to us. We find ourselves standing where we always hoped we might stand-out in the Wide Open Spaces of God's grace and glory, standing tall and shouting our praise." [Romans 5, 1-2, The Message]
Hooper, an associate pastor for LIFE Church, is a featured vocalist on the album along with LIFE's worship leaders Mike Harvie, Eby Corydon, Chelsea Carins, Ryan Carins, Aaron Baxter and worship pastor Jock James. The songs on Wide Open Space were penned by LIFE team members, along with guest writers including Benji Cowart and Chris Sayburn.
LIFE Worship is the worship ministry of LIFE Church based in Bradford, U.K., with additional campuses in Leeds (UK), Belfast (Northern Ireland) and Warsaw (Poland). Led by senior pastors Charlotte and Steve Gambill, LIFE Church is dedicated to reaching people and helping them realize God's great love and purpose for their lives. Additional information is available at http://www.lifechurchhome.com and http://www.lifeworship.com.
Integrity Music is part of the David C Cook family, a nonprofit global resource provider serving the Church with life-transforming materials. With offices in Colorado Springs, Colorado, Nashville, Tennessee and Eastbourne, UK, Integrity is committed to taking songs of substance to the local church and its leaders around the world. Integrity publishes many of the top songs in the Church, including the No. 1 radio hit "We Believe" (Newsboys) as well as church standards "Revelation Song," "Open The Eyes Of My Heart," "Your Great Name" and "I Am Free." Additional information can be found at www.integritymusic.com.
###
For more info on Group 1 Crew visit the JFH Artists Database.