CIMORELLI RELEASES SECOND ALBUM, ALIVE
Available December 23rd, 2016 via PledgeMusic
and iTunes, Amazon, & Spotify At A Later Date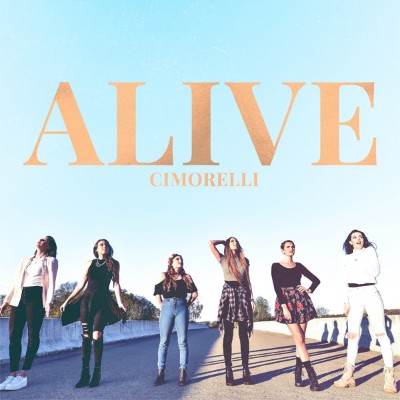 NEWS SOURCE: Cimorelli
November 13, 2016
In 2013, six sisters made headlines with their pop-infused EP, Made in America. Christina, Katherine, Lisa, Amy, Lauren, and Dani, better known as Cimorelli are world-renowned for their tight harmonies, signed with Universal Music Group's Island Records UK, embarked on an international tour, performed on Good Morning America, and even won the 2013 Teen Choice Web Star Award for their astronomical success on YouTube, with over 1 billion views. To the outside world Cimorelli had it all. Little did their fans know that while the sisters were excited about their success, they were conflicted about what to do next. As they had connected more with their fans through fan mail and social media, they noticed a lot of brokenness and crying out for help; people struggling with heartbreak, peer pressure, addiction, self-harm, and even suicidal thoughts. The sisters felt that they were in a unique position to help through their music, so they made a conscious decision to write songs with stories/messages of hope and healing, and not just a catchy hook.
Almost a year after terminating their record deal and moving to Nashville, Cimorelli released their debut full-length album, Up At Night, which conveys a message of hope, positivity, healing through self-expression, and inspires connection. After the impact Up At Night left on their fans, they decided to release yet another album: Alive, which will be available December 23, 2016. Cimorelli wrote 8 and co-wrote 2 of the 10 songs on the album. The message is strong- "the beauty of God is all around us. He is by our side, without fail. Life is so much better when we feel our emotions - even the painful ones. When you push through the pain, the joy that follows is that much greater. Keep the faith."
Alive is a collection of songs about love, life, and faith. Featuring several worship songs - "Your Name Is Forever," "My God Is Here," "Never Let Me Fall"- the album also features a flood of positive life songs. "Find Me" sends a beautiful, tender message out to that unmet soulmate as they struggle to find each other. "One More Night" is a message of hope to anyone feeling suicidal, urging listeners to "please just give it one more night." "Love Of A Man" sings about the darkness of giving too much of yourself while trying to find love. "Kick The Habit" details the struggle of addiction. The title track, "Alive," is an empowering anthem of hope - "I feel because I'm alive," sings the refrain. It is a reminder to all that pain is only here to make us stronger.
Cimorelli hopes that all who hear Alive will experience a rush of hope and gratitude at the beauty that is being human.
###