Rend Collective Announces New Dates for "Good News North America Tour Pt. 2"
Anticipated album, GOOD NEWS, Available for
Pre-Order on All Online Retailers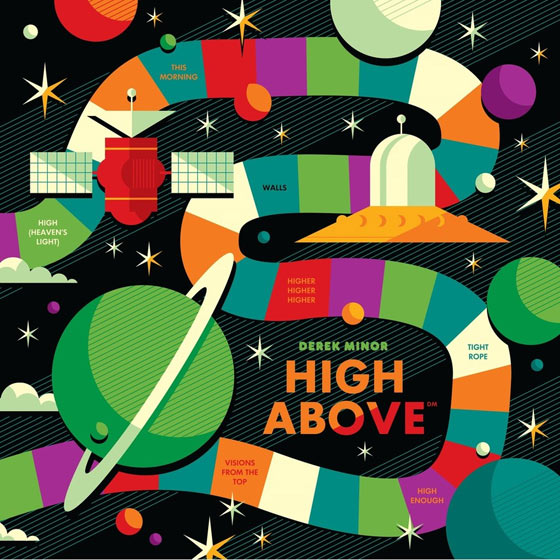 NEWS SOURCE: Bozeman Media
November 6, 2017
Nashville, Tenn. (Nov. 6, 2017) ---- Award-winning Hip Hop artist, Derek Minor, will release the second project, High Above, in his four-part Up and Away Series on Nov. 10. The EP was produced, and all songs co-written by Minor, which features guest artists Marissa Jerome, WHATUPRG, Anesha Birchett, Urban Rescue, Byron Juane and Roz. The first and powerful single from the new record, "Walls" that features Urban Rescue, has a testimony of loving and supporting each other despite any differences. Made in his image, we are all his kids/So if I look down on you, I look down on him/Aye I'm a sinner, you a sinner what's the difference/We all need love, joy, Jesus, and healing/We got a lot in common if we would just listen/Instead of building more walls, we should build more bridges. The single is currently going for adds at radio.

"High Above is a very pivotal piece of the Up and Away Series because it's very personal," explains Minor. "Themes like faith, fear of failure and defining success poured from my heart as I was producing and writing this project. I'm confident the music will be as therapeutic for listeners as it was for me to create."

Minor introduced his innovative marketing plan in August that will have four projects releasing through early 2018. The first EP, Your Soul Must Fly, released late summer and received glowing reviews from Christian media outlets. CCM Magazine, "debuts a strong offering;" JesusFreakHideout.com, "great start to the what could become the best hip hop we've heard all year;" ChristianBeat.org, "a marvel" and "stroke of marketing genius;" HM Magazine, "Even though he loves to release music, he doesn't do it unless he gives it everything he's got."

Minor just received the news that he is nominated once again for two Stellar Gospel Music Awards. His album earlier this year, Reflection, is up for Rap/Hip Hop Gospel Album of the Year and the song, "Until I'm Gone," is nominated for Music Video of the Year. The two rounds of voting will run through Nov. and Dec., with the nominees being announced at a press conference in January 2018.

Minor is currently on tour with the Newboys "Big Church Night Out Tour" that is produced by Premier Productions. The tour launched in Sept. and has upcoming dates in Maine, Pennsylvania and New York, with the tour running through Dec. 17. One of the impactful songs of the tour is Minor's single, "Walls," that always results in a standing ovation.
High Above Track Listing
1. Heaven's Light (ft. Marissa Jerome & WHATUPRG)
2. This Morning (ft. Anesha Birchett)
3. Walls (ft. Urban Rescue)
4. higher Higher HIGHER (ft. Byron Juane)
5. Tight Rope (ft. Roz)
6. Tight Rope (Coda)
7. High Enough (ft. WHATUPRG)
8. Visions from the Top

For more information about Minor, www.derekminor.com, www.facebook.com/thederekminor, www.twitter.com/thederekminor, www.instagram.com/thederekminor.

About Derek Minor
Award Winning Derek Minor will continue his current 2017 success with an innovative release schedule through the end of the year, which will feature four EPs each month from Aug. – Nov. The first EP, Your Soul Must Fly, receiving stellar reviews and the first single "Take Off' featuring Ty Brasel, Canon and KB. This comes on the heels of Minor enjoying chart-topping success with his previous CCM single "Change the World," that was No. 1 for four weeks on Billboard's Hot AC/CHR. The song was from Minor's former project Reflection, that was No. 1 on Billboard's Rap Album chart and debuted No. 7 on Billboard's Christian Album chart.
Minor grew up in Middle, Tenn. and received a bachelor's degree in Recording Industry Management from Middle Tennessee State University (MTSU) in 2006. He began his music career in 2007, through a record deal with an independent label that quickly folded. Minor quickly became a member of a small, elite class of Hip Hop artists who are adept at MCing, producing, and running their own companies. Two of his previous albums won Stellar Awards, Empire (2015) and Minorville (2013), along with Dove and Grammy nominations. Minor's wordplay and relatable lyrics have made him an in-demand collaborator who has worked with the likes of Lecrae, Andy Mineo, and Colton Dixon. As a producer, Minor received a 2015 Dove Award for his production contributions to Lecrae's Anomaly album. Minor's Reflection Music Group roster includes celebrated acts Canon, Tony Tillman, B. Cooper and Deraj. He has toured with such major acts as Steven Curtis Chapman, Jordan Feliz, Francesca Battistelli, Family Force 5, Rend Collective, among others.