Singer/Songwriter Melanie Penn Drops "Sweetly Evocative" First-Ever Christmas Album To Critical Acclaim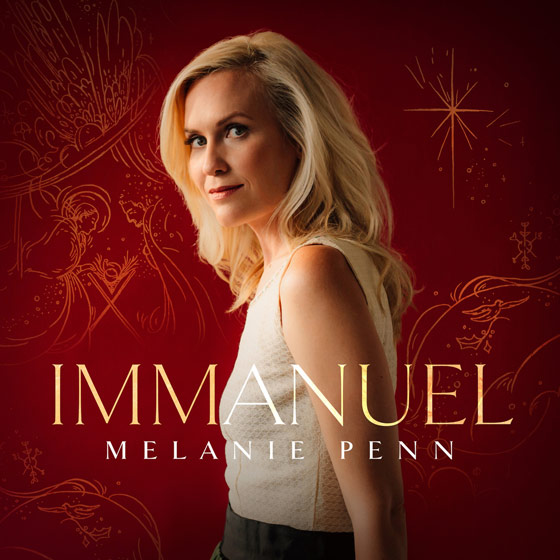 NEWS SOURCE: The M Collective
November 6, 2017
Nashville, Tenn. (Nov. 7, 2017) - Singer/songwriter Melanie Penn released her first-ever Christmas album to widespread praise this past Friday. The ten-track release contains nine originals and one classic carol, retelling the Christmas story through the perspective of the angels and people who lived through it -- Mary, Joseph, The Wise Men, The Innkeeper, and even The Star of Bethlehem -- in a compelling and deeply human way.
"With her new album Immanuel, Melanie Penn has risen to the challenge of creating original Christmas music that neither exploits nostalgia nor struggles to be trendy." - World Magazine
"Melanie Penn's Immanuel showcases her knack for character-based songwriting with this sweetly evocative walk through the narrative of Jesus' incarnation." - Worship Musician
"Melanie Penn's Immanuel is not just your standard mix of Christmas covers and holiday anthems. This is a beautifully Christ-centered album of artful, worshipful originals, new Christmas carols that will add depth and beauty to your Advent playlist." - The Gospel Coalition
"With a heart that has tasted the goodness of God in the midst of suffering, Melanie Penn exudes a worshipful sweetness that can't be easily replicated."
- Hallels
"If you haven't heard Melanie Penn's sweet pop sounds before, let her forthcoming Christmas album Immanuel be your introduction. You won't find any bells jingling or halls decking here… With shimmering production...this is sure to be a wonderful addition to your holiday soundtrack." - CCM
Immanuel is now available on iTunes, Spotify, and Amazon.
About Melanie Penn:
Melanie Penn is a singer/songwriter from Brooklyn, New York. After having success on the national Broadway touring stage, Penn shifted her her attention to her career as a songwriter and artist, desiring to sing her own words rather than those of others. Her first album Wake Up Love was released in 2010, followed by Hope Tonight (2014). Her latest, Immanuel, produced by Ben Shive, is now available.

Connect with Melanie Penn:
Facebook: https://www.facebook.com/melaniepennsings/
Instagram: @melaniepenn
Twitter: @melaniepenn
Website: melaniepenn.com