GRAMMY WINNERS AMY GRANT AND MICHAEL W. SMITH EMBRACE THE CHRISTMAS SPIRIT AS
BALSAM HILL CHRISTMAS TREES CREATE MAGICAL HOLIDAY BACKDROP FOR 2017 CHRISTMAS TOUR
2017 Holiday Tour Launches Nov. 11,
Featuring Jordan Smith, Winner of 'The Voice'

Grant, Smith Compete To Decorate Most Beautiful Tree
While Fans Vote in Balsam Hill's
'An Unforgettable Christmas' Sweepstakes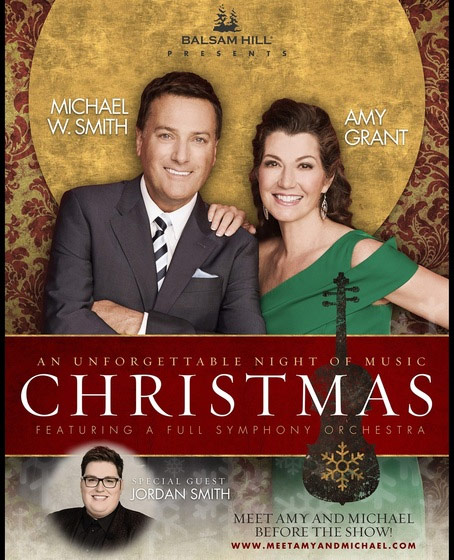 NEWS SOURCE: Southside Entertainment
November 9, 2017
NASHVILLE, Tenn. – Nov. 9, 2017 – This weekend, multi-platinum, GRAMMY® winners Amy Grant and Michael W. Smith will kick off their popular Christmas tour Nov. 11, joined for the second consecutive year by Republic recording artist Jordan Smith, Season 9 winner of NBC's "The Voice." Featuring a full symphony orchestra at each performance, this seasonal celebration has a history of sold-out performances across the country, making it nothing less than a holiday tradition. And nothing says "tradition" more than Christmas trees at Christmastime, which is why both Amy and Michael are thrilled to have Balsam Hill® on board as the title sponsor for this year's Christmas dates.

As the industry leader in lifelike artificial Christmas trees, ornaments and other Christmas décor, Balsam Hill will play a prominent role on the Amy Grant and Michael W. Smith Christmas Tour. Concert attendees will see some of Balsam Hill's beautiful, lifelike trees adorning the stage at each of the 22 concert dates throughout November and December.

"We are thrilled to be partnering with Amy Grant and Michael W. Smith this year," says Balsam Hill Chief Marketing Officer Kristen Gasior. "Our stunning artificial Christmas trees and décor make a magical backdrop to their beautiful voices, and we look forward to sharing Christmas cheer with everyone!"
A deep-rooted Christmas tradition shared by both is the effort put into decorating their Christmas trees each year. So this year, to kick off and celebrate the relationship with Balsam Hill, Amy and Michael are staging a friendly tree-decorating competition with their own Balsam hill Christmas trees and ornaments. A social media-driven sweepstakes titled "An Unforgettable Christmas with Amy Grant and Michael W. Smith: Vote for Your Favorite Christmas Look!" is currently underway, and Balsam Hill will give two participants the chance to win the same Balsam Hill Christmas trees, along with tickets to the Amy Grant and Michael W. Smith Christmas Tour. Participants may enter by voting for their favorite tree here: www.balsamhill.com/pr/amy-grant-and-michael-smith-giveaway. The decorating challenge has been fun for the artists and has even spiked a bit of a competitive streak in both.

"I'm so pleased to have Balsam Hill on our tour with us this Christmas," Amy says. "Their trees are so natural, so beautiful, and will become a part of my family's Christmases for years to come. And I do plan on beating Michael in the tree-decorating contest!"

"Can you imagine a better sponsor than Balsam Hill for a Christmas tour?" Michael adds. "Looking through their site is an adventure in itself. If it's Christmas and it's beautiful, Balsam Hill makes it. And I'm having a blast challenging Amy in this competition. I think I have an unfair advantage because of my extreme love for the Christmas season."

Combining for a vast collection of critically-acclaimed holiday albums between them, the 2017 Christmas tour will showcase selections spanning the artists' expansive Christmas repertoires, including their most recent releases, Grant's Tennessee Christmas, Michael W. Smith's The Spirit of Christmas and Jordan Smith's 'Tis The Season.

For more information on the upcoming tour and to purchase tickets, visit amygrant.com/tour, michaelwsmith.com/tour or jordansmithofficial.com/tour.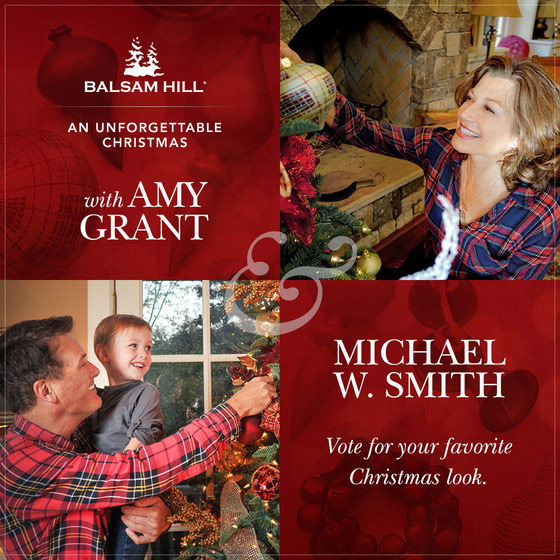 AMY GRANT & MICHAEL W. SMITH 2017 CHRISTMAS TOUR
* Dates and venues subject to change without notice.
Sat. Nov. 11 Omaha, NE CenturyLink Center
Mon. Nov. 13 Denver, CO Bellco Theatre
Tue. Nov. 14 Orem, UT UCCU Center
Wed. Nov. 15 Nampa, ID Idaho Center
Thu. Nov. 16 Kennewick, WA Toyota Center
Fri. Nov. 17 Abbotsford, BC Abbotsford Entertainment and Sport Center
Sat. Nov. 18 Everett, WA Xfinity Arena at Everett
Sun. Nov. 19 Portland, OR Moda Center
Sat. Nov. 25 Duluth, GA Infinite Energy Center
Sun. Nov. 26 Tampa, FL Amalie Arena
Thu. Nov. 30 Oklahoma City, OK Crossings Community Church **
Fri. Dec. 1 Tulsa, OK BOK Center
Sat. Dec. 2 Grand Prairie, TX Verizon Theatre at Grand Prairie
Sun. Dec. 3 Sugar Land, TX Smart Financial Center
Tues. Dec. 5 Greensboro, NC Westover Church **
Fri. Dec. 8 Kansas City, MO Sprint Center
Sat. Dec. 9 Madison, WI Alliant Energy Center
Sun. Dec. 10 Grand Rapids, MI Van Andel Arena
Thu. Dec. 14 Van Wert, OH Niswonger Performing Arts Center **
Fri. Dec. 15 Columbus, OH Nationwide Arena
Sat. Dec. 16 Fairfax, VA Eaglebank Arena
Sun. Dec. 17 Hershey, PA GIANT Center
*All dates and venues are subject to change without notice
**Amy Grant will not appear on these events.
ABOUT AMY GRANT
Amy Grant's career spans more than 30 years and stretches from her roots in gospel into becoming an iconic pop star, songwriter, television personality and philanthropist. With three multi-platinum albums, six platinum albums and four gold albums, her total career album sales have exceeded 30 million. Grant's chart success has been consistent throughout her career with six No. 1 hits, 10 Top 40 pop singles, 17 Top 40 Adult Contemporary tracks and multiple Contemporary Christian chart-toppers. In addition to her six GRAMMY® Awards, Grant has earned 26 Dove Awards (including four Artist of the Year Awards) and has been awarded a star on the Hollywood Walk of Fame. Conventional wisdom has it that Grant put Contemporary Christian Music on the map becoming the first Contemporary Christian artist to have a platinum record, the first to hit No. 1 on the Pop charts and the first to perform at the GRAMMY® Awards. With that, her legacy as one of the most influential artists of the past four decades is assured. In April 2015, Grant celebrated the 25th anniversary of her iconic hit "Baby Baby" with a worldwide release of the song featuring pop sensation Tori Kelly and released Tennessee Christmas in 2016, marking her first all-new holiday album in nearly 20 years.
Connect with Amy Grant:
Website: www.amygrant.com
ABOUT MICHAEL W. SMITH
Michael W. Smith is an acclaimed singer, songwriter and musician who has sold more than 15 million albums, achieved 32 No. 1 songs, received 2x RIAA Multi-Platinum, 6 Platinum and 16 Gold certified albums, earned three GRAMMY® Awards, one American Music Award and 45 Dove Awards. Amassing an in-depth catalog of achievements, Smith was honored at ASCAP's 100th Anniversary for his groundbreaking career and significant influence in music. He performed at Former First Lady Barbara Bush's 90th birthday celebration, had the privilege to join Former President Clinton, U.S. Secretary of Homeland Security Jeh Johnson and others in remembering victims in the 20th Anniversary of the Oklahoma City attacks, was appointed by the White House as Vice Chair for the President's Council on service and civic participation and was the featured performer at the 2015 USO Gala where he was recognized as a USO veteran. In addition to the international impact he has had through multiple global tours, he has written and composed various scored film projects, has authored 12 books, has acted in assorted motion pictures and has been featured by numerous national media outlets. He founded, and actively supports, the teen club Rocketown – a nonprofit outreach for teens, providing opportunities in arts, music, sports and mentoring programs. This year also marks the 26th anniversary in partnership with Compassion International, seeing more than seventy thousand families' and children's lives changed, around the world.
Connect with Michael W. Smith:
Website: www.michaelwsmith.com
ABOUT JORDAN SMITH
Jordan Smith's much anticipated debut album, Something Beautiful [LightWorkers Media/Republic Records], is available now everywhere. Throughout the album, his undeniable delivery and instantly recognizable range drives both original songs and cover tracks produced by legends such as GRAMMY® Award winning producer David Foster [Céline Dion, Michael Bublé, Josh Groban] and modern hit maker Stephan Moccio [The Weeknd, Ellie Goulding, Miley Cyrus]. The 23-year-old from Harlan, KY, Jordan Smith stands out as the highest-selling artist to ever emerge from NBC's EMMY AWARD®-winning "The Voice." In less than six months, he sold over 1 million singles and made Voice history by landing eight songs in the iTunes Top 10—the first artist from any season to hit the iTunes Top 10 every single week of the Live Rounds. Of the eight songs that went Top 10 on iTunes, six hit Top 3, and three captured No. 1 on iTunes, all of which knocked Adele off the top spot! His first holiday album, 'Tis The Season, is available now.
Connect with Jordan Smith:
Website: www.jordansmithofficial.com
ABOUT BALSAM HILL
Founded ten years ago in Redwood City, Calif., Balsam Hill is committed to creating the best Christmas trees on the market. Founder Thomas Harman was inspired to start Balsam Hill by a family member who was allergic to live trees but wanted to create a festive atmosphere in his home during the holidays. When Thomas' search for a lifelike artificial Christmas tree came up empty-handed, our mission was born to develop the most realistic and luxurious artificial trees. To accomplish this mission, our designers carefully craft trees to mimic nature using site visits and cuttings from live trees as a guide. Balsam Hill holds several patented and trademarked technology that brings the holidays to life including ultra-realistic True Needle™ branches, unique Color+Clear™ or Candlelight™ LED lights, and innovative Flip Tree™ technology.
Connect with Balsam Hill:
Website: www.balsamhill.com
ABOUT COMPASSION INTERNATIONAL
Founded in 1952, Compassion International is a Christian child development organization that works to release children from poverty in Jesus' name. Compassion revolutionized the fight against global poverty by working exclusively with the Church to lift children out of spiritual, economic, social and physical poverty. Compassion partners with more than 7,000 churches in 26 countries to deliver its holistic child development program to over 1.9 million babies, children and young adults. It is the only child sponsorship program to be validated through independent, empirical research. For more information, visit www.compassion.com.