Covenant Award Winning Worship Leader Greg Sykes
Releases New Single "No Greater Love" Feb. 16,
Prepares For Debut Album This June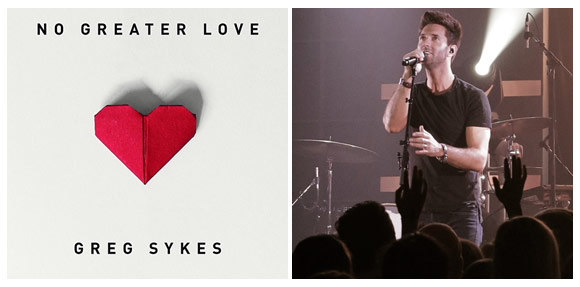 NEWS SOURCE: Hoganson Media
February 15, 2018
Fresh from winning three GMA Canada Covenant Awards last month, Integrity Music worship leader/songwriter Greg Sykes announces the February 16 release of a new single, "No Greater Love (How Marvelous)," and the forthcoming June release of his first full-length album.
The Ontario native, who has been leading worship in the Niagara area for 15 years, wrote the anthem with We Are Messengers' Darren Mulligan, focusing on the redemptive love of Christ. It is a reality Sykes knows well, having experienced this transformational love and healing in his own life and from seeing it in his church family. It is Sykes' journey and the testimonies of those in his faith community that fuel his songwriting and his passion for sharing the Gospel, including the message of the life-changing, sacrificial love of Jesus found in "No Greater Love."
"There's no greater love | that I have ever found |
No one else I know | Would lay his own life down…"
"No Greater Love" will be available through digital sales and streaming platforms and will appear on Sykes' new album. The project follows his Reverse EP, which recently won a Covenant Award for Inspirational Album of the Year. For his work on Reverse, Sykes also garnered Covenant Awards for Male Vocalist of the Year and Video of the Year.
Sykes will record for the new album on March 5 at Mountain Park Church in Niagara Falls where he serves as worship pastor. Additional project details will be available in the coming months with more information on Sykes available at http://www.gregsykes.com and https://www.facebook.com/gregsykesmusic or by following @gregsykes on Twitter and Instagram.
Greg Sykes has written and performed with Paul Baloche, All Sons & Daughters, Michael W. Smith, Brenton Brown, Meredith Andrews, Leeland Mooring, MercyMe and Matthew West among others. Most recently, he wrote for Jaci Velasquez's Dove Award winning and Latin GRAMMY nominated album Confío and its English language counterpart, Trust.
Media contact: shannon.walker@integritymusic.com
Integrity Music is part of the David C Cook family, a nonprofit global resource provider serving the Church with life-transforming materials. With offices in Nashville, Tennessee (US) and Eastbourne, East Sussex (UK), Integrity is committed to taking songs of substance to the local church and its leaders around the world. Integrity publishes many of the top songs in the Church, including "Great Are You Lord," "Revelation Song," "Open The Eyes Of My Heart," "Your Great Name," "I Am Free," "How He Loves," "Great I Am," and "We Believe," among others. Additional information is available at www.integritymusic.com.
###