MICHAEL W. SMITH LEADS "JUST AS I AM" DURING
REV. BILLY GRAHAM CAPITOL SERVICE TODAY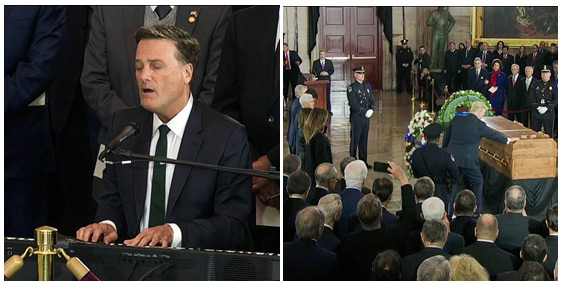 NEWS SOURCE: Hoganson Media
February 28, 2018
Multi-Platinum, three-time Grammy® Award winning artist, best-selling author and acclaimed actor Michael W. Smith received the distinct honor to take part in the memorial service in the Capitol Rotunda honoring the late Rev. Billy Graham this morning.
Singing "Just As I Am" during the service, Michael said he had "no words to fully describe the emotions from this morning. So grateful!"
Also participating in today's service to pay tribute were President Donald Trump, Speaker Paul D. Ryan and Senator Mitch McConnell. Present at the service were Vice President Mike Pence, numerous Cabinet officials, senators, House members and Rev. Graham's family members. The full service can be viewed at https://youtu.be/FQ3730ZOIaQ.
Following the news of Rev. Graham's death last week, Michael wrote on his Facebook, "Friend, mentor, counselor, hero, leader, example, pastor – he was so many things to me, making the impact of his passing such a deep hurt. At the same time, I know Billy would be questioning why we grieve. Because he is now in paradise. He is face to face with the Jesus he so loved and served so well."
Michael shares more memories of and photos with Rev. Graham, as well as detail on his USA Today, Billboard, Yahoo! Music acclaimed studio album A Million Lights (released Feb. 16) and his 5-star-acclaimed, Parade-featured live worship album Surrounded (released Feb. 23), on his website www.michaelwsmith.com and his socials:
About Michael W. Smith:
Michael has been releasing new music regularly and performing around the world to sold-out crowds for the last 30+ years. During his storied career, he's written 32 No. 1 singles, been honored with three Grammy Awards and 45 Dove Awards, was inducted into the Gospel Music Hall of Fame and has sold more than 15 million albums. He's also given back to the global community. Michael has raised funds to battle AIDS in Africa; started Rocketown, a safe haven for young people in Tennessee to meet and find hope; and has helped more than 70,000 children through Compassion International.
About The Fuel Music:
Established in 2008, The Fuel Music & Management, LLC, is a leading artist management and artist solutions company that independently distributes music internationally. Based in Nashville, TN, the Fuel team brings nearly 70 years of combined music industry experience in record label operations, major label distribution and marketing, and artist management for artists ranging from upstart bands to GRAMMY Award nominated, multi-platinum artists. More information on the company can be found at www.thefuelmusic.com.
###
For more info on Michael W. Smith, visit the JFH Artists Database.