HILLSONG KIDS GEARS UP FOR SEVENTH CAREER PROJECT WITH "CAN YOU BELIEVE IT!? - SONGS OF TRUTH"
DIGITAL ALBUM, CD & DVD TO RELEASE WORLDWIDE SEPTEMBER 21;
AVAILABLE FOR PRE-ORDER TODAY WITH SINGLE "MY BEST FRIEND"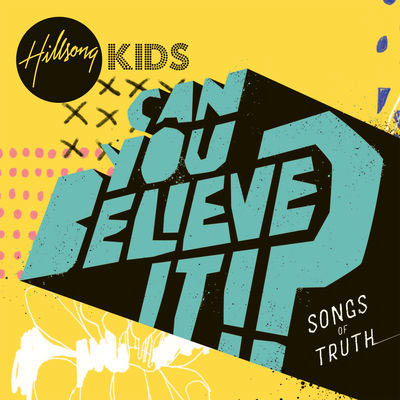 NEWS SOURCE: Rogers & Cowan
August 3, 2018
LOS ANGELES (Aug. 3, 2018) — HILLSONG KIDS, the children's ministry of Hillsong Church, will release its seventh career project "Can You Believe It!? – Songs of Truth" worldwide on Sept. 21. Available for pre-order today at all digital retail providers along with the single "My Best Friend," the collection includes a digital album, CD and DVD.
The 14-song singalong compilation poses a question and a challenge, a statement of gratitude to a loving God and an invitation to explore the very foundations of faith and includes Hillsong classics joined by brand new declarations of faith. From familiar favorites like "My Best Friend," "Oceans (Where Feet May Fail)," and "What A Beautiful Name," to fresh offerings such as "As The World Shakes" and "Heaven Is Our Home," "Can You Believe It!? – Songs of Truth" offers fun and vibrant audio and visual content for children around the world that declares biblical truths about God's love and grace.
"We believe that teaching children to love God and others takes place in both the home and in the church," says David Wakerley, HILLSONG KIDS pastor and creative director. "We are excited to partner with parents (the greatest teachers of all!), pastors and leaders, and equip them with great resources to impact the next generation."
"Can You Believe It!? – Songs of Truth" complete track listing:
I Give You My Hallelujah
Ask Seek Knock
This Is Living
Who You Say I Am
My Best Friend
Voices Of Freedom
Oceans (Where Feet My Fail)
Little Life (For You Jesus)
Made In Your Image
We Came To Meet With You
As The World Shakes
Heaven Is Our Home
What A Beautiful Name
You Know Me
About HILLSONG KIDS:
HILLSONG KIDS is the children's ministry of Hillsong Church, creating moments kids will never forget as they grow in faith through Christ Jesus. Through fun experiences, meaningful music and ministry that encourages kids to participate, HILLSONG KIDS presents Jesus Christ and His church in a relevant way. Since 2004, HILLSONG KIDS has released six albums and has had over 18 million minutes watched on their YouTube channel. For more information, visit https://hillsong.com/kids/
Facebook: @hillsongkids
Instagram: @hillsongkids
YouTube: Youtube.com/hillsong Kids
###


[2019]
Jan. | Feb. | March | April | May | June | July | Aug. | Sept. | Oct. | Nov. | Dec.
[2018]
Jan. | Feb. | March | April | May | June | July | Aug. | Sept. | Oct. | Nov. | Dec.
[2001 - 2017]
Visit our complete MUSIC NEWS ARCHIVE

World Premiere Video
(JFH Sponsor Spot)