#1 CMW Hit Recording Artist Daryl Boyer to Release New Single "Love Reigns" to AC/Worship/Insp Radio Today
Singer/Songwriter Boyer to Release Companion Music Video August 17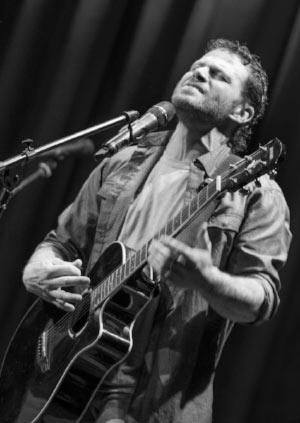 NEWS SOURCE: Providence PR
August 15, 2018
ATLANTA (August 15, 2018) - Singer/Songwriter Daryl Boyer is excited to announce the release of his first single "Love Reigns" to Radio and online retail since the success of his #1 hit "Never Looking Back" topped the Christian Music Weekly's (CMW) Christian Country Chart last December.The much anticipated single will be released to Christian Radio via the media giant PlayMPE today, Wednesday, August 15.

Boyer, who is a Worship Pastor in New Jersey was elated over the success of the last chart topping single, but feels his true sound lies in the AC/Worship/Insp genre. "Love Reigns", gives ample evidence of that with it's uplifting guitar/vocal driven anthemic chorus, catchy melody and transforming lyrics dealing deeply with identity in Christ.

"The song "Love Reigns" shatters the lies of Satan we use to tear ourselves down and flips the script on it" declares Boyer. "The song reveals the truth of our identity, worth, and purpose being found in Jesus and what He declares about us. We are not our bitter past, a sum of our mistakes, our job, or a status. We are sons and daughters of the King. We are loved by our father unconditionally from the start, until the end. We all matter. Receiving God's love, Grace, and Mercy establishes us as His kids. As His children we are called worthy, are given a true identity, and are always loved within His perfect genuine love." Boyer continues.

Boyer, whose sound has been compared to Third Day, Zach Williams, and Jason Gray released his previous 2016 album, The Cleansing to glowing reviews and media coverage in such outlets as Breathecast, Hallels, UK's Crossrhythms and Never For Nothing, is currently prepping for the releaseof his next album, Love Reigns on the indie label New Hope Records for a late 2018 early 2019 release and is shopping a major distribution deal.

Boyer has been busy this last summer, touring and opening up for the likes of Brothers McClurg and Dave Pettigrew, and is currently prepping for some upcoming late summer and fall festival dates and appearances with his new, greatly enhanced band.

AC/Insp/Worship Radio can listen and access the current single through PlayMPE at http://daily.plaympe.com/daryl-boyer-love-reigns-radio/. The companion video is slated to release on Youtube on Friday, August 17.. "Love Reigns" is available for purchase on iTunes, CD Baby, Amazon Music. and at the artist's website.

For more info on Daryl Boyer's ministry, or for booking visit his website at http://www.darylboyer.com,or follow him on Facebook at https://www.facebook.com/Daryl-Boyer-Music-504585416349121/.
ABOUT DARYL BOYER
Never in all the winding roads of lost opportunity, sorrow, brokenness, and even addiction, did Daryl Boyer ever think he would be in the place having a #1 Christian single to his credit. Daryl's story begins with years of hurt and hard living, later turning around into a story of redemption, life changing truth, and the discovery of a selfless and genuine purpose for the Lord.

Armed with a new perspective and real truth Daryl's mission moving forward was simple, to share the truth and share his story, raw and real, just as it was.

He has learned to write and sing songs from his life perspective and daily reality, while praying that the words of his music touch the lives of others in a way that draws them closer to the Father and the truth of His word.

In 2016 ,Daryl released his album, The Cleansing, to glowing media reviews and coverage, along with a single and video "King Jesus". He appeared on such radio, TV and internet media outlets as the TCT Network, Hallels, The Shaun Tabatt Show and scheduled for CornerStone TV's Real Life .His next album, Love Reigns is geared to release in late 2018, early 19. The first single off the upcoming album, "Never Looking Back" surged to #1 on the CMW Christian Country charts and remained in the Top Ten for weeks. The next single, "Love Reigns" speaks Boyer own transformations story in a song , and is currently being released to AC/Insp/Worship Radio.

Daryl is a husband, father, singer, songwriter, worship leader, youth pastor and resides in New Jersey with his wife and children.
###