Industry Vets and Fan Favorites Unite To Form New Supergroup
"CCM Avengers" unite to "avenge" the fallen CCM industry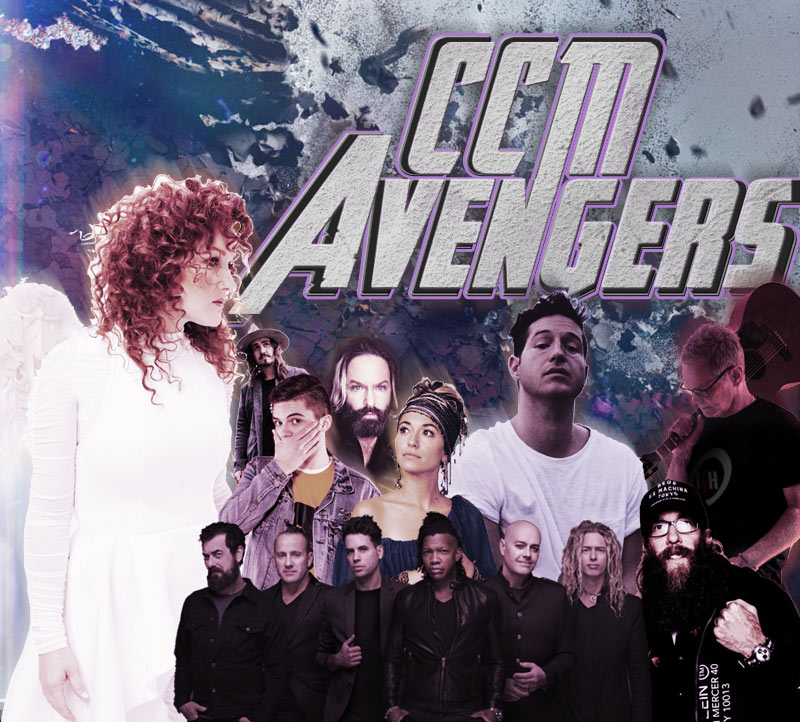 NEWS SOURCE: JFH / Cross The Streams PR
April 1, 2019
(April Fool's Day!)
With the immense popularity of superhero films and interwoven cinematic universes, it's no surprise that this kind of crossover and unification would leak into other mediums and genres of entertainment. With the drastic changes in the Christian music industry over the past decade, a ragtag band of CCM favorites--old and new--have joined together to fight against the industry decline, forming a supergroup they're unapologetically calling CCM Avengers.

Inspired by the recent success of Newsboys United, Michael Tait and his brothers in the hugely successful pop group decided to expand their unity to include other bands as well. To start, artists Plumb, Kevin Max, Lauren Daigle, Heath McNease, Jordan Feliz and newcomer PEABOD were quick to get beside Tait and the gang for this new "supergroup."

It didn't take much convincing to bring in Steven Curtis Chapman (who just came off a successful, but, as he described it, "rather lonely" SOLO tour), and fellow industry vet, David Crowder, either. A special press conference was held in Nashville last night at the Ryman Auditorium where Crowder was asked what drew him to this particular outfit, especially after venturing out on his own himself a few years ago (retiring the David Crowder*Band). In reply, he simply stated, "These are my people."

The supergroup intends to head out on tour sometime in early 2020, with plans to release their first full-length recording, tentatively titled Endtimes, sometime next May. When asked what drew him to this massive collaboration, rapper Heath McNease commented, "I love to collaborate. I've done several side projects, and this just seemed to make sense."

A member of the media stood and asked Heath about the obvious Avengers theme to the project, in which McNease chuckled to himself and said, "Well, there seems to have been a significant 'snap' with radio taking over and dictating where Christian music has been going these days. It's tough to be ourselves and create new and fresh music. Together, we plan to avenge the fallen, so to speak. We're gonna bounce things back in time like a Superman flight around the world!"

Acclaimed indie singer/songwriter Kevin Max added, "Just like Doctor Strange, I believe in magic. The magic of music and the unification of powers within the CCM universe..."

When another member of the media asked about what kind of superpower this team would display, Newsboys founder Peter Furler firmly replied, "Steve Taylor."

At first confused, one of Centricity Music's newest artists, PEABOD, added "I mean, this is a really big deal - the literal fate of the universe is at stake here! I don't even have superpowers, so I'm not sure why they would ask me to help fight Thanos, but--" The happy hip-hopper then realized he had the wrong impression and course-corrected a bit, "Oh wait--this is the CCM Avengers?? Oh, thank goodness! Wow, I am so relieved right now."

Before the press conference announcing the supergroup concluded, Chapman leaned into the microphone, and with his signature boyish smirk, stated, "We may not be able to save Christian music, but you can be darn well sure we'll avenge it." The audience burst into applause and rose to their feet as the team heroically walked out of the room.

At the time of this news report, many other artists are in negotiations to join CCM Avengers, including Sanctus Real, Skillet, Rebecca St. James, and one of the original lineups of Audio Adrenaline.

For more information about CCM Avengers and when you can hear their first singles, "Still Dancing with the Dinosaur" and "Unsnap Your Fingers," follow them on Instagram @CCMAvengers or visit their website here!

ABOUT CCM AVENGERS
Formed in 2019 by the Michael Tait and Newsboys United, CCM Avengers represents over three decades of talent in the Christian music industry. Through the combined talents of artists young and old, the self-described supergroup hopes to change Christian music from the inside out, restoring it to its glory days while continuing to proclaim the name of Jesus in fresh and creative ways. Following the CCM Avengers cruise and resulting 40-city major tour in 2020, the supergroup will release their debut album, Endtimes. CCM Avengers is Newsboys United, Steven Curtis Chapman, Kevin Max, David Crowder, Plumb, PEABOD, Lauren Daigle, Heath McNease and Jordan Feliz.
###