Riley Clemmons Scores Coveted Top 20 Spot On SoundExchange's 2018 Year End Breakout Artist Chart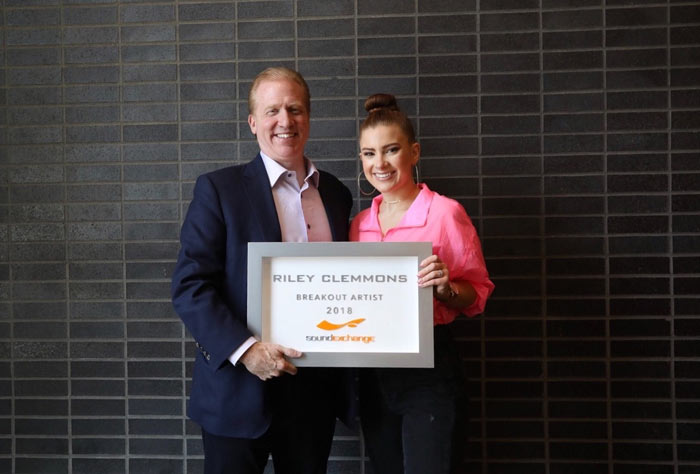 Mike Huppe, President & CEO of SoundExchange & Riley Clemmons Credit: Amy Carpenter Creative

NEWS SOURCE: The Media Collective
May 9, 2019
Nashville, Tenn. (May 9, 2019) – SoundExchange honored 19 year-old singer, songwriter Riley Clemmons as a 2018 Year End Top 20 Breakout Artist while in her hometown of Nashville this week. The distinction comes as Clemmons' self-titled debut album tallies a notable and growing 35 million global career streams. Clemmons' company on the list spans genres including names such as Mitchell Tenpenny, Bazzi, Kim Petras and more alongside past recipients Billie Eilish and Imagine Dragons. The plaque was presented in front of Clemmons' family and team including Capitol Christian Music Group and Maximum Artist Management during the annual Music Biz Conference.

"SoundExchange is proud to support all music creators by ensuring they are paid accurately and fairly for their work. Our work benefits recording artists and songwriters, record labels and publishers - and it extend to all genres, including Christian and faith-based music," shared Mike Huppe, President and CEO of SoundExchange, whom first met Clemmons last year. "Supporting artists like Riley isn't just our business, but it is our passion, too. We are so honored to be able to celebrate Riley's work and success here today."

"I feel like in the industry, it is so hard to find community and connection with everything moving so fast," shares Clemmons. "To receive this with my community including the amazing team from SoundExchange alongside my family, management and label is especially meaningful."
SoundExchange fights for royalty structures that recognize the vital role that the creators of music play for digital services. The organization develops business solutions to benefit the entire music industry. SoundExchange collects and distributes digital performance royalties on behalf of more than 185,000 recording artists and master rights owners accounts and administers direct agreements on behalf of rights owners and licensees. To date, SoundExchange has paid out more than $6 billion in royalties.

Clemmons' just unveiled the strength-filled power ballad "Fighting For Me." The song serves as a follow-up to her NCA Top 20 breakthrough hit "Broken Prayers."

To listen to the newest from Riley Clemmons, click here.
About Riley Clemmons:
Riley Clemmons is a 19-year-old, Nashville-based singer, songwriter signed to Capitol CMG whose sound is pop with spiritual depth. Her debut single "Broken Prayers" skyrocketed at radio upon its release in early 2018, and has currently amassed 35 million global career streams. The Nashville native began writing at the age of 13 while maintaining the full-time demands of being a student. Fast forward five years, you find a seasoned songstress who has collaborated with some of the most talked about writers on Music Row like Emily Weisband, Josh Kerr and more. 2018 marked the debut of her full-length, self-titled album. "Fighting For Me" is her latest single.
Get Connected with Riley Clemmons:
www.RileyClemmons.com
Facebook.com/RileyClemmonsMusic
Instagram.com/RileyClemmons
Twitter.com/RileyClemmons
YouTube.com/RileyClemmons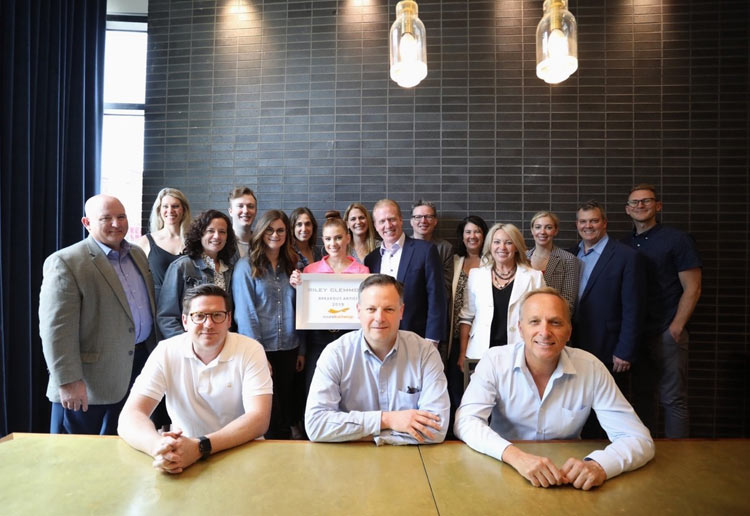 Riley Clemmons alongside the SoundExchange Team, Capitol Christian Music Group, Maximum Artist Management and her family. Credit: Amy Carpenter Creative
###
For more info on Riley Clemmons, visit the JFH Artists Database.