INFLUENCE MUSIC UNVEILS "REDEEMED", NEW WORSHIP ANTHEM IN ANTICIPATION OF SOPHOMORE RELEASE REBELS AVAILABLE JULY 19, 2019
PRE-ORDER FOR REBELS AVAILABLE NOW WITH "REDEEMED" AS INSTANT GRATIS TRACK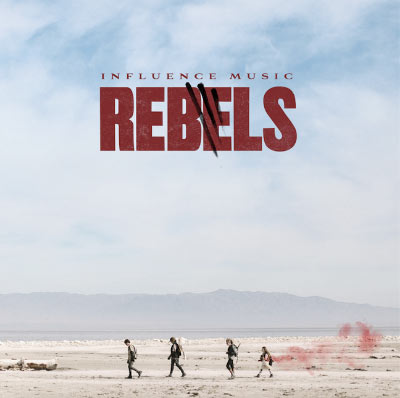 NEWS SOURCE: Sundari PR
May 10, 2019
May 10, 2019 (Los Angeles, Calif.) Los Angeles-based worship group, Influence Music, made up of artists Matt Gilman, Melody Noel, Michael Ketterer and Whitney Medina, has announced the release of their sophomore album Rebels on July 19, 2019. Rebels pre-order is available now, offering fans the debut single "Redeemed" as the instant gratis track with each purchase. In support of the launch, the official music video for "Redeemed" premiered online at CCM Magazine.
"My desire for 'Redeemed' is that it would become an anthem of hope for the lost, hurting and broken souls in the world," says Mat Gilman. "This song, in many ways, captures all of our stories. All of us have been wounded or broken. Maybe some of us are, or have been, on that prodigal path. But the love of Jesus is constant, regardless of our journey. I hope that all who listen would sing it as their own story, their own anthem, and their own expression of gratitude for the redemption we have in Jesus."
"Redeemed" is one out of the ten powerful inspirational tracks on the new album. Produced by Jordan Sarmiento and Michael Barkulis and recorded out of Anaheim HIlls, Rebels aims to be a voice for anyone whom religion is so quick to judge.
Along with the release of Rebels comes a companion short film, both break new ground both sonically and visually from Sunday morning anthems from Matt Gilman, radio-friendly ballads from Melody Noel, raw, soulful vocals from Michael Ketterer and the pop sensibilities of Whitney Medina.
"Rebels is the truest thing to my personal story I've been a part of," shares Ketterer. "I believe it will impact people and bring them back to that place of first love and ignite a fire of adventure back into their faith."
Rebels is the follow-up album to the breakout success Touching Heaven, a record that charted at #2 on Billboard's Christian Album chart, #7 on Emerging Artist Chart and was the #1 album on iTunes. "Mistakes" sung by Noel was in the Top 25 on the Christian Radio Airplay charts, while "Spirit Lead Me" sung by Ketterer emerged in the Top 20 on the Christian Billboard Hot Tracks.
Influence Music was birthed out of Influence Church in Anaheim Hills, California and is dedicated to facilitating the creation and release of music that glorifies God. The movement has attracted some of LA's most gifted songwriters, producers, and creatives who have laid aside successful careers and high-level positions to help build what is now "Influence Music".
For more information on Influence Music and Rebels, visit http://influencemusicofficial.com/.
Rebels Track Listing:
Rebels: Influence Music & Michael Ketterer
Redeemed: Influence Music & Matt Gilman
Honest: Influence Music & Melody Noel
Responsum A Patre (Instrumental)
Over and Over : Influence Music & Matt Gilman
Abandoned : Influence Music & Whitney Medina
Soil & Sky: Influence Music & Propoganda
City On A Hill : Influence Music & Melody Noel
Right Here (Hallelujah) : Influence Music & Whitney Medina
Rebels Finale : Influence Music & Voices of Hope
###