Capitol CMG Publishing Launches First Ever Industry-Wide "Women Who Worship" Writing Event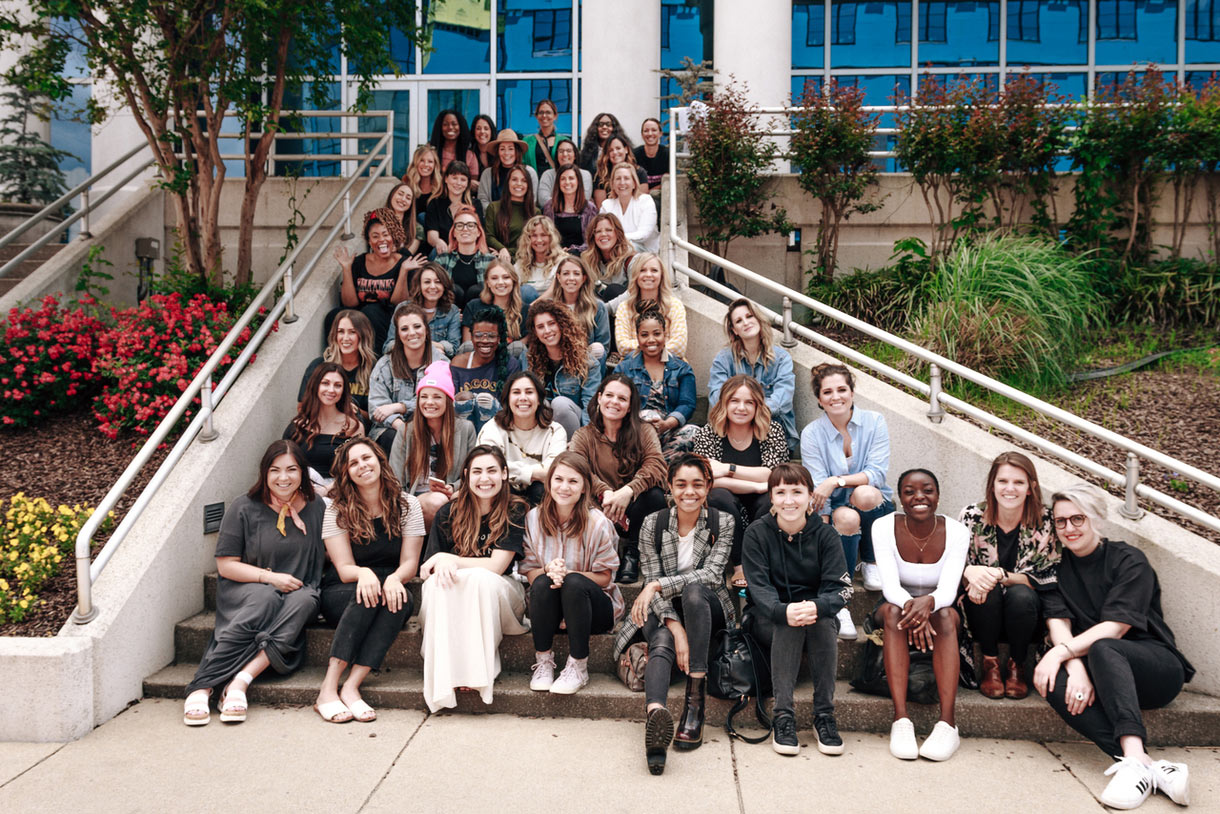 From L to R: Jovaun Woods, Hope Darst, Jamie MacDonald, Brittney Spencer, Carrie Karpinen,
Ellie Holcomb, Kari Jobe, Elyssa Smith, Mia Fieldes,
Lauren Strahm, Daniella Mason, Melody Noel, Meredith Andrews, Rita Springer,
Mandisa Hundley, Hannah Hobbs, Lindsey Sweat, Jessica Bakken
Lauren Smith, Kenzie Walker, Melodie Malone, Krissy Nordhoff
Jerrica Matrone, Emily Franklin, Adaeze Noelle, Sydney Wilson, Janice Gaines, Tara Cruz
Allison Cruz, Emily Wyant, Brooke Figueroa, Lindy Cofer (Conant), Kirby Kaple, Nicole Serrano
Cammie Avers, Jessie Early, Calah Mikal, Jillian Edwards, Terrian Woods, Rhyan Shirley, Olivia Yokubonis, Leslie Jordan, Audrey Assad
Credit: Jordan Merrigan

NEWS SOURCE: The Media Collective
May 22, 2019
Nashville, Tenn. (May 22, 2019) – Capitol CMG Publishing hosted 45 influential female worship artists, songwriters, and producers as a celebration of women who use their music to spread hope to the world. The inaugural "Women Who Worship Writing Camp" was used both as a time to connect and worship together, but also a time for collaboration. An expansive list of female creatives united for the 2-day event including Audrey Assad, Bethel Music's Lindy Conant-Cofer, Ellie Holcomb, Hillsong's Hannah Hobbs, Jessie Early, Kari Jobe, Mandisa, Mia Fieldes, Passion's Melodie Malone, Mia Fieldes, Rita Springer and Steffany Gretzinger.

"This vision of this writing camp came from the idea of wanting to create a space where these women could come together to support and encourage one another," said Karrie Dawley, Vice President and Creative Director of Capitol CMG Publishing. "God took this idea and turned it into something way bigger than any of us could have imagined. These two days truly felt like the start of something bigger and we feel called to continue to find ways to support this movement and these amazing women who God is using to spread His truth around the world through the universal language of music."
Pastor and author Alex Seeley alongside respected artist, worship leader and writer Rita Springer were among the contributors of the two-day event. Premier Productions, Multitracks, Worship Together, CCLI, ASCAP, Compassion, BMI, UMPG, WORD/CURB, SESAC, NSAI and sozo playlists served as sponsors and partners.

Along with the workshop, there was an unveiling of the Women Who Worship brand. Follow along to join the movement connecting, supporting, and celebrating women in worship at @women.who.worship.
About Capitol Christian Music Group:
An unwavering vision combined with a commitment to excellence and an arsenal of exceptional talent continues to make Capitol Christian Music Group the leader in the Christian/Gospel music industry. Representing such iconic artists as Chris Tomlin, TobyMac and Amy Grant, CCMG is a multi-faceted company whose assets include such legendary labels as Sparrow and ForeFront Records as well as the industry's top distribution company and an award-winning, global leading publishing company. Formerly known as EMI Christian Music Group, CCMG is a division of Capitol Music Group, a Universal Music Group company. Over the years, the venture has grown from a scrappy family-owned independent music label to a multi-faceted business that includes CCMG Label Group (Sparrow Records, ForeFront Records, sixstepsrecords, Hillsong, Credential Recordings, Rend Family Records and Jesus Culture Music), CCMG Publishing, Motown Gospel and Commercial Partnerships. The company's roster features top names in the Christian and gospel communities, among them Kari Jobe, Jerard & Jovaun, Brian & Katie Torwalt, Jeremy Camp, Jesus Culture, Hillsong UNITED, Crowder, Danny Gokey, Kim Walker-Smith, Rend Collective, Matt Redman, Tasha Cobbs Leonard, Mandisa, Passion, Riley Clemmons and VaShawn Mitchell. For more information, visit www.CapitolChristianMusicGroup.com.
###
For more info on many of these talented women, visit the JFH Artists Database.