Skillet Joins Ranks Of Pandora's Billionaires As "Feel Invincible" Reaches Platinum Certification
Multi-Platinum Selling Group Drops "Anchor" and "Save Me" Ahead Of Brand New Album Victorious (Aug. 2)

Bonus Song Available Alongside Pre-Order of Graphic Novel, EDEN (Aug.)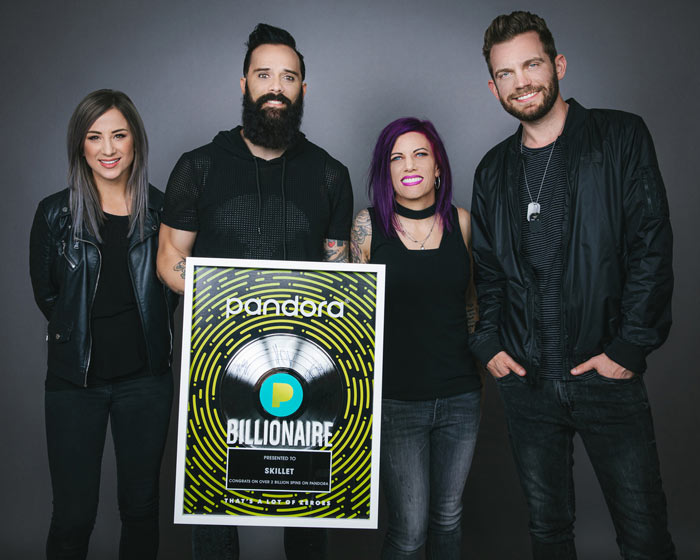 NEWS SOURCE: The Media Collective
June 14, 2019
Nashville, Tenn. (Jun. 14, 2019) –Certifications continue to roll in as Skillet gears up for the debut of their newest Victorious (Aug. 2, Atlantic Record). The multi-platinum selling super group joined Pandora's Billionaires club with over two billion streams. The rarity is reserved for those totaling over a billion spins on the popular platform throughout an artist's career. The distinction places them in the company of other Pandora Billionaires like John Legend, Fleetwood Mac, Keith Urban and more.

"Skillet is without peer in the world of fist-pumping, faith-informed rock, a rare kind of band that shatters stereotypes and marketing plans, while tapping into emotional DNA of people from all walks of life, believers and skeptics alike," shares Pandora's Programming Curator Melissa Riddle Chalos . "It's phenomenal to see the success of a band that, 23 years in, continues to delivers hope on a sonically relevant scale."
Skillet's No. 1 Rock Hit, "Feel Invincible" reached new heights recently as it scored RIAA Platinum Certification. The song is found on their last album, the RIAA Gold Certified, Unleashed.

In anticipation of their tenth LP, Skillet is unveiling two more instant grat songs - "Anchor" and "Save Me" - on all streaming platforms today. Billboard originally announced the brand new 12 track collection from the multi-platinum selling group. The first single, "Legendary," is impacting rock radio and has amassed nearly 7 million views on YouTube. "Anchor" will impact Christian radio.
Another new track, "Dreaming of Eden," will be available upon release by purchasing a pre-order of their upcoming graphic novel "Eden." Powerhouse Z2 Comics is publishing the graphic novel which looks to tell Skillet's story, that of unlikely heroes, perseverance and faith.
Publishers Weekly
recently caught up with frontman John Cooper where he shared more about the inspiration behind his recent brainchild. To pre-order the book before it is available this August, click
here
.
Starting Aug. 11, Skillet is joining Sevendust on tour through Sept. 7 followed by their European tour kicking off on Nov. 6. For the latest, visit
www.Skillet.com
.
Get Connected with Skillet:
About Skillet:
One of the best-selling rock bands of the 21st century, two-time GRAMMY ® Award-nominated multiplatinum Wisconsin quartet Skillet—John Cooper [lead vocals/bass], Korey Cooper [guitar/keys], Jen Ledger [drums/vocals], and Seth Morrison [lead guitar]—write the soundtrack to triumph. An undying spirit humbly asserted and affirmed the band as one of this generation's most successful rock acts. However, as all classic underdog stories do, it happened quietly under the radar. By 2019, they not only garnered a pair of GRAMMY ® Award nods and sold over 12 million albums worldwide, but they also took home a Billboard Music Award for the double-platinum Awake. Its breakout single "Monster" remains "one of the most-streamed rock songs of all-time" with 285 global audio streams. 2016's Unleashed bowed at #3 on the Billboard Top 200. Going #1 on Rock Radio, the lead single "Feel Invincible" cracked 150 million global audio streams and went platinum. Meanwhile, the gold-certified Unleashed became their fourth consecutive album to receive either a gold, platinum, or double-platinum. To date, nine original tunes earned RIAA recognition in tandem with high-profile syncs by everyone from WWE and Marvel to ESPN and NFL. Between selling out arenas on four continents, the group performed on CONAN and graced the pages of USA Today and New York Times, to name a few. In 2018 alone, the band clocked 1 billion streams . This momentum continues on their 2019 tenth full-length, Victorious. With the bulk produced by Korey and John, it lives up to its name for Skillet as their most triumphant body of work yet.
###
For more info on Skillet, visit the JFH Artists Database.