Jesusfreakhideout.com
Releases
Songs We've Been Trying To Tell You About (And Others We Haven't), Volume Eight
The eighth entry of the popular compilation series releases in celebration
of the website's 23rd Anniversary
CLICK HERE to Download the FREE Compilation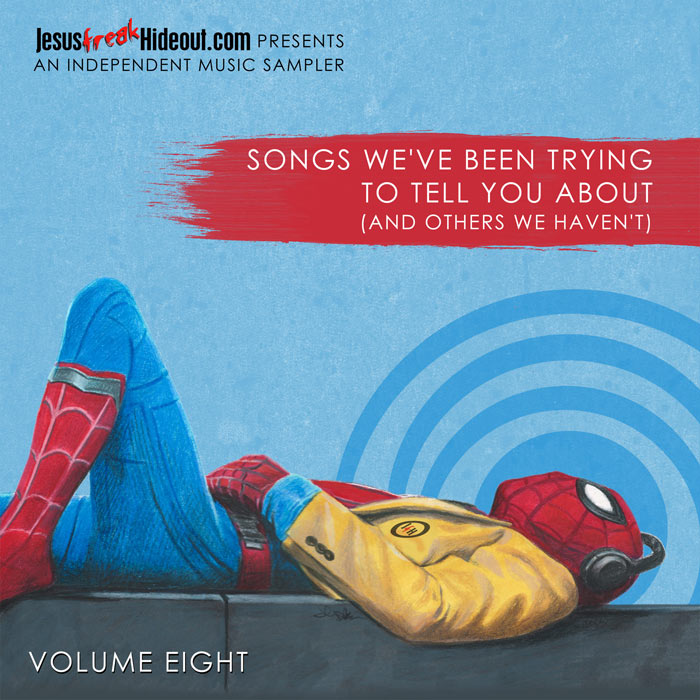 NEWS SOURCE: Cross The Streams PR
August 13, 2019
Bethlehem, PA (August 13, 2019) - JesusFreakHideout.com, one of the pioneers of Christian music media on the web, is proud to announce the release of Songs We've Been Trying To Tell You About (And Others We Haven't), Volume Eight, the latest entry in the website's popular free indie song compilation series. The massive 62-song compilation releases the same day Jesus freak Hideout celebrates 23 years online.
"Once again, I have the honor of taking part in putting together one of my favorite features at Jesusfreakhideout," says veteran JFH staff member Scott Fryberger about the compilation. "This year's tracklist is our biggest yet, but also has a lot more lesser-known talent than years prior. I sincerely believe that there is something here for everyone and I hope that each person who checks this out finds at least one new favorite artist they might not have given a shot otherwise." Fryberger will be appearing on this week's episode of the JFH Podcast (Aug. 14) to chat with host Chase Tremaine (who also has a song featured on this compilation), about the latest volume.
"We really love putting these together," adds JFH founder and Editor-in-Chief, John DiBiase. "There's so much great music being made that few ears get a chance to hear. It's our hope that these little digital bundles of musical goodness can encourage our readers while also extending the reach of some great independent talent."
Like each compilation before it, Songs We've Been Trying To Tell You About, Volume Eight is comprised of artists that the JFH staff personally invited to be a part of the project. Check out the full artist list below.
The full, 62-song Songs We've Been Trying To Tell You About (And Others We Haven't), Volume Eight track listing:

Naked Feet & Holy Fire (from the album Zeal) - Kings Kaleidoscope (4:18)
Matriarch of Manhattan (from the album A Marginal Sea) - Strange Her (3:12)
Us and Them (from the album Unveiled) - Amy Savin (4:11)
Hey Mary (single) - Eric Jones (4:01)
How Can You Live With Yourself (from the upcoming untitled album) - Zilch (3:33)
Hope Beyond Hope (from the album Deconstruction) - Ian Yates (2:36)
Reset (feat. Reese Roper) [from the album Till the End] - October Light (2:47)
Creation Groans (from the EP Era Regnum) - Wild Earth (4:35)
The Streets (feat. John Mark McMillan) [from the album Vulnerability] - Strahan (4:17)
Control (from the EP The Narrows) - Roelant (4:39)
Wishing Well (from the EP Chapter Three) - Leem of Earth (3:58)
Lonely Saints (from the upcoming untitled album) - Chase Tremaine (5:49)
Mighty God (Another Hallelujah) [from the album Paradoxology] - Elevation Worship (4:28)
I Never Knew (from the album The Longing) - Ben Ford (4:49)
More Good Than Bad (feat. Keyes.) [from the album Be Clean Again] - Heath McNease (4:01)
It's OK (from the mixtape Boom Bap Soul) - Elohin (3:12)
The End Is Near (feat. Re:flex the Architect, Krum, and Melissa Carter) [single] - Paradox (4:11)
Delorean (from the EP Flying Cars) - HeeSun Lee (3:56)
It's A Wonderful Life (from the EP It's A Wonderful Life) - Josh Engler (3:05)
Hanging Onto Every Word That You Say (from the maxi single Wait) - Michael Hughes Watson (4:49)
Whitewash (from the album The Venture) - Drakeford (3:22)
Nosebleed (single) - Benjamin Daniel (2:35)
Sweet Nora Lee (single) - Joshua Clifton & the Blackbirds (2:05)
Backyard (single) - Whale Bones (4:12)
Short Fiction (single) - Empty Atlas (3:56)
Better Than This (from the album Hot & Catchy) - The Easy Button (3:18)
I Didn't Come Here To Die (from the album I Didn't Come Here To Die) - White Collar Sideshow (3:45)
Breaking Waves (from the album Liquid Exorcist) - Rusty Shipp (3:45)
Closer To You (single) - Deep Valleys (2:59)
The Talking Heads (from the EP Mirror You) - Feral Vices (2:53)
Pariah (feat. Joel Holycross) [single] - Poetic Descent (3:35)
Wake (single) - WORDS (3:13)
Breach the Borders (from the album Return To Your Rest) - When Forever Ends (5:37)
Outlier (from the album Hunger & Thirst) - Weeping Hour (3:59)
Doomsday (single) - Ironside (4:25)
Broken (single) - I Still Dream (4:20)
The Void (single) - Collision of Innocence (3:53)
Afterthought (feat. Stephen Christian) [from the EP Spinning] - City of Auburn (4:09)
Firestarter (Doug Weier Remix) [from the album Stones Reloaded] - Manafest (4:05)
Walking Contradiction (from the EP Walking Contradiction) - The Ashamed & Shunned (3:27)
Peep That (from the album Hunger Pains) - Mike Sarge (3:10)
What's It Worth (from the album One Day I Will Fly) - Davecreates (4:32)
Queen of a Wasteland (from the album Heaven Come Down) - Becca Bradley (3:07)
Creature (from the EP Cagestage) - Zambroa (2:54)
What It's Like (from the EP All But Lost) - Andrea Hamilton (3:23)
Three Birds In Babylon (from the album She Waits) - The Gray Havens (4:01)
Caught Dancin' (demo) - Kid Ambient Arcade (5:13)
God and God Alone (from the album Surrender) - Dawn Michele (3:42)
The Darkness Won't Survive (from the album Songs in the Night) - Paradox Music (5:45)
Holy (feat. Leeland Mooring) [from the EP Your Love] - Danielle Noonan (4:55)
Mourning Marrow (from the album Carefully Out of Nowhere) - Idylls (4:14)
To the Dawn (from the EP To the Dawn: Reimagined) - Sara Groves (3:48)
Sing (from the album Coming Home) - Valley's End (4:32)
River of Life (from the EP When You Go) - Theo & Brenna (2:50)
House On Fire (from the album Monument) - Wild Harbors (3:44)
Dream (from the upcoming untitled album) - Mark Lee Townsend (4:04)
Who I Am (feat. Lacey Sturm) [from the album Soundtrack, Vol. 1] - Reflect Love Back (4:17)
Who I'm Not (OG) [single] - Jenny & Tyler (4:23)
When A Heart Wakes Up (from the album When A Heart Wakes Up) - Adam Watts (3:51)
Better (from the album Hide No Truth) - Good Saint Nathanael (4:13)
Running for the Light (from the album In This Pilgrim Way) - Wilder Adkins (3:06)
The Keeper (24-25) [from the album Jude] - Psallos (3:21)
Like the past three Songs We've Been Trying To Tell You About compilations, Volume Eight features original cover artwork hand-drawn by JFH's John DiBiase. "I think the only artistic passion I've had longer than JFH would be drawing, so it's always really special to me to be able to merge the two naturally from time to time." Prints of the original artwork are available for purchase in DiBiase's online Etsy art shop, where sales also help support JFH.
All previous Jesusfreakhideout.com FREE indie mp3 compilations can still be downloaded here: JFHmusic.com
Jesusfreakhideout.com on the web:
Facebook - http://www.facebook.com/jesusfreakhideout
Twitter - http://twitter.com/jfreakhideout
Instagram - http://instagram.com/jesusfreakhideout
YouTube - http://www.youtube.com/jesusfreakhideout

###
About Jesusfreakhideout.com
The Jesus Freak Hideout (JFH) launched in August, 1996 as one of the first Christian music websites of its kind. JFH has gone on to inspire many other of today's popular Christian music sites and continues to be a leader in Christian music media on the web over two decades later. For more information about Jesusfreakhideout.com, visit www.Jesusfreakhideout.com. Visit http://www.facebook.com/jesusfreakhideout to "Like" the Jesusfreakhideout.com Facebook page.
You can help support JFH and keep the site online by donating. Visit this link for some options on how you can help be a part of The Hideout.