NORTH POINT INSIDEOUT RELEASES ABUNDANTLY MORE EP AUG. 30
Spanish-Language Mucho Más EP Coming Soon

Worship Team Joins Jordan Feliz, Hannah Kerr For 18-City Tour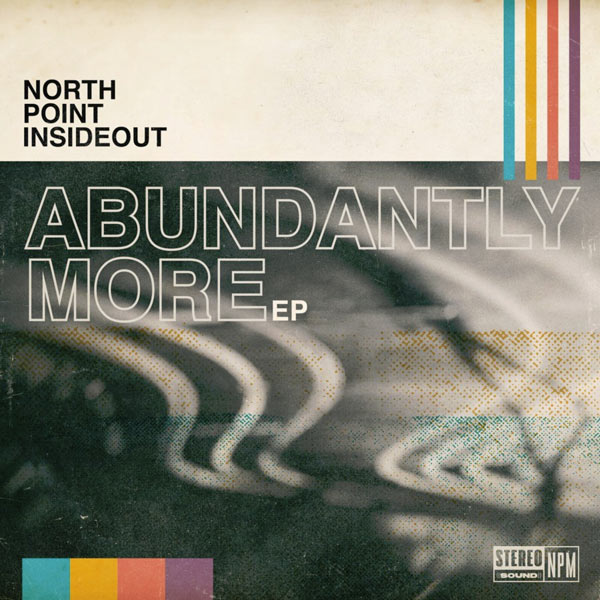 NEWS SOURCE: Hoganson Media
August 26, 2019
North Point InsideOut, a musical expression of worship from North Point Ministries' seven churches in Atlanta, GA, releases its highly anticipated Abundantly More EP from North Point Music® and Centricity Music Aug. 30. Wanting to inspire people to follow Jesus, and internationally known for its worship anthem "Death Was Arrested," InsideOut's five new songs on its sixth EP will be available at digital retail and streaming outlets globally through https://npinsideout.lnk.to/abundantlymore_EP, as well as at physical retail.
With all the new songs organically sown in the local church, and written, recorded and led by the North Point InsideOut team of songwriters and musicians, Abundantly More features the lead single and title track, "Abundantly More [Feat. Seth Condrey]."
More than I could ask or seek
More than I could fathom
God Your love for me
Is better than I imagined
(From the "Abundantly More" chorus.)
"The song is a reminder that in Christ, we have been given everything we need for life and godliness," shares InsideOut member Heath Balltzglier, who co-wrote "Abundantly More" with Seth Condrey, Matt Armstrong and Ethan Hulse. "Scripture says we are more than conquerors and that there is no lack in God. All the joy and the peace that I could ever need comes in seeking Him and His kingdom first."
Along with sharing this message and all the new music in English, North Point InsideOut has recorded all the songs in Spanish and will release Mucho Más (Abundantly More) in the near future. The title track lyric video is available now at https://youtu.be/UtkHDFr1AY4.
"When North Point's church partners in Latin America began asking for the songs so they could translate them into their own language to sing at their churches, this became missional for us," says Kevin Ragsdale, Director of North Point Music Label at North Point Ministries. "So, every time we release a song in English, we plan to simultaneously release it en Español. When people sing and are moved by the songs in church, we want them to be able to find the songs, and have the songs take them back to that moment they had in church."
The full Abundantly More EP Track listing follows:
1) Abundantly More (feat. Seth Condrey)
2) Here I Am (feat. Kaycee Hines)
3) Anchor of Peace (feat. Desi Raines)
4) The Best Is Yet To Come (feat. Clay Finnesand)
5) Safest Place (feat. Emily Harrison)
"Abundantly More" drum, keys, Rhythm and lead guitar "how to play" tutorials from North Point InsideOut are also available to musicians and worship teams now on YouTube. The live performance video of the single can further be seen at https://youtu.be/eujhLrthaqg.
Leading the new music and InsideOut worship favorites for 35,000 worshippers attending weekly services in 90 partner North Point Ministries churches, North Point InsideOut worship leaders have also begun touring nationally. Following its first nationwide headline US tour this past spring, InsideOut will traverse the nation with Jordan Feliz on his 18-city The Faith Tour that further features Hannah Kerr and launches Sept. 12 in Cleburne, TX:
09.12 Cleburne, TX Bethel Temple Assembly of God Tickets
09.13 Beaumont, TX North End Baptist Church Tickets
09.15 Amarillo, TX His Church – Amarillo Tickets
09.17 Grand Junction, CO The Avalon Theatre Tickets
09.19 Forest Lake, MN Willowbrook Community Church Tickets
09.20 Naperville, IL Yellow Box Community Christian Church Tickets
09.21 Boonville, IN Boonville High School Info
09.26 Roswell, NM The Liberty Inc Tickets
09.27 Joseph City, AZ BG Bennett Auditorium Tickets
09.28 Grand Junction, CO Avalon Theatre Tickets
09.29 Billings, MT Faith E Church Tickets
10.5 Arden Hills, MN Benson Great Hall (North Point InsideOut only) Tickets
11.15 Louisville, KY Hurstbourne Baptist Church Info
11.16 Auburn, IN County Line Church of God (The Faith Tour Tickets
11.17 Moon, PA Impact Christian Church Tickets
11.20 Kirtland, OH New Promise Church Tickets
11.22 Indianapolis, IN The Caring Place Tickets
11.23 Bristol, TN Avoca Christian Church Tickets
11.24 Nashville, TN Belmont Church Tickets
For all the latest North Point InsideOut tour, music, song tutorials and more news, visit https://npinsideout.com, Facebook, Twitter, Instagram, YouTube, Spotify, Apple Music, and Google Play.
About North Point InsideOut:
Formed originally out of the high school ministry of Alpharetta, GA-based North Point Ministries, North Point InsideOut leads worship weekly at the NPM locations and creates music that is reaching people around the world. The band's first recording, No One Higher, released in 2012 and hit the Top 20 on Billboard's Christian Albums chart. The album was followed by 2015's Hear that sparked the hit single "Love Come Down" and landed at No. 2 on Billboard's Christian Album's chart while hitting the Top 200 chart for the first time. Signing with the Centricity label in 2017, InsideOut released the EP Nothing Ordinary, which featured its song "Death Was Arrested" that is being heard across the globe and has been re-recorded by artists like Aaron Shust and Laura Story. Four more EPs have released to critical acclaim, including Nothing Ordinary, Pt. 1 (Live) and Pt. 2 (Live), the Christmas offering Ring The Bells (2018) and the self-titled North Point InsideOut (2018).
About North Point Music:
In 2010, North Point Ministries launched North Point Music as a way to share the songs and talents of its unique collection of gifted worship leaders, musicians and songwriters. The Alpharetta, GA-based record label and music publishing company offers music publishing services, including but not limited to licensing, royalty collection, copyrights, and translations. Their publishing services are administered through Music Services, Inc. and Capitol CMG Publishing.
About North Point Ministries:
North Point Ministries, Inc., was founded in 1995 with the vision of creating churches that unchurched people love to attend. Led by best-selling author, communicator and pastor Andy Stanley, the ministry has grown from one church to seven in metro Atlanta and has developed a global network of more than 90 partner churches. Each week, an average of 35,000 people attend services at NPM churches. Each month, sermons and leadership messages are accessed over one million times via North Point websites. The ministry's broadcast television show, Your Move, airing on NBC after Saturday Night Live, CBS after The Late Late Show with James Corden (Fridays), Daystar and UP networks, reaches well over one million viewers every week in 39 markets.
About Centricity Music:
Centricity is an independent Christian music company based in Franklin, Tenn. Founded in 2005 with a commitment to artist development and stylistic diversity, its artist roster includes Aaron Shust, Andrew Peterson, Caitie Hurst, Carrollton, For All Seasons, Jason Gray, Jonny Diaz, Jordan Feliz, Lauren Daigle, Neon Feather, North Point InsideOut, Peabod and Unspoken. Providing label and publishing services, Centricity is a family-owned organization, and they like it that way. The committed work of its staff and artists has yielded successes such as Grammy nominations, Billboard Awards, Dove Awards, K-Love Fan Awards, a Gold Album and Gold Singles. For more information on Centricity Music, visit www.centricitymusic.com.
###