HillaryJane Debuts New Single, 'God Of Always' On DREAM Records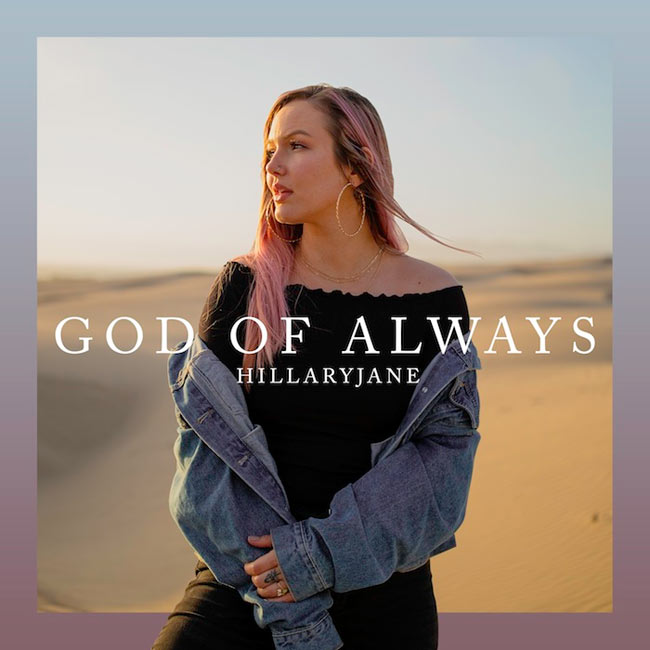 NEWS SOURCE: DREAM Records
August 31, 2019
Los Angeles, CA. (August, 2019) — HillaryJane releases her debut single on DREAM Records titled "God Of Always" today. The track was produced by Joshua Zegan, (For All Seasons, Blanca, Landry Cantrell). The track's sound mixes a mid-tempo fresh pop sound with a beautiful melodies by HJ and lyrics full of hope and understanding.
"God Of Always" is a deep but also really fun song. This is an honest look into my personal mind, and I think this is the mind of every believer. We can feel tangled up and we start to feel anxious when we're supposed to have joy or choose sinful thoughts and desires when we should choose holiness. There is that war within us. There have been times in my life where I was afraid to reach out to God and say, "I need you" because I felt like maybe he's not there, maybe he doesn't care, or maybe he isn't listening?" – HillaryJane
The song is available on all digital platforms for download and streaming. Click below to listen to see the official YouTube slide.
Connect with HillaryJane:
Web | Instagram | Twitter | Facebook | YouTube
ABOUT HILLARYJANE:
Growing up in Houston, TX, Author, Speaker and Artist, HillaryJane saw the way music affects every listener. Affects their mood, their desires, their attitudes…and even their soul. Which is what pushed her to pursue a career in Christian Music. 15-year-old she started writing music. By 19 HJ released her debut EP, 'Stix and Stones'. Today, HillaryJane's signing to DREAM Records will see her growth as she has teamed up with producer Joshua Zegan (Stars Go Dim, Blanca, For All Seasons) to create unique and hopeful music for everybody.
With award nominations and high chart debuts, HJ is not phased with it. HJ's main goal in the industry and through other creative platforms like her YouTube channel is to give young Christians dope, upbeat and encouraging music where she feels there is a lack. "We need more godly music that Christians aren't afraid to share with their unsaved friends or jam with the windows down." With her husband, Roman as her biggest supporter, HJ's overarching goal is to encourage young women to find their confidence in Christ and uplift with biblical truth.
DREAM provides artists with a genuine approach to how real artist development should be done. By allowing for a partnership as a business model, DREAM artists empower themselves to develop and carry out a real vision for their lives as they affect other people's lives with their music and message. Incorporating social media, press, radio and touring, DREAM is helping its artists grow together as a family. DREAM was founded in 2008 and has grown to 17 different divisions comprised of multiple labels, merchandise, apparel, mobile, publishing and film.
###
For more info on HillaryJane, visit the JFH Artists Database.