SARA GROVES RELEASES NEW CHRISTMAS ALBUM TODAY
"Joy Of Every Longing Heart" Shares Songs About Those Who Witnessed Jesus' Birth; Album Is The Bookend To 2008's "O Holy Night"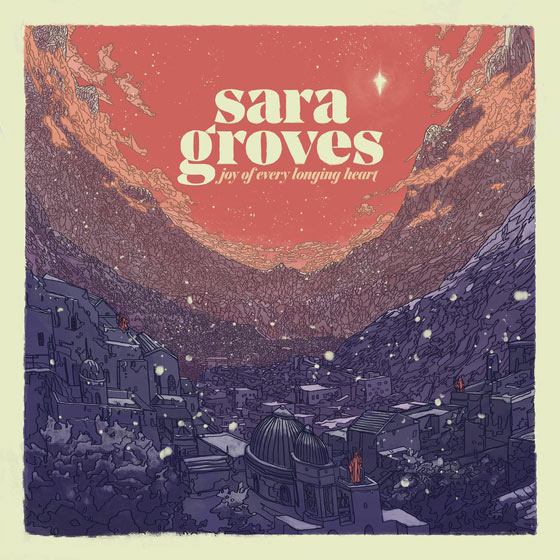 NEWS SOURCE: Merge PR
October 25, 2019
25 October 2019 - Brentwood, TN - Sara Groves, a Christian music folk-pop pioneer, singer, and songwriter, announces the release of her new Christmas project,
Joy Of Every Longing Heart
(Fair Trade Services). As the follow-up to 2008's
O Holy Night
,
Joy Of Every Longing Heart
is available
now
.
Groves considers Joy Of Every Longing Heart a bookend to O Holy Night. While her first Christmas project encompassed songs about Jesus' birth, she now wants to share a new collection, a mix of both traditional and original songs, to showcase those who were directly part of the Nativity story - the angels, the wise men, the shepherds - all who were witnesses of Jesus' birth.
"I think this story bears an infinite number of retellings, and I find myself revisiting it each year at Advent," she shares. "It's comparable to turning a gem and seeing new facets. It is shrouded in tradition and years of baggage in some cases, but at the root, it is God with us. That's pretty compelling." One example is the track "Just Like They Said," one of Groves' favorites from the album, which focuses on one of the shepherds who witnessed the angel's pronouncement and how it changed him forever.
"I know I have had experiences and moments of belief that were transcendent, but now I carry that witness, and I'm not always sure what to make of it," she elaborates. " I picture this very human person in this moment witnessing something incredible, and then going on to tell his family, friends, and live the rest of his life. Like him, each of us has our own way of engaging with this story; we have our own testimony to how it changed us."
Additionally, the nine-song project was intricately thought through from the album cover to the title. The cover imaging is a rendition of the city of Bethlehem, purposefully showcasing the color tones of oranges and purples to represent the dawn and awaiting the birth of Jesus.
It was also important to Groves to include "joy" and "longing" in the album title. "Yearly, we come to this story in December, the darkest month of the year and in the middle of winter," she explains. "We are waiting for the dawn in the days of the longest nights. There is a longing, but there is also joy and a sense of hope."
The project, her 11th career album, was produced by John Mark Nelson and created at Art House North in St. Paul, MN, where Groves and her family have resided for more than 25 years. Even a couple of lyrics were added in to "Winter Wonderland" as a nod to the city that truly inherits winter weather. "Where we live, you have to acknowledge winter - it is the real deal - but once you do, you can enjoy it for what it is," she shares. "Hibernation, good snow gear, hot drinks, snuggling with your loved ones - these are the gifts of winter."
Sara Groves will be performing four Christmas dates this holiday season. Be sure to visit her website for all of the latest information at
SaraGroves.com
.
Dec. 8 Bremerton, WA
Dec. 11 - Memphis, TN
Dec. 17 - St. Paul, MN
Dec. 20 - Keokuk, IA
JOY OF EVERY LONGING HEART LP:
O Come O Come Emmanuel
Angels From The Realms of Glory
God Rest Ye Merry Gentleman
Come Thou Long Expected Jesus
We Wait
Winter Wonderland
Just Like They Said
Tidings
Let Our Gladness Have No End
About Sara Groves:
Over two decades, singer/songwriter Sara Groves has attempted to name and explore the many tensions of a life of faith. Looking at issues both personal and global, her music and advocacy have allowed her to sing all over the US and abroad, in diverse venues from federal prisons to the White House. For over a decade, she has joined forces with
International Justice Mission
,
the largest anti-human trafficking organization in the world. At home, Sara, her husband Troy, and their 3 children, Kirby, Toby & Ruby, own and operate
Art House North
, where they cultivate "creative community for the common good" out of a 105-year-old church in St Paul, MN.
Joy of Every Longing Heart
marks her 11th anticipated release in her 20-year relationship with Fair Trade Services.
SaraGroves.com
.
###
For more info on Sara Groves, visit the JFH Artists Database.