The Gray Havens Release "Blackbird" and Ramp Up For Tour With John Mark McMillan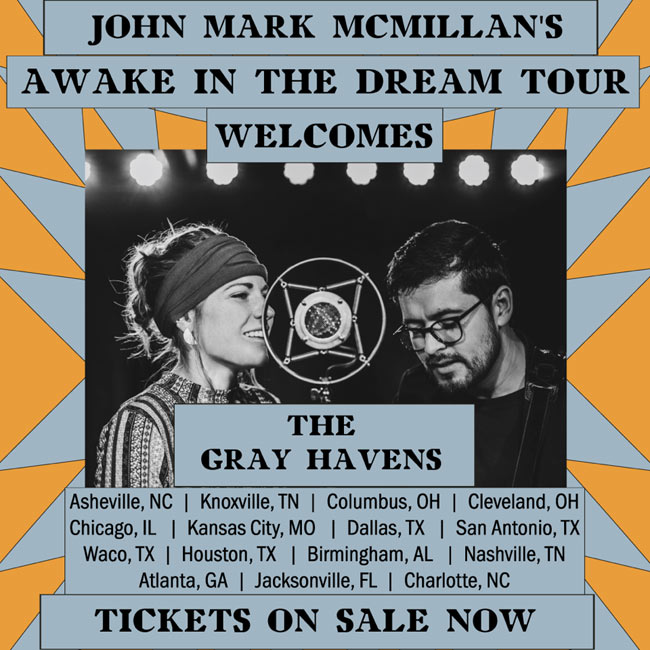 NEWS SOURCE: Artist Garden
January 31, 2020
NASHVILLE, Tenn. January 31, 2020 — Husband/wife duo, The Gray Havens, announce spring tour with John Mark McMillan and the release of their new recording of The Beatles' "Blackbird."
The Gray Havens will be joining John Mark McMillan for his Awaken The Dream Tour this spring. The tour begins April 15 and runs through May 2 with dates throughout the southeast, Texas and Ohio.

Accompanying the tour announcement, The Gray Havens release their new cover of The Beatles "Blackbird" which is the first installment of several cover songs The Gray Havens plan to sprinkle throughout the year.

Artist Garden President, Keith Stancil, offers some history about the song. "The song's author, Paul McCartney, revealed in past interviews that his inspiration for writing 'Blackbird' came from the struggle he saw black people in the southern states enduring through the civil rights movement." Stancil, adds "it feels like the perfect time to release the song as we roll into February, the month designated each year to celebrate Black History."
The Gray Havens' David Radford shares "Written during the civil rights movement, we love that this single is releasing on the doorstep of Black History Month. What surprised us most when recording it was how spiritual the lyrics could be taken as well with 'broken wings' and 'sunken eyes' and 'only waiting for this moment to be free.' It was an honor to work on."

Known for their unique blend of narrative-pop, The Gray Havens continue to expand their reach into multiple genres with thought provoking lyrical poetry and music. The duo has performed alongside such artists as The Oh Hellos, Josh Garrels, Ben Rector, John Marc McMillan, Andrew Peterson, Drew Holcomb among others.
Awaken The Dream Tour

4/15 - Asheville, NC
4/16 - Knoxville, TN
4/17 - Columbus, OH
4/18 - Cleveland Heights, OH
4/19 - Chicago, IL
4/20 - Kansas City, MO
4/22 - Dallas, TX
4/23 - San Antonio, TX
4/24 - Waco, TX
4/25 - Houston, TX
4/27 - Birmingham, AL
4/28 - Nashville, TN
4/29 - Atlanta, GA
5/1 - Jacksonville, FL
5/2 - Charlotte, NC


For further information, visit thegrayhavensmusic.com or contact Artist Garden Entertainment.
###