LEDGER DROPS NEW SINGLE, "MY ARMS" TODAY
Currently opening for Skillet on their "Victorious Tour," New Track Gaining Support Across Formats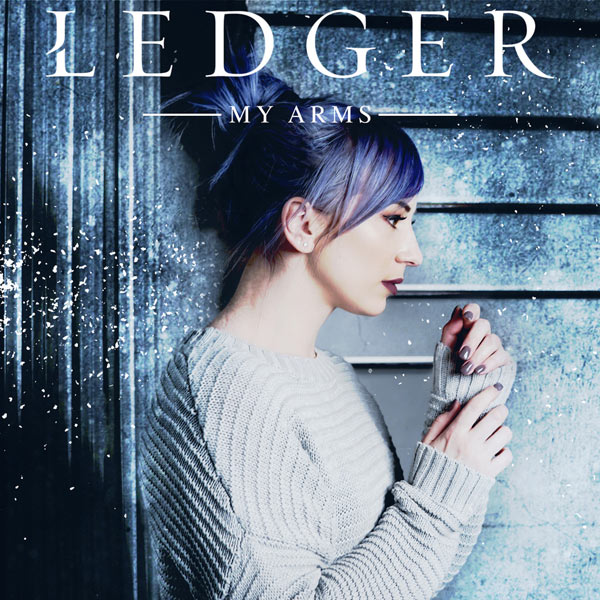 NEWS SOURCE: The Media Collective
February 14, 2020
Nashville, TN - (February 14, 2020) - LEDGER is feeling the love on Valentine's Day as her new single, "My Arms," impacts Christian radio and all DSP's today. The track, already top 20 on CHR at No. 19 and gaining key adds at AC each week, is her third single since her debut, self-titled EP
LEDGER
(
Atlantic, Hear it Loud
). The EP was the highest debut on
Billboard'
s Top Christian Albums Chart, hitting Top 5 on the Rock chart, as well as No. 2 on iTunes Rock Albums chart and No. 7 on iTunes Overall Albums chart. To watch the lyric video for "My Arms," which is premiering today on WayFM, click
here
, and click
here
to listen to the track.
About "My Arms," LEDGER commented, "Sometimes we face things that just feel impossible. The burden feels too heavy, and we just don't think we have the strength to go on. The beautiful thing is, that in the places where we don't know how to move forward - He knows the way... and when we don't have the strength to stand, He has all the strength we need! Sometimes God allows us to face seasons that we are NOT MEANT to go through alone. Like Moses arriving at the Red Sea- sometimes we NEED a miracle... and that's where God loves to display his glory and strength in our lives. In our weakness He is strong, and His grace is sufficient in every season. We NEVER have to face anything alone in this life. With an almighty God at our right hand helping us- a heavy burden becomes light." To hear her talk more about the story behind the song, click
here
.
Currently on the road with SKILLET for the "Victorious Tour," LEDGER is opening the show each night, which also features From Ashes to New. Kicking off last weekend in Wichita, KS the tour will run through March 14. For all tour details, click
here
.
Following LEDGER's 2019 nationwide trek as a part of the blockbuster lineup featured on "The Winter Jam Tour Spectacular," LEDGER most recently joined GRAMMY-award-winning artist TobyMac to open the 50th Annual Dove Awards with a performance of his reinvented version of "The Elements." LEDGER is a guest vocalist on the track, which is featured on his latest project, The St. Nemele Collab Sessions.
About LEDGER:
Jen Ledger's unique vocals and powerful stage presence have given her a distinct role in Skillet since joining as the band's drummer when she was just 18. Ledger has had the privilege of being a part of Skillet as they have cemented their place as one of the 21st century's most successful rock bands, selling more than 11 million units worldwide, receiving two GRAMMY® Award nominations and winning a Billboard Music Award for the multi-platinum-certified Awake.
With an engaged and ever-growing social media presence, the latest signee for released her debut solo endeavor LEDGER released her self-titled debut in 2018 with Atlantic Records and Hear It Loud to critical acclaim. Her latest single, "My Arms," is available now.
Get Connected with LEDGER:
Website: LEDGERband.com
Facebook: https://www.facebook.com/ledgerbandofficial/
Instagram: @jenledger
Twitter: @jenledger
###
For more info on Ledger, visit the JFH Artists Database.