GRACE WORSHIP RELEASES DEBUT EP CHRIST BE ALL APRIL 24
First Single, Title Track From Historic Church's Worship Team Releases Today

Worship Leader Magazine Premieres "Christ Be All (Live)" Video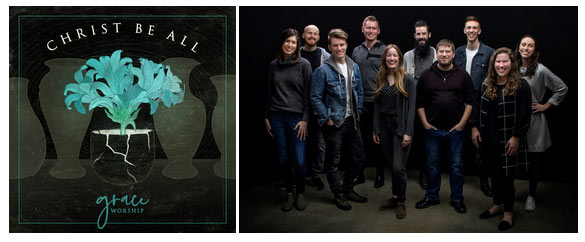 NEWS SOURCE: Hoganson Media
February 21, 2020
Pairing theologically rich lyrics with soaring melodies, Peoria, Illinois-based Grace Worship draws on its 150-year church history (Grace Presbyterian Church) to bring a multi-generational focus to Christ Be All. Releasing April 24 and available to preorder now from Grace Worship / The Fuel Music, this worship team's debut EP is centered on Jesus' prayer in John 17 for the body to be "one" and honors the rich heritage of Christian hymnody while incorporating modern anthemic choruses and pop hooks.
The first single and title track from the EP, "Christ Be All," releases today (Feb. 21) and is at digital and streaming outlets globally, including Apple Music, iTunes, Spotify, YouTube Music, Google Music, Pandora, Deezer and more through the link, https://slinky.to/ChristBeAll.
Written and sung by worship director Kevin King, and incorporating words from Andrew Murray's classic book Humility, this song is meant to help worshippers express, along with the Apostle Paul, "It is no longer I who live, but Christ who lives in me" (Galatians 2:20), as they sing, "May Christ be all and I be nothing."
"For 'Christ Be All,' we are connecting with the historic and renowned words of Andrew Murray as we seek to have the worshiper understand through song that it is to our joy to 'become nothing' (Philippians 2:7) as Jesus did; to lose our lives so we can find them in Him," says King.
In addition to the new single, Worship Leader exclusively premieres Grace Worship's "Christ Be All (Live)" video this week, which can be streamed now from YouTube. King and producer Christopher Zobac explain the heart behind the new song at https://youtu.be/l0IMkTpdKNU.
While this is Grace Worship's first recording to release nationally, Grace Presbyterian Church's pastor and author, Dr. Bryan Chapell (www.bryanchapell.com), is very well known among churches that share Grace Worship's liturgical style of worship. He is President Emeritus of Covenant Theological Seminary in St. Louis, MO, wrote the books Christ-Centered Preaching and Christ-Centered Worship widely read by both preachers and worship leaders, serves on the faculties of numerous seminaries and Bible colleges in different parts of the world, and conducts pastors' conferences in several nations each year. He also is founder and host of "Unlimited Grace," a daily half-hour Bible teaching program that has been heard on radio stations across the United States and in more than 80 countries around the world.
All the latest Grace Worship music news and more can be found at www.graceworship.com, Facebook, Instagram and YouTube.
About Grace Worship:
Grace Worship is the worship ministry of Grace Presbyterian Church (PCA) in Peoria, IL, a church that is passionate about making the gospel known through song and story. Before Jesus went to the cross, He prayed that His church would be one (John 17). Grace Worship desires to write and share songs that advance this mission through theologically rich and creatively beautiful art. By pulling from the heritage of Christian hymnody and integrating the church songs of today, the worship team hopes to make much of Jesus' unifying mission through music that equips the church for worship across generations.
About The Fuel Music:
Established in 2008, The Fuel Music & Management, LLC, is a leading artist management and artist solutions company that independently distributes music internationally. Based in Nashville, TN, the Fuel team brings nearly 70 years of combined music industry experience in record label operations, major label distribution and marketing, and artist management for artists ranging from upstart bands to GRAMMY Award-winning, multi-Platinum artists. More information on the company can be found at www.thefuelmusic.com.
###