We Are Leo Releases New Single 'IWKY (feat. Elizabeth Grace)'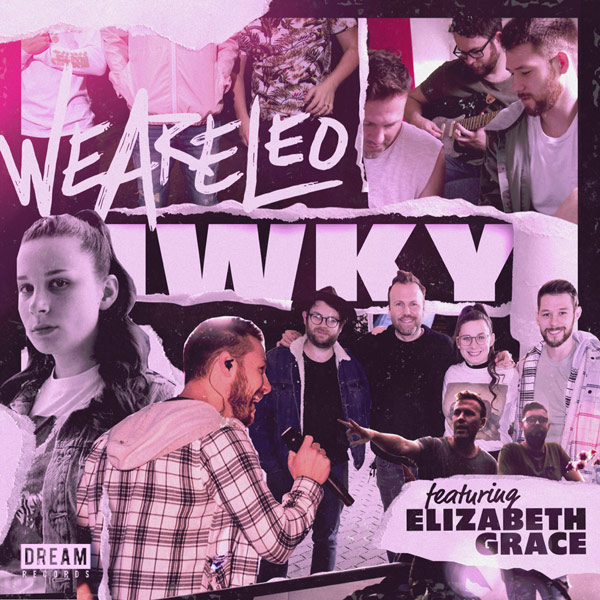 NEWS SOURCE: DREAM Label Group
March 6, 2020
Los Angeles, CA (March, 2020) -- We Are Leo are proud to announce the release of their newest track release, "IWKY" (DREAM Records). The track, which also features DREAM Records buzz artist Elizabeth Grace, This melodic downbeat pop track by We Are Leo is both meditative and hopeful. Featuring up and coming artist, Elizabeth Grace, the lyrics a deeply intimate. The Chicago-area pop group have been ramping up for the upcoming release of their EP as they continue to show new tracks in a series of single releases. David Duffield shares what it was like making their new track.
"I wanted to write a really cool vibey worship song that stood out stylistically and felt emotional. I tried to keep it really honest and vulnerable but completely Jesus focused. Elizabeth was a perfect fit vocally cause of her fresh pop sensibility and her heart for God. I was just like "hey wanna sing on this song?" and she was like "yeah." It was easy to work out. I hope people get the feels when they hear it and that when they sing along it will be a prayer that brings us ever closer to God." - David Duffield, We Are Leo
Give "IWKY (feat. Elizabeth Grace)" a listen below:
Connect With We Are Leo: Facebook | Twitter | Website | Instagram
Connect with Elizabeth Grace: Facebook | Twitter | Instagram


ABOUT WE ARE LEO:
We Are Leo is a vibrant community of artists led by singer + producer David Josiah, vocalist, Joseph Sanborn, and guitarist, Matt Gainsford. We Are Leo has a pop sound with a positive, spiritual message. Drawing on sonic influences such as Hillsong Y&F, Capital Kings, LANY and Pharrell, We Are Leo has crafted a heart-moving sound that is all about honesty, connection, and faith. From chill vibes to dance party highs, sun-shine drives to memorable nights: their music will move you, and make you move!
ABOUT ELIZABETH GRACE:
Elizabeth Grace is a Christian artist based out of Birmingham, Alabama. Debuting in early 2018, Elizabeth Grace has been featured with Ray Ervin on "The Ones" and has since come out with six of her own singles. Her single, "Like Myself" (DREAM Records) was produced by Justin Amundrud and co-written with Ray Ervin & Jeff Owen from Tenth Ave North and reached the Billboard Christian Hot AC / CHR chart at No. 3.
ABOUT DREAM RECORDS:
DREAM was founded in 2008 to provide artists with a genuine approach to how real artist development should be done. By allowing for a partnership as a business model, Dream's artists empower themselves to develop and carry out a real vision for their lives as they affect other people's lives with their music and message. Incorporating social media, press, radio and touring it's allowing it's artists grow together as a family.
For more info on We Are Leo, visit the JFH Artists Database.

###