JOIN THE GETTY FAMILY HYMN SING LIVE
EVERY TUESDAY AT 7:15PM CST
KEITH AND KRISTYN GETTY ARE SET TO GO LIVE ON FACEBOOK
EACH TUESDAY WITH FAMILY TO SING MODERN HYMNS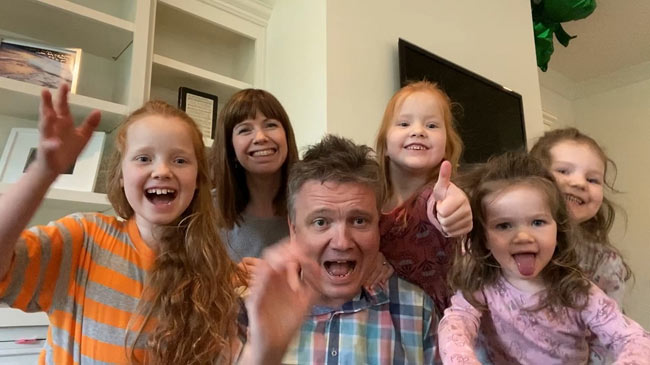 NEWS SOURCE: Wortman Works
March 23, 2020
NASHVILLE, Tenn. (March 23, 2020) - Keith and Kristyn Getty plan to do a Family Hymn Sing Facebook Livestream with fans on Tuesday, March 24, 2020. With hopes to lift spirits in worship, the Gettys will perform well-known modern hymns from Nashville, Tennessee and share their light to homes aound the world. The duo plans to continue this every Tuesday at 7:15pm CST.
Click
here
to join Keith and Kristyn Getty's Facebook page and
here
to download this week's lyric book.
Getty Music recently released their newest single, "Christ Our Hope in Life and Death," written by five critically acclaimed songwriters, Keith Getty, Matt Papa, Jordan Kauflin, Matt Boswell, and Matt Merker. This is the first song that the writers have written together as a team.
Keith Getty states, "We wrote this song over a period of two years with a number of our team of writers, and Kristyn recorded it with Matt Papa. It is so timely in how it speaks to us and our children. The hymn is inspired by the Heidelberg Catechism of 1563, which begins with the profound question, 'What is your only comfort in life and in death?' For centuries, believers have learned the Christian faith beginning with that question. Why start there? Because death is the one statistic we all can be sure of. Less than 3% of modern songs sing of death, in contrast to many of the classic hymns, liturgies, and catechisms. Christianity that does not cultivate a constant awareness of our resurrection hope in the face of death is not authentic Christianity. We need to love those around us enough to sing about death. The only comfort we will truly find this season is to know we can face death by trusting Christ, who conquered the grave."
ABOUT KEITH & KRISTYN GETTY:
Keith and Kristyn Getty are pre-eminent modern hymn writers in the world today, known for titles such as "In Christ Alone." Born in Northern Ireland, they are multi award-winning artists with Keith becoming the first musician of the modern era to be given the OBE from Queen Elizabeth II for service to music and hymn writing.
According to CCLI, they have written over 30 of the top 500 sung songs in USA & UK today and Integrity music estimate 100 million people in the world today in all forms of churches use their music.
As "ambassadors" for hymns they have performed as a duo for Presidents and Prime Ministers, as well as an annual national hymns tour and Christmas tour including sell out shows each year at Carnegie Hall and Kennedy Center. They wrote the "Sing" book and founded the "Sing" Conference which now welcomes over 15,000 people to Nashville each year. The Getty Music Group, based in Nashville, is now gone to a publishing company, record label, touring company, online learning and foundation, speaheaded by the couple.
Keith and Kristyn live between Northern Ireland and Nashville with their four daughters.
###