HAITI ENTREPRENEURIAL INITIATIVE (H.E.I.) ACQUIRES BEYOND BORDERS, A COMPANY OFFERING HAND-CRAFTED METAL ART MADE IN HAITI
Birthed Out Of The Hands And Feet Project, H.E.I. Is Also Home To Haiti Made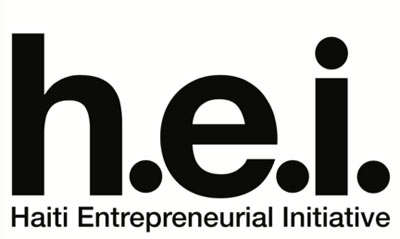 NEWS SOURCE: Merge PR
August 24, 2020
Franklin, TN - 24 August 2020 - Tennessee-based Haiti Entrepreneurial Initiative (H.E.I.), which helps create dignified and sustainable jobs in the developing nation of Haiti, announces it has acquired Beyond Borders. Beyond Borders, which is comprised of specialized handmade metal art, joins another H.E.I. entity, Haiti Made, a social enterpriseoffering handmade leather goods.
Beyond Borders offers individually handmade metal products created from recycled/upcycled materials, primarily discarded steel oil drums. Each piece is then hand cut, carved, and sculpted with chisels, hammers and nails. Opening its doors 20 years ago as a response to the beauty found in the midst of the hardships and challenges of everyday life in Haiti, each piece created by Beyond Borders craftspeople helps provide their communities true economic improvement, while lives are bettered through the creation and sharing of their art.
As a certified Fair Trade Federation member, Beyond Borders works with 100 artisans in Croix des Bouquets, Haiti, located just outside of Port Au Prince. They currently offer more than 300 designs to more than 1,000 retailers around the U.S. as well as with popular online stores Wayfair, Zulily, and Etsy, catalog merchant Uncommon Goods, and the Museum of the Bible. Based in Akron, Ohio, prior to becoming part of the H.E.I. family Beyond Borders was run by Joel and Janet Ross since 2014.
"Janet and I are grateful for the opportunity we have had to serve the artists in Haiti and our customers over the years," shares Joel Ross and his wife Janet. 'We could not be more pleased to have the H.E.I. team expand on the important work of creating a fair trade world for all."
Will McGinniss, CEO of H.E.I. with brands HaitiMade and Beyond Borders, responds, "It's an honor to carry on the legacy and the great work Joel and Janet have been doing for years in the country of Haiti."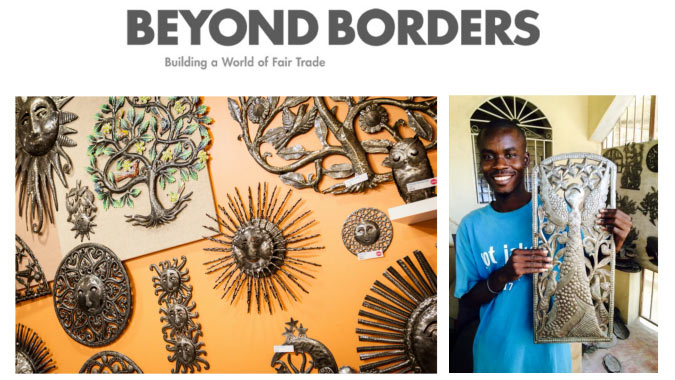 HAITI ENTREPRENEURIAL INITIATIVE: H.E.I. is a job creation initiative and is 100% about creating dignified and sustainable jobs in the developing nation of Haiti. Birthed out of the Hands and Feet Project, H.E.I. exists to push back against the extreme abject poverty and to come alongside Haiti's most vulnerable people by developing realistic, dignified, and sustainable jobs. In Haiti for every one job created, another ten people's lives are affected and supported. Click here or on the logo for more information.
HAITI MADE: A leather goods store and social enterprise, Haiti Made offers handmade leather bags and totes, home goods, journals, wallets, and more. Its purpose is to empower Haitians and their communities through sustainable and dignified employment as part of a larger effort to promote economic growth and fight to keep families together. Employment offers provision, stability, and preservation of family. Visit HaitiMade.com to check out their goods and for more information.
HANDS AND FEET PROJECT: For more than 15 years, the Hands and Feet Project provides family-style residential care for Haiti's orphaned and abandoned children. Its first facility was opened in Jacmel, Haiti, and soon after another campus opened. Together they were caring for more than 100 children as well as hosting numerous short-term trips. The HAFP team began a vision for a place to host a more dignified and equitable exchange between Haitian people and trip-goers. This vision is a direct result of HAFP's pursuit to transform the way the church looks at missions. In 2015, construction began on IKONDO, a mission guest house that doubles as a job creation initiative hosting families, churches, and individuals on mission trips. Overall, their goal is for their guests to experience Haiti through their Explore, Retreat, and Serve initiatives. Click here or on the logo for more information.
Haiti Entrepreneurial Initiative is run by Will McGinniss. His wife, Andrea, is the Executive Director of the Hands and Feet Project. Andrea and Will have three children and reside in Franklin, TN.
ABOUT WILL MCGINNISS: Will is currently CEO of Haiti Entrepreneurial Initiative (H.E.I.), a job creation initiative that establishes dignified and sustainable jobs in the developing nation of Haiti. In tandem with his wife for their passion to serve others, in 2004 Will joined friend Mark Stuart to found Hands and Feet Project, a non-profit organization bringing sustainable solutions to provide family-style residential care for children in crisis, to help families stay together, and to thrive in their communities.
While serving as Chair on the board of Hands and Feet Project, Will helped oversee the creation of Haiti Made, an active product line united around quality products, dignified jobs, and economic sustainability in an effort to diminish the poverty cycles in Haiti and to join a real fight against the orphan and child slavery crisis in Haiti.
He first made a name for himself as the bassist for the award-winning Christian rock band Audio Adrenaline. In more than two decades together, the band produced eight No. 1 radio hits, collected two consecutive GRAMMY Awards for Rock Gospel Album of the Year, and numerous GMA Dove Awards, as well as toured around the world.

ABOUT ANDREA MCGINNISS: Andrea is Executive Director of the Hands and Feet Project, and has been intricately involved with them since the very beginning. Her first visit to Haiti was in 2001 and three years later Andrea linked arms with her husband as he joined Mark Stuart to found the Hands and Feet Project. Before HAFP, Andrea served several local businesses with finances and marketing. She started to work with the HAFP U.S. office in 2006 serving in finance and operations. She then took on the role of Childcare Director, serving in childcare programming and Children's Village operations. In January of 2018, she accepted the position as Executive Director. With a heart to serve others, including the kids and staff at HAFP and her personal family, Andrea leads with compassion, vision, and joy.
More products offered by Beyond Borders: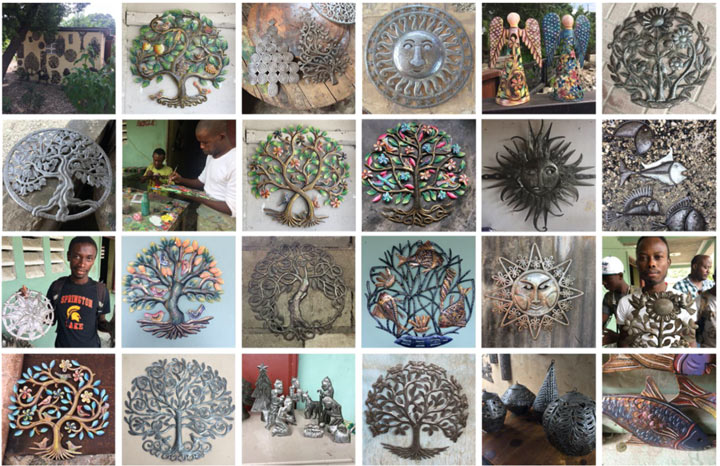 ###
For more info on Audio Adrenaline, visit the JFH Artists Database.