NORTH POINT WORSHIP RELEASES FIND A REASON LP
Album Inspires Worship, Even In The Midst Of Heartbreak, Fear, Loss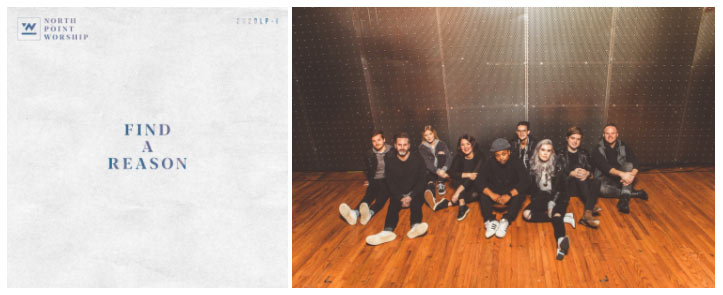 NEWS SOURCE: Hoganson Media
September 10, 2020
Internationally known for worship anthems like "Death Was Arrested," "Abundantly More" and "Love Come Down," North Point Worship releases Find A Reason today (Sept. 10) from North Point Music® and Centricity Music. The LP is available now at digital and streaming outlets internationally through the link, NorthPointWorship.lnk.to/FindAReason.
The new music from North Point Worship, part of North Point Ministries' global network of more than 90 partner churches, stems from songs organically sown in the local church and written, recorded and led by the group's team of songwriters and musicians. The eight-song Find A Reason includes the never-before-released title track featuring worship leader Brett Stanfill.
"'Find A Reason' was written a few months ago when a global pandemic was breaking out," shares Stanfill, "and we had also just received word of a few different tragedies that had occurred in our local community. In that time, and in so many times throughout my life, I had to remember that regardless of bleak circumstances, heartbreak, fear or loss, God is still good, and He is still worthy of my praise. This song is reminder that whether I'm experiencing the favor of God or it seems like all hope is lost, I can lift my eyes and find a reason to worship."
Also featured on the recording is the single and video released last month, "Praise Your Name," which features Desi Raines and was written by Brett Younker (Passion) and Heath Balltzglier. "In every season, in good times and bad times, the healthiest thing we can do for our minds and souls is turn our attention to Jesus!" exclaims Balltzglier. "Remember His goodness, His supernatural involvement in our lives even in the middle of the mundane, joy and pain. Every moment is a good moment to say, 'Thank you!' I hope you can find a still moment and use this song in your life as a way to say and to express gratitude to our Savior."
Find A Reason further includes the Stanfill-led "Sons And Daughters, the Gospel infused tracks "Hallelujah (Why We Sing) (Feat. Clay Finnesand)" and "O What A Miracle (Feat. Seth Condrey)," and the song "Light Breaking Through (Feat. Lauren Lee)," which was born in the midst of Lee's struggle with postpartum depression. Lee also leads "Just Getting Started" while Balltzglier and Raines together lead the declarative worship track "Nothing Else Matters" on the new LP.
The full Find A Reason track listing follows:
1) Find A Reason (feat. Brett Stanfill)
2) Praise Your Name (feat. Desi Raines)
3) Hallelujah (Why We Sing) (feat. Clay Finnesand)
4) O What A Miracle (feat. Seth Condrey)
5) Light Breaking Through (feat. Lauren Lee)
6) Sons And Daughters (feat. Brett Stanfill and Lauren Lee)
7) Nothing Else Matters (feat. Heath Balltzglier and Desi Raines)
8) Just Getting Started (feat. Lauren Lee)
For all the latest North Point Worship music, song tutorials and more news, visit https://northpointworship.com/, Facebook, Twitter, Instagram, Spotify, YouTube and Apple Music.
About North Point Worship:
Originally formed out of North Point Community Church's high school ministry, InsideOut, the worship band from North Point Ministries now serves over a million people online, via television and at the multi-campus, metro Atlanta area North Point Community Church every week. It also serves a growing and diverse, multicultural group of worshippers reaching well-beyond its network of 90 local churches. As part of its mandate to resource the Church with music and lyrics meant for both congregational and personal worship, North Point Worship records its songs in both English and Spanish.
North Point Worship's first recording, No One Higher, released in 2012 and hit the Top 20 on Billboard's Christian Albums chart. The album was followed by 2015's Hear that soared to No. 2 on the chart while further hitting the Billboard Top 200 for the first time. Signing with Centricity Music in 2017, the group released the EP Nothing Ordinary, which features its song "Death Was Arrested" that is being heard across the globe and has been re-recorded by artists like Aaron Shust and Laura Story. Five more EPs have released to critical acclaim, including Nothing Ordinary, Pt. 1 (Live) and Pt. 2 (Live), the Christmas offering Ring The Bells (2018), North Point InsideOut (2018) and Abundantly More (2019).
About North Point Music:
In 2010, North Point Ministries launched North Point Music as a way to share the songs and talents of its unique collection of gifted worship leaders, musicians and songwriters. The Alpharetta, GA-based record label and music publishing company offers music publishing services, including but not limited to licensing, royalty collection, copyrights and translations. Their publishing services are administered through Music Services, Inc. and Capitol CMG Publishing.
About Centricity Music:
Centricity is an independent Christian music company based in Franklin, TN. Founded in 2005 with a commitment to artist development and stylistic diversity, its artist roster includes Andrew Peterson, Apollo LTD, Caitie Hurst, Chris Renzema, Coby James, Jason Gray, Jonny Diaz, Jordan Feliz, Lauren Daigle, Neon Feather, North Point Worship, PEABOD and Unspoken. Providing label and publishing services, Centricity is a family-owned organization, and they like it that way. The committed work of its staff and artists has yielded successes such as Grammy Awards, Billboard Awards, Dove Awards, K-Love Fan Awards, and multiple Gold and Platinum Albums and Singles. For more information on Centricity Music, visit www.centricitymusic.com.
###