CROSS POINT MUSIC RELEASES CENTRICITY MUSIC DEBUT, "NEVER STOP SINGING"
Tornado Rips Apart Church, COVID-19 Levies Restrictions,
But Nothing Stops Church From Singing Praises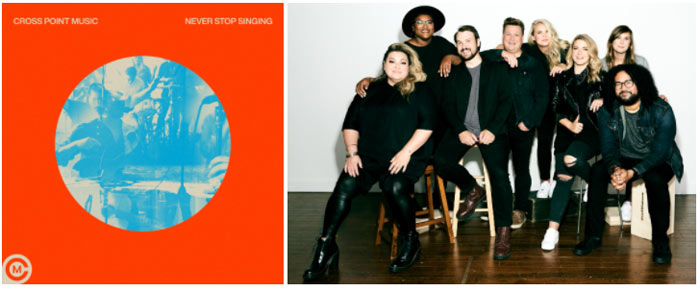 NEWS SOURCE: Hoganson Media
September 18, 2020
A collective of nearly 400 volunteer musicians, vocalists and songwriters anchored by worship leaders Mike Grayson and Cheryl Stark, Cross Point Music serves the 10,000 people who call Cross Point Church home across six campuses in and around Nashville. Today (Sept. 18), the collective releases its Centricity Music debut single "Never Stop Singing" at digital and streaming outlets internationally.
Written before COVID-19 forced churches across the nation to temporarily shutter, and before Cross Point's doors were closed following a tornado that ripped through Middle Tennessee in March 2020, damaging a large portion of Cross Point's main building in downtown Nashville, "Never Stop Singing" has become an anthem of hope despite the adversity.
With a heart to pour into creative souls that come to the church's multiple locations around Middle Tennessee, Cross Point Music's mission as part of a global Church is much bigger than its songs; it's about the people.
"Nashville's 'Music City,' and we attract so many songwriters from all over the world, but we were sensing that there's a great need for community and growth for the individual songwriter," shares Stark, who previously served as a country writer for Sony/ATV and is married to Apollo LTD member Adam Stark. "Hopefully, these songwriters are building relationships and growing in their craft, but also, our hope is that God awakens them to the God-given gift He's given them."
"We believe a song can come from anywhere, so that's not just those faces you see on stage or leading songs. We're really intentional about the fact that it's not an exclusive club," adds Grayson, who is the former frontman of MIKESCHAIR. "When you start inviting people from other churches into the mix, what you start to realize is the Holy Spirit is working in a bunch of different spots at once. And then the next thing you know, you're writing a song that serves so many different people when you thought, Oh man, I was just writing for my church."
Nowhere is this sentiment more apparent than on Cross Point Music's latest single, "Never Stop Singing," which was born out of one of their initial songwriting camps. Stefan Cashwell, from Atlanta's Maverick City Music, leads the song's recording. Cashwell penned the song alongside fellow songwriter Mary Beth Sudduth and Cross Point Franklin pastor Kevin Robison.
"We just knew immediately Stefan was supposed to carry that song," Grayson shares. "The vision for Cross Point Music isn't an exclusively Cross Point member thing. We would love to showcase unity in the Church. It really does come down to whoever is supposed to carry that song for that season."
"Never Stop Singing" serves as the title-cut for Cross Point Music's newest EP slated for January 2021. The four-song collection includes three other originals organically birthed from the worship emanating from Cross Point Church.
For all the latest Cross Point Music news, visit https://crosspoint.tv/music/, Facebook, Instagram, Spotify, YouTube and Apple Music.
About Cross Point Music:
In the heart of Music City sits a church that believes everyone's welcome, nobody's perfect and anything's possible. It's a mantra that's carried Cross Point Church across the past 15 years of its existence and a vision that's shaped its primary musical expression, Cross Point Music, into a collective that seeks out collaboration both inside and outside the walls of their church. Helmed by lead pastor Kevin Queen, Cross Point is a multi-site church for the spiritually curious, a place for people to find and follow Jesus. Moreover, their robust web presence reaches people around the world through digital discipleship and online evangelism.
About Centricity Music:
Centricity is an independent Christian music company based in Franklin, TN. Founded in 2005 with a commitment to artist development and stylistic diversity, its artist roster includes Andrew Peterson, Apollo LTD, Caitie Hurst, Chris Renzema, Coby James, Jason Gray, Jonny Diaz, Jordan Feliz, Lauren Daigle, Neon Feather, North Point Worship, PEABOD and Unspoken. Providing label and publishing services, Centricity is a family-owned organization, and they like it that way. The committed work of its staff and artists has yielded successes such as Grammy Awards, Billboard Awards, Dove Awards, K-Love Fan Awards, and multiple Gold and Platinum Albums and Singles. For more information on Centricity Music, visit www.centricitymusic.com.
###