Building 429 Releasing Christmas Ep, Hope Is Here, November 20
Project Features Three New Recordings, Offering Hope And Joy With Each Anthem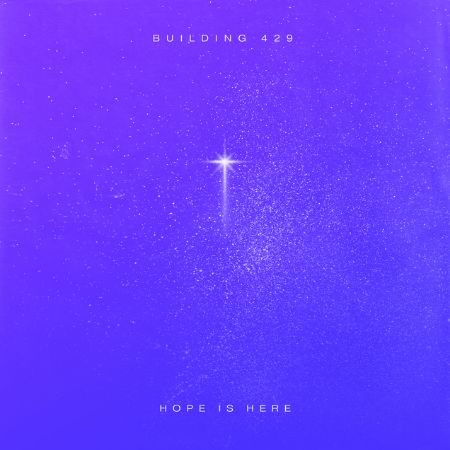 NEWS SOURCE: Merge PR November 3, 2020

(Nashville, TN) November 3, 2020 - On November 20, GRAMMY-nominated band Building 429 will release their new Christmas project, Hope Is Here. Continuing the band's tradition of delivering big songs with big emotion, the three-song EP offers a full choir and orchestra, heralding the traditional spirit of Christmas and seamlessly moving from reverence to joy. Produced by Riley Friesen, the three new recordings include "Infinite Glory," "Mary Sweet Mary," and the title track, "Hope Is Here (Do Not Fear)" featuring Gotee Records' artist Terrian.

"Whatever your last year has looked like I hope this project will remind you... hope is here," explains Building 429 frontman and vocalist Jason Roy, who co-wrote two of the EP's songs. "The first lines out of my mouth on this EP are so true to where we are at this moment. I desperately wanted to build a project that was so big, so full of joy, so classic that it would instantly take the listener to a different place and time, where peace and joy were the prevailing thoughts. So to that end, we literally recorded a full string section with horns and a huge choir and brought in one of my favorite artists, Terrian, and shot for the moon. I'm so proud of what we've accomplished. The three songs are our best Christmas work to date, and for the first time, I feel that we have nailed the timeless tradition and wonder of Christmas in the form of music."

Both "Infinite Glory" and "Hope Is Here (Do Not Fear) feat. Terrian" are releasing to radio for the Christmas season. The group will also be headlining the Building 429 Christmas tour, which kicks off December 5th.

About Building 429

Since the release of its debut album in 2004, Building 429 has garnered widespread popular and critical acclaim, receiving numerous accolades all while delivering lyrically-driven, anthemic hit songs with a consistent message of hope along with high-energy concerts in sold-out venues internationally. The band received a 2013 GRAMMY nomination for Best Contemporary Christian Music Album for We Won't Be Shaken which debuted at No.1 on Billboard's Christian Albums chart and launched the title track to No. 1 at radio. Building 429 also received a 2014 and multiple 2012 "Song of the Year" Billboard Music Awards for "We Won't Be Shaken" and "Where I Belong respectively, two BMI "Song of the Year" Awards ("Where I Belong" in 2013 and "Glory Defined" in 2005), a 2014 "Group of the Year" KLOVE Fan Award nomination and a "Best New Artist" GMA Dove Award in 2005. RIAA-certified gold single, "Where I Belong," further became one of the longest-running Christian No. 1's in Billboard's history at 15-weeks and landed on Billboard's Top 10 Songs of the Decade. "Fear No More" the band's 2019 independent single, was one of the biggest independent artist singles to ever hit Christian radio with an astounding 35 adds in its debut week. The song climbed to No. 4 on Billboard's National Christian Airplay chart and remained in the Top 5 for nine weeks. The band is also endorsed by Fender Guitars, Gibson Guitars, PRS Guitars, Orange Amps, Ampeg Amps, DW Drums, Guitar Center, and many others.


For the most updated information, visit Building429.com



###

For more info on Building 429, visit the JFH Artists Database.