Gospel Recording Sensation Anthony Brown Releases Timely Album Stuck In The House: The Pandemic Project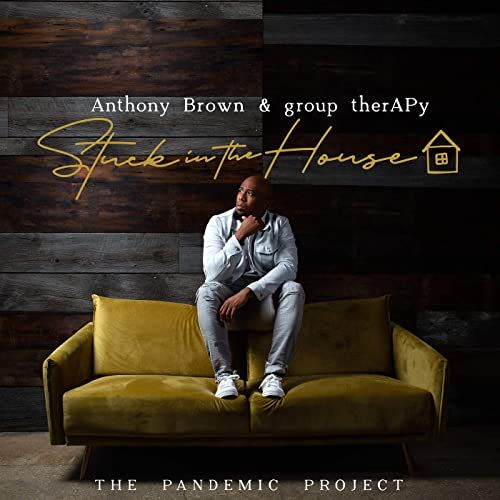 NEWS SOURCE: Society House
November 6, 2020
(Nashville, TN) November 3, 2020 - Gospel music powerhouse Anthony Brown and group therAPy, releases new album Stuck in the House: The Pandemic Project, featuring the single "Call to Action," a powerful song unifying all people for the betterment of the world right now and generations to follow, available today.
Along with the eye-opening "Call to Action," other standout songs on the nine-track album includes the up-tempo feel-good stompers "Something Good" and "History." The evoking worship songs "Help" and "Father I Stretch," and the melodic spirit soother "Yadiyah (I Love You)."
Written and recorded in his home during the pandemic, Stuck in the House: The Pandemic Project is uplifting, inspirational, and spiritually soul tugging. It reflects the times and emotions of many in the world stuck in the house while witnessing the injustices plaguing America. It presents a call to action while encouraging listeners to maintain their faith and trust in God. To continue to lean on God despite the unknown of the current circumstances because God will prevail. A reminder that God is King and that he is our father, Stuck in the House: The Pandemic Project is a healing message to all during this season of uncertainty.
Stuck in the House: The Pandemic Project Track Listing
1. Stuck in the House
2. Amen
3. Something Good
4. History
5. Yadiyah (I Love You)
6. Call to Action
7. Father I Stretch
8. Help
9. Enough
Follow Anthony Brown on Social Media:
Facebook
Instagram
Twitter
Website
About Tyscot Records:
Tyscot Records is the oldest operating African American gospel music recording label in the world. The company was founded in 1976 by dentist Dr. Leonard Scott and his late nephew, Craig Tyson, a musician. The Indianapolis-based concern has introduced the world to some of gospel music's biggest acts ranging from John P. Kee, VaShawn Mitchell and Deitrick Haddon in the early days to new stars such as Anthony Brown & Group therAPy, Casey J, Kelontae Gavin and Bri (Briana Babineaux). Some of the classic songs in the company's catalogue include John P. Kee's "Jesus is Real," Casey J's "I'm Yours" and Anthony Brown & group therAPy's "Worth." For more information, visit
tyscot.com
About FairTrade Services:
FairTrade Services, LLC launched in June 2011 by music industry veteran Jeff Moseley. FairTrade Services is a partnership based on dialogue, transparency, and respect, formed for the development of remarkable Christian artists who desire artistic excellence, cultural relevance and spiritual significance. Located in Brentwood, TN, their roster includes MercyMe, Laura Story, Phil Wickham, Audio Adrenaline, Hawk Nelson, The Afters, Sara Groves and more. FairTrade Services is distributed by Provident Distribution and Sony Music.
###