HIGHLANDS WORSHIP GLOBALLY RELEASES HEAVEN IS MY HOME
Scripture / History Reveal That After Suffering Comes Revival – God Has Not Abandoned Us

American Songwriter Premieres "Heaven Is My Home" Video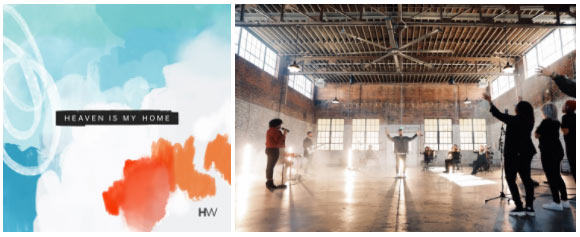 NEWS SOURCE: Hoganson Media
November 13, 2020
With a passion to encourage congregational worship, create resources for churches and draw listeners closer to God, Highlands Worship releases "Heaven Is My Home" today (Nov. 13) to digital retail and streaming outlets globally through The Fuel Music.
The new song from the worship team at Birmingham, AL-based Church of the Highlands, one of America's largest churches, was inspired by Lead Pastor Chris Hodges' Lift Up Your Heads sermon preached Aug. 2 and available online now at https://churchofthehighlands.com/media/message/lift-up-your-heads/.
"In an effort to more closely unite songwriting creativity with the current heart of our church, we have been listening intently to the weekly sermons of our pastor," shares Chris Griffin, who co-wrote and produced the song. "Taking note of the nuance in his messages, this has sparked a new sense of connection to our pastor's weekly leading, and the overall direction of our church. 'Heaven Is My Home' came directly from one of these deep dives into a Sunday sermon."
In the sermon, Pastor Chris Hodges explains why he believes that "We are at the doorstep of a great revival." Taking listeners through both Biblical and historical references, he shares that revival always tends to follow suffering.
Looking at the riots and unsettling that occurred in the 60s, Pastor Chris recalls in his sermon how the cover of Time Magazine, on April 8, 1966, asked the question, "Is God Dead," and then five years later (6/21/71) the cover of Time read, "The Jesus Revolution."
"Every time there has been an increase of wickedness, there has been an increase of the Word of God," says Pastor Chris, revealing that God is indeed not dead, is still paying attention and is working even amidst the suffering. In fact, in suffering, God may do his best work.
"'Heaven Is Our Home' especially resonates because of the challenges of 2020 – the pandemic, racial and political unrest, etc.," says Worship Pastor John Larson, who leads the Highlands Worship team of 1,000+ members and 70+ full or part-time musicians on staff. "Many are suffering and may 'feel' as if God is not paying attention, but as Pastor Chris shares, God has not abandoned us. Heaven is indeed our home."
Led by Church of the Highlands' Grandview campus worship leader Daniel Patti, the song's companion video premieres from American Songwriter and will go public today (Nov. 13) at 12:00 Noon CST / 1:00 pm EST.
This latest song from Highlands Worship follows their Shine Heaven's Light: A Christmas EP released last year. The EP is a six-song recording that includes both songs of worship for Christmas and classics re-crafted with ambitious modern interpretations featuring a full string orchestra and a resounding choir of voices. Along with the inspiring and uniquely percussive "O Come Emmanuel," other classics include the soulful, guitar-infused "Joy to the World" and the worshipful "Born in Bethlehem." The recording also features "Let There Be Peace," "Earth Stood Still" and the C.J. Blount led, piano-driven, orchestra-lifted declaration "He Has Come."
For more information on Highlands Worship, its music, chord charts, tutorials and many other creative resources, go to www.HighlandsWorship.com, Spotify, Instagram, Facebook, Twitter and YouTube.
About Highlands Worship:
Birmingham, AL-based Highlands Worship, the worship ministry of Church of the Highlands, released its first full-length, live album, Place of Freedom, in 2012 followed by the Christmas EP, My King Is Here (2013), the acclaimed debut studio album, Here I Surrender (2016), Shine Heaven's Light: A Christmas EP (2019), and the No. 1 SoundScan Praise and Worship album Jesus You Alone (2019). With churches around the world using its songs in their own services, Highlands Worship songs have also become one of the top most-requested from worship teams that use MultiTracks' digital resources.
Founded in 2001, Church of the Highlands, under the leadership of Pastor Chris Hodges, has expanded to 23 multisite campuses that collectively have over 60,000 people attending online or in-person services weekly. With the accredited Highlands College as well as student, kids, marriage and family and more ministry outreaches, the church purposes "to reach people with the life-giving message of Jesus that they might become fully devoted followers of Christ."
About The Fuel Music:
Established in 2008, The Fuel Music & Management, LLC, is a leading artist management and artist solutions company that independently distributes music internationally. Based in Nashville, TN, the Fuel team brings nearly 70 years of combined music industry experience in record label operations, major label distribution and marketing, and artist management for artists ranging from upstart bands to GRAMMY Award-winning, multi-Platinum artists. More information on the company can be found at www.thefuelmusic.com.
###