Josh Wilson's Multi-Week Top 5 Song "Revolutionary" Is Featured In Stunning Looping Mashup With The Holiday Classic "O Come, O Come Emmanuel"
Participating In Compassion Live's "12 Days Of Christmas: A Livestream Series," On Dec. 12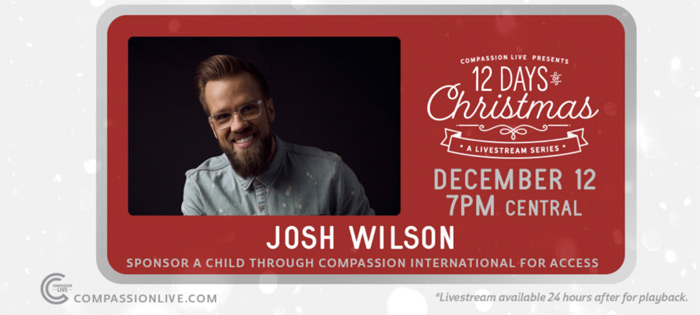 NEWS SOURCE: Merge PR
December 1, 2020
We are excited to share that Black River Christian artist and songwriter Josh Wilson has released a new version of his multi-week top-five single "
Revolutionary
." Combining "Revolutionary" with the holiday classic "O Come, O Come Emmanuel," Josh has created a raw yet stunning mashup that can now be viewed on
YouTube
or by clicking below. Don't miss this stunning video!
A song perfectly released during this season of unprecedented times and that has been touted as "...the trifecta of powerful truth, massive musicality, and the heart of a world changer," "Revolutionary" can also be heard on top playlists via Amazon Music (Christian Hits), Apple Music (Risers), Pandora (Christian Contemporary), Spotify (Top Christian Contemporary), and YouTube Music (Christian Hits).
Josh, who co-wrote the song with Steve Fee, James Tealy, and Jason Mater, has said, "'Revolutionary' is all about kindness [and] I believe that kindness matters. It's so easy to get caught up in all of the negativity we see in the world and on the news, and this song is a reminder that we are called to more than that. We're called to love as Christ has loved us. I am so encouraged by the acts of kindness I've seen recently...in many ways, our struggles are actually bringing us together. We're learning that we all have a lot more in common than we thought, and it's beautiful to see the ways people are serving each other. The lyrics are a prayer for God, through us, to start a revolution of kindness."
Josh will continue sharing the holiday spirit by participating in Compassion Live's "12 Days of Christmas: A Livestream Series." Kicking off December 9 and running through the 20th, Josh will be the featured guest on December 12! Do you want to know what Josh Wilson's family eats on Christmas morning? What about a behind-the-scenes look into his RV-LUTIONARY Tour, how his wife Becca learned to cut his hair while quarantining, get to hear some holiday tunes, and more? You won't want to miss this special live stream event, which begins at 7pm CT. Find out more
here
and by clicking on the image below. You won't want to miss it!
ABOUT JOSH WILSON
: Black River Christian singer/songwriter Josh Wilson's
"Revolutionary"
released April 24, 2020. Written by Josh Wilson, Steve Fee, James Tealy, and Jason Mater and produced by Jeff Sojka. This is the first release of new music following his 2019 EP
Don't Look Back
, which featured the hits "Dream Small" and "Borrow (One Day At A Time)." The five-track project is all written or co-written by Wilson. As a multi-instrumentalist and live-looping enthusiast, he's been known to play and record as many as 20 instruments on stage at any given time. Watch the 360° video "Borrow (One Day At A Time)" – Solo Experience
here
.
Wilson is a staple at radio, amassing two No. 1's ("Jesus Is Alive" and "Before The Morning") and multiple Top 10 hits, such as "That Was Then, This Is Now," "Savior, Please," "I Refuse," "Fall Apart," "Carry Me," along with "Revolutionary," which is top 5. "Before The Morning" landed on Billboard's Year-End Christian Songs chart at No. 4 in 2012, and that same year Wilson was also named ASCAP's Writer/Artist of the Year.
He has toured with some of the genre's biggest acts including Third Day, Steven Curtis Chapman, Casting Crowns, and Matthew West, and even veteran artists applaud Wilson's carefully honed musicianship and admire his impressive live show. In his career, he has been featured in a plethora of media outlets and with radio stations, such as K-LOVE Radio, CCM Magazine, American Songwriter Magazine, Faith Radio's On The Road podcast, Love Good Culture Podcast, New Release Today, and much more. The Texas-native resides in Nashville, Tennessee with his wife of ten years, Becca, and their young son.
###
For more info on Josh Wilson, visit the JFH Artists Database.